5 Elements of E-Commerce Customer Service: Tips to Improve Customer Experience on WhatsApp Business Ecommerce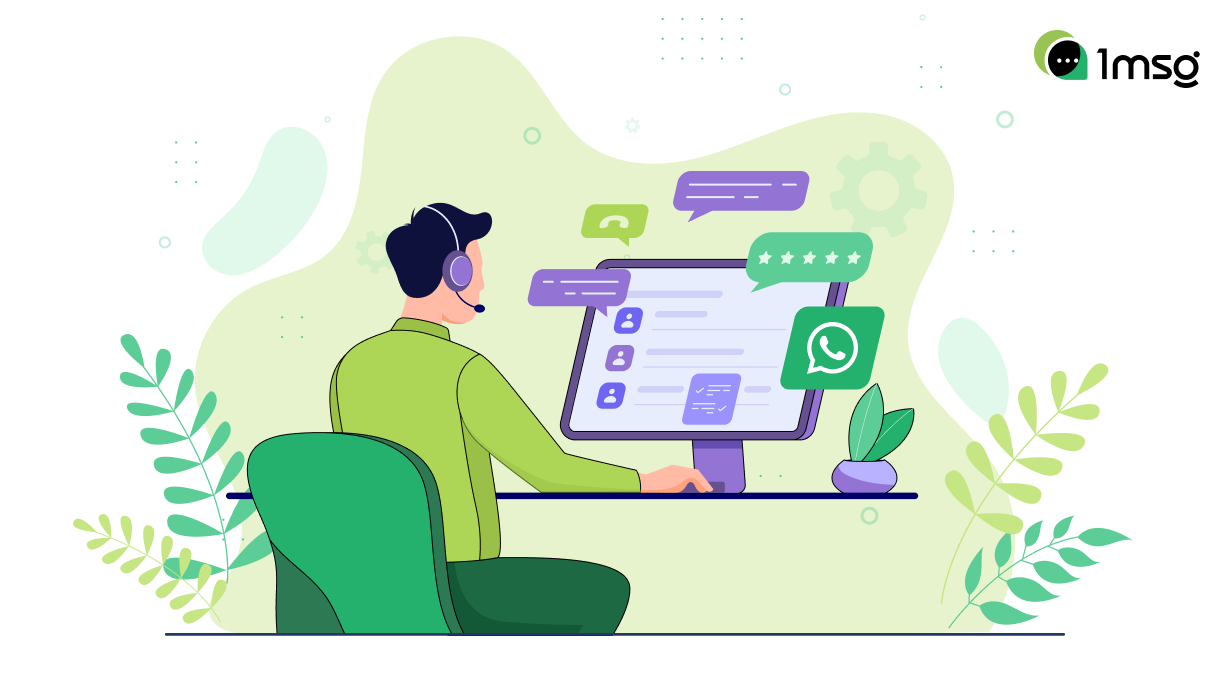 Ecommerce customer service has been transforming rapidly with the advent of technology and the growing demands of consumers. As we navigate this exciting digital space, it is paramount to master the vital elements of ecommerce to ensure we provide exceptional service to customers.
WhatsApp Business, a unique blend of ecommerce and messaging platform, has emerged as a potent tool for businesses. With its customer-friendly features, WhatsApp commerce offers unparalleled retail services, making it a game changer in the digital marketplace. This article aims to highlight five key elements of ecommerce customer service and provide useful tips to improve the customer experience on WhatsApp Business.
Prompt and Accurate Communication:
In ecommerce, customer service is synonymous with prompt and accurate communication. Customers value speedy responses to their queries and concerns. WhatsApp Business enables seamless interaction with your clients, fostering better communication, and thereby enhancing customer experience.
Tips to Improve:
Ensure your WhatsApp Business profile is complete and accurate to convey credibility and professionalism.
Set up automated responses for common queries, which will enable you to provide instant replies even when you're not immediately available.
Incorporate a system to track customer queries and maintain a log for future references.
To ensure 100% responses to all your customers in WhatsApp business ecommerce you can use 1msg.io's autoresponder feature.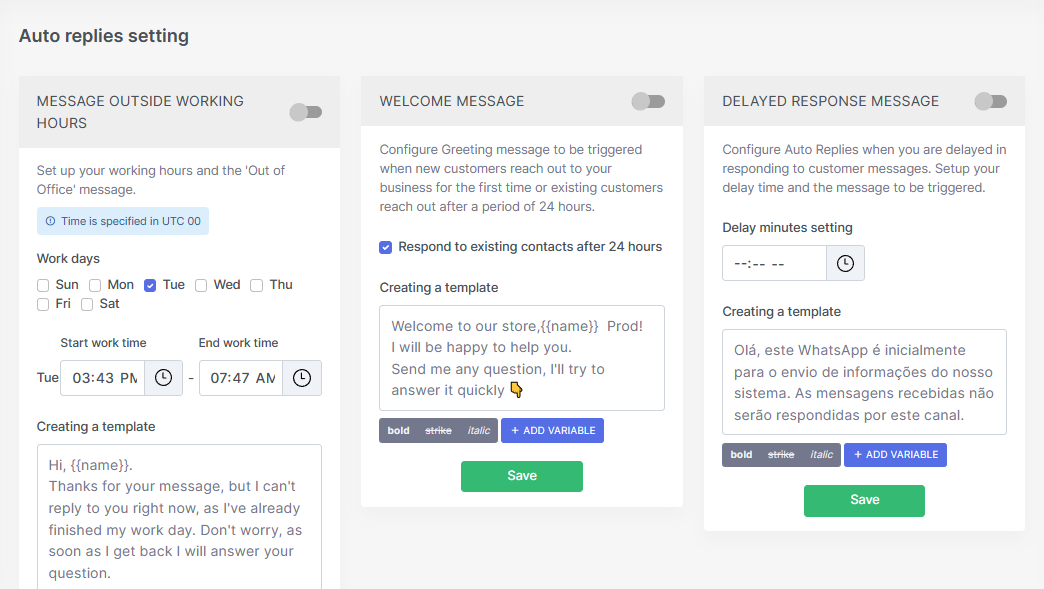 The auto-answer section is in the personal account automation section of 1msg.io along with chatbots and reactions to customer keywords.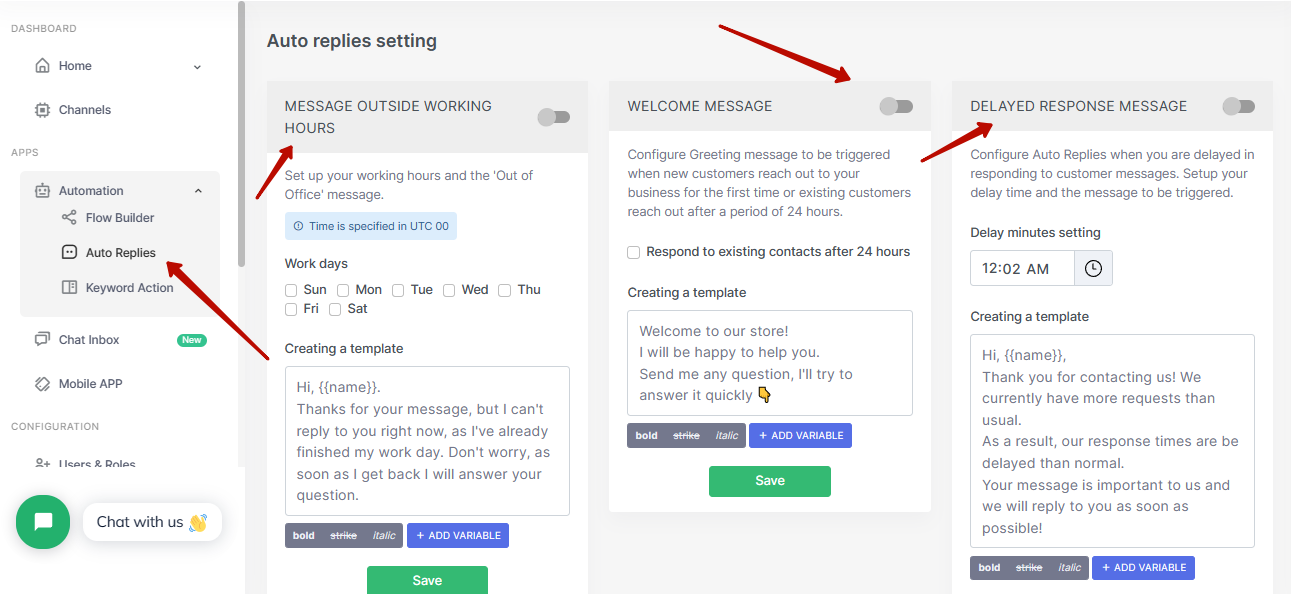 And contains three options for working with auto responses: responses to incoming requests, auto responses with a delay, if you want to meet customers with live communication, but are afraid that you will miss a customer, then auto responses will back you up and auto responses outside of business hours. Autoresponders are perfect for customer support and provide a great customer experience. Automated replies work well when handling large numbers of requests, so autoresponders work well when teamed with Bulk messaging on WhatsApp.
It's only $30 for full access to WhatsApp Business API
Chatbots, chatbot builder, inbox chat, automated replies, broadcast newsletters - all included in the $30 price tag
Connect WABA
Efficient Order Processing and Tracking:
Order processing is a critical function of ecommerce. Businesses that execute this process efficiently win their customers' trust and loyalty. WhatsApp Business allows businesses to update customers about their order status, providing real-time tracking details.
Tips to Improve:
Use WhatsApp Business API to send automated order confirmations, dispatch information, and delivery updates.
In the case of delays or issues, proactively communicate with the customer and provide a satisfactory resolution.
Offer a simple process for order modification and cancellation.
A convenient tool for sending orders, as well as quick solutions to questions that customers may have during the ordering process and reduce response time - this automation in a chatbot in WhatsApp.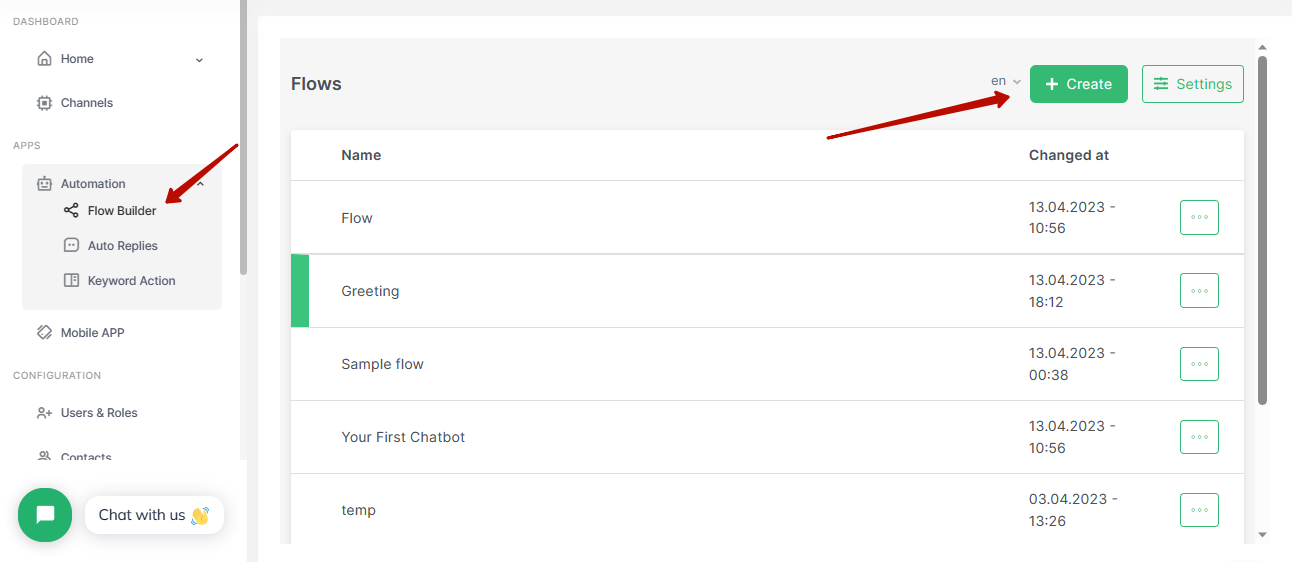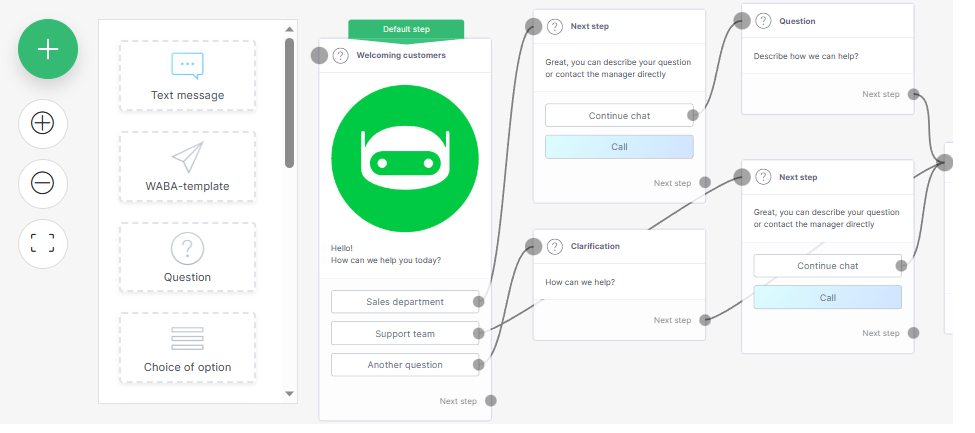 Simply build a bot that sends orders automatically and is paired with your knowledge base so that customers can quickly find answers to their important ordering questions. You can learn more about how to build a bot in this article: WhatsApp Chatbot: Customer Engagement for Businesses.
Personalized Customer Interaction:
Customers today appreciate personalized interaction, which has been facilitated through ecommerce. Providing personalized offers, product recommendations, and messages enhances customer experience.
Tips to Improve:
Utilize data analysis to understand your customers' buying patterns and preferences. Send personalized messages or product suggestions based on this data.
Send personalized greetings on special occasions such as birthdays or anniversaries.
The 1msg.io chatbot can tag customers with special tags that divide your audience into different groups so that you can work with them personally, and the bot can collect and harness information about customers so that you can build good customer relationships using the important information the bot has gathered about him.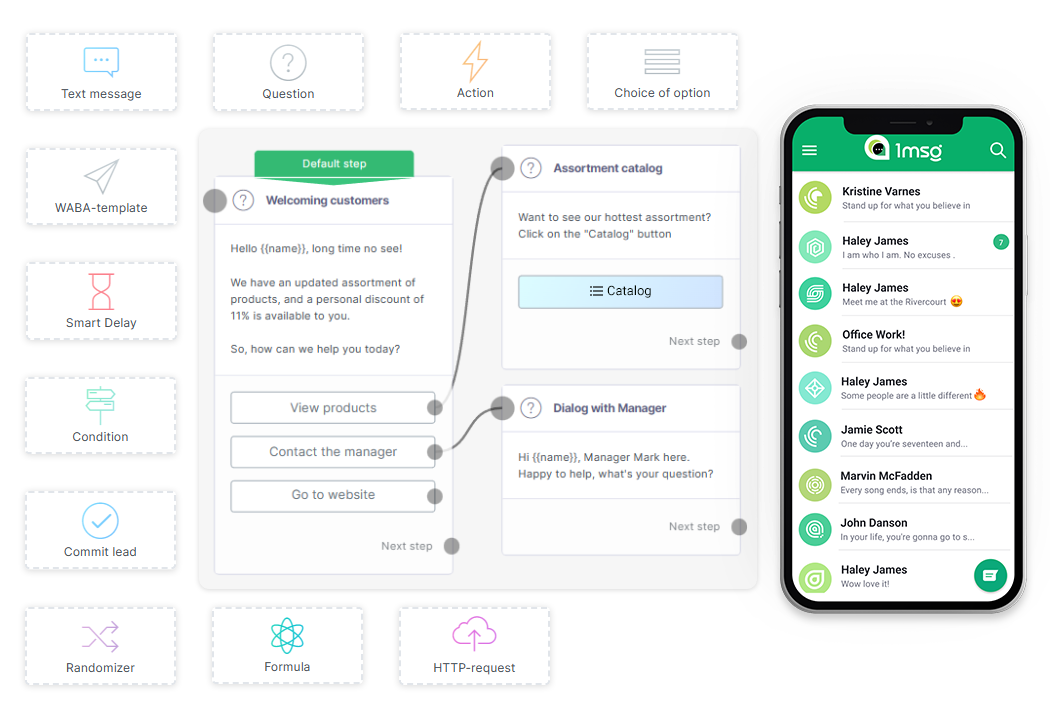 Seamless Return and Exchange Policy:
While many aspects of ecommerce are automated, there are functions that cannot be completely digitalized. Returns and exchanges fall into this category. Customers appreciate a hassle-free return or exchange process, which, when done right, boosts their confidence in your business.
Tips to Improve:
Clearly state your return and exchange policy on your WhatsApp Business profile.
Process returns and exchanges promptly and keep the customer informed about the status.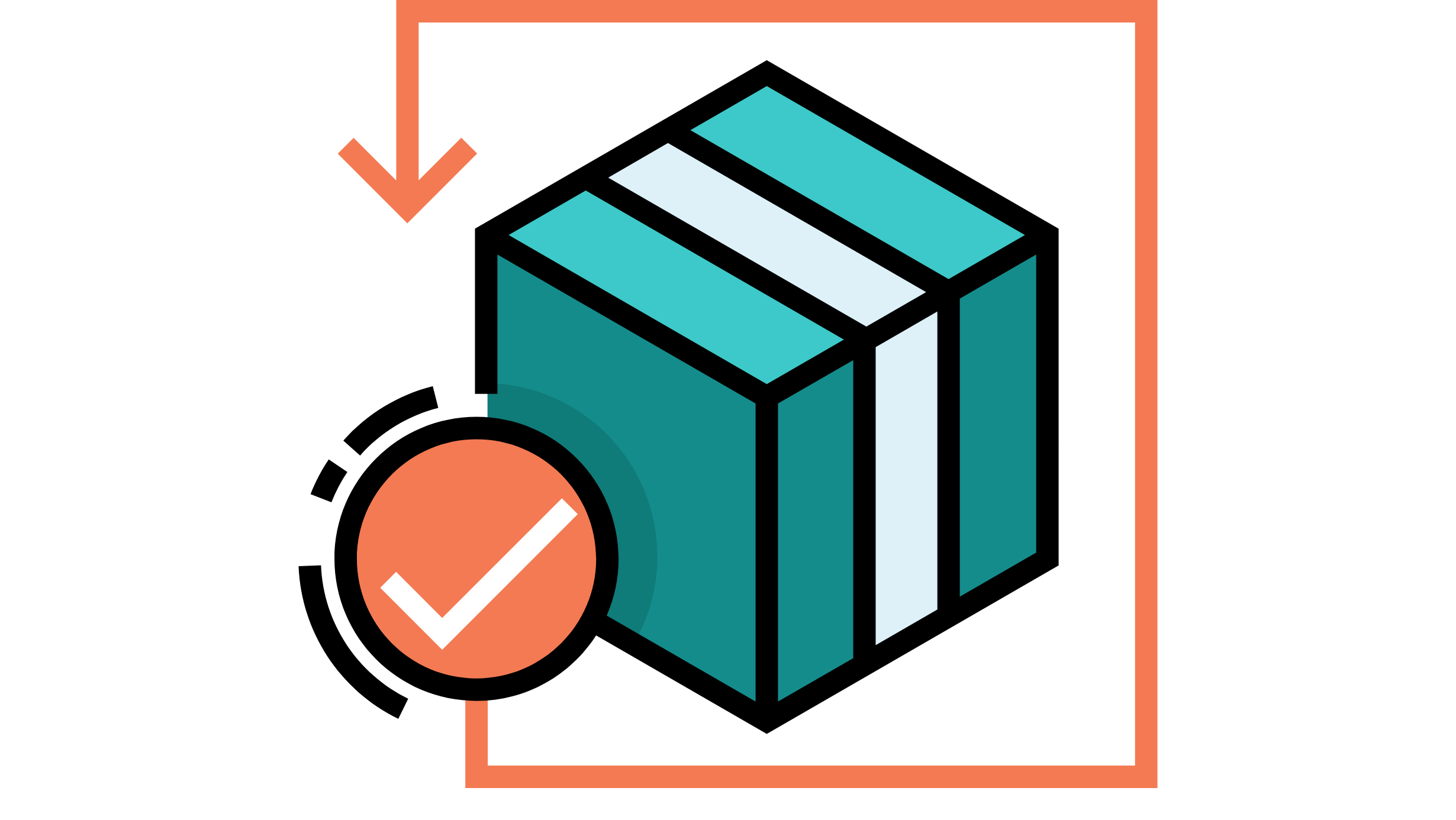 When returning merchandise, you should also do a good job of communicating with customers to take care of customer feelings and experiences, the following articles can help with this: Understanding Your Clients: 14 Types of Customers for Businesses Using WhatsApp Business API, 10 Great Substitutes for Sorry for the Inconvenience in WhatsApp Correspondence and 8 Tips to Improve Customer Service.
Post-Sale Service:
Good ecommerce customer service extends beyond the point of sale. It includes providing after-sales services such as handling queries, resolving complaints, and seeking feedback.
Tips to Improve:
Regularly engage with customers even after a sale. This helps in customer retention and building a loyal customer base.
Use WhatsApp Business to send feedback forms or conduct customer satisfaction surveys.
Chat-bot builder can also be used to collect feedback, also a good option to ensure a good response from customers is marketing and discount mailings, which can be done using our Bulk messaging tool in WhatsApp Business API.
When discussing the elements of ecommerce, one might question, "Which of the following is not a function of ecommerce?" Although ecommerce has brought about substantial changes in the retail landscape, it does not replace the need for excellent human service. Automation and digital tools, like WhatsApp Business, serve to enhance the customer experience, but they cannot replace the empathy, understanding, and personalized touch that human interaction brings.
WhatsApp commerce has opened doors for businesses to improve their retail services and provide outstanding ecommerce customer service. By implementing the tips shared in this article, businesses can foster a positive customer experience and build lasting relationships with their customers. Ultimately, an investment in your customers is an investment in the future of your business.
Connect WhatsApp Business API now and use all the features of the most popular messenger to grow your Business
Ready to work Chatbots, Shared Team Inbox Chat, Automation Tools For Support, Sales and Marketing Teams
Get Started