Free WhatsApp Widget for website in 2023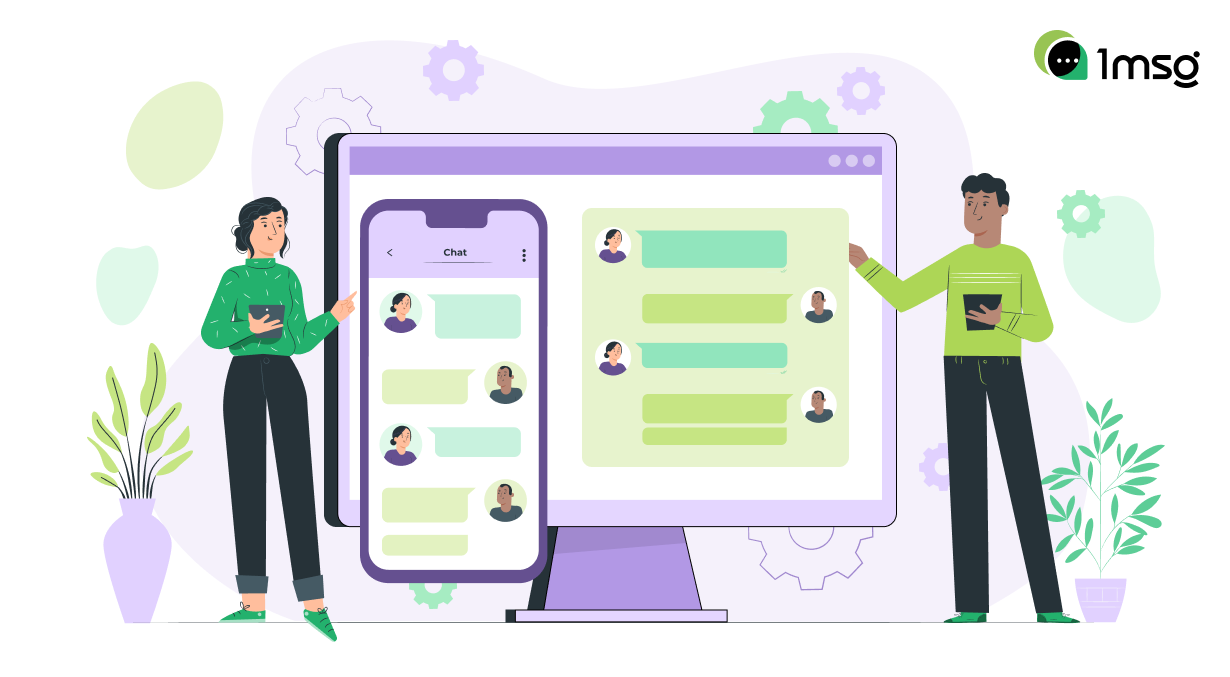 You can generate more leads from mobile traffic through WhatsApp messages and messengers in general. How do you make it work? You simply add a special WhatsApp button to your website.
It's about the widget. This is probably the most convenient version of communication, because any visitor to your website can very easily write a message to your company's chat room via the popular messenger. The button is a floating block that occupies a certain place on the page of the site. Thanks to this tool is convenient to use - a person clicks on it and gets into the WhatsApp application to start a dialog with you and ask questions in the message.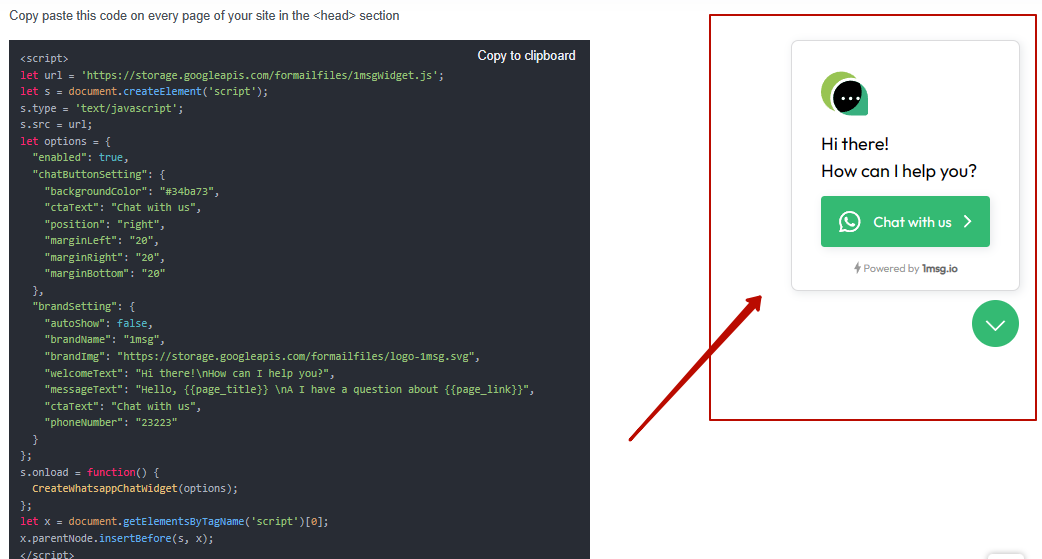 In this case, the system automatically inserts the phone number of the company, and in the input line users see a message, the text of which you have prepared in advance, so that it is easier for customers to start communicating with the manager. The person sends this template, and the company receives a potential customer, his number, a request for cooperation and the person's name, if it is in the profile description. Next, everything depends on how the messages are triggered by the sales team.
The main function of the WhatsApp live chat widget is to create a link to a dialog in this messenger. Almost anyone can set up such a useful option. A floating button on the website allows you to properly design this link, simplify communication with the audience and communicate with customers through the application.
It's only $30 for full access to WhatsApp Business API
Chatbots, chatbot builder, inbox chat, automated replies, broadcast newsletters - all included in the $30 price tag
Connect WABA
Why is it effective to install a WhatsApp widget on your website?

This tool is quite new, but nevertheless, it is ahead of the usual online chats due to the following advantages:
Simple and convenient - people are used to chatting and writing messages in messengers, it is faster and more convenient than through mail, calls, etc. The widget allows you to move from the website to WhatsApp dialog in two clicks.
Access to customer's contact information - segmentation of customers by query helps to make targeted mailings.
Trust - a person leaves his number, and this makes him more loyal.
Effective advertising - the percentage of opened messages in this application is close to 100.
The first messages that customers write to you using the click-to-WhatsApp link will not be charged by the WhatsApp Business API. More details about WhatsApp charging system in this article: 1MSG.io — WhatsApp Business API Payment model.

How to create WhatsApp free Widget?
Follow the link to use the widget for free or simply go to your personal 1msg.io account.
Go to the "WA chat Widget" section.
The next step is to customize the widget. Select the color and text of the widget. As well as the location on the left or right side of the site.
Next, provide a brand name and phone number for your customers to write to.
Afterward, set up the welcome message, for example: " Hi there, glad you wrote to me on WhatsApp".
Then you can set a stylized brand image and generate your own widget.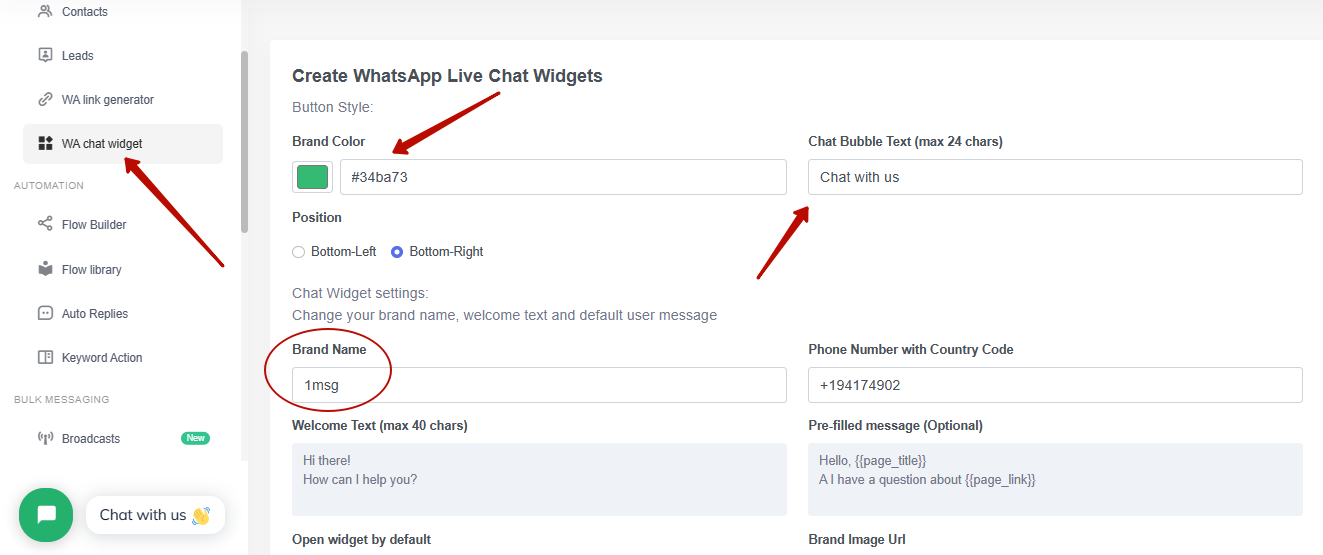 You will have a Html code that you can paste into your website and the WhatsApp Widget or WhatsApp button for website will appear on your website.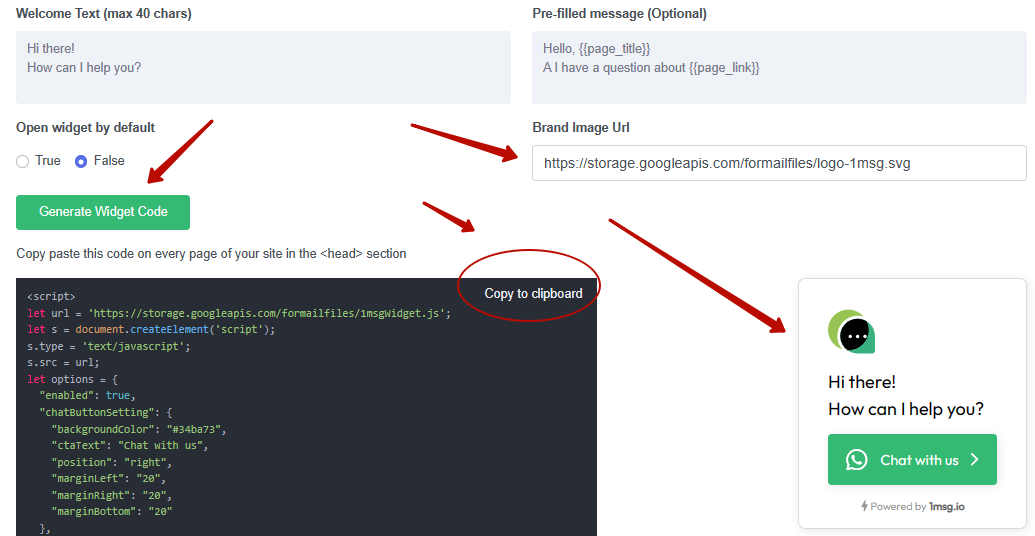 More on the pros and cons of working with WhatsApp chat Widget
An increasing number of entrepreneurs are acknowledging the advantages of engaging with their clientele through WhatsApp, the world's most popular messaging platform.
Having WhatsApp as a readily accessible communication tool means you can swiftly respond to customer needs, providing ongoing support throughout their interaction with your brand. Implementing a WhatsApp chat box feature on your site brings several benefits for both your business and its customers:
Advantages
Improved Customer Interaction: Adding WhatsApp buttons to your site enables efficient and direct communication with customers, offering real-time responses to their questions and issues.
Instant Messaging: With WhatsApp's immediate messaging features, businesses can offer quick and effective customer support.
Enhanced Engagement and Loyalty: WhatsApp's user-friendly nature and widespread familiarity can motivate visitors to engage more with your site and brand, thereby boosting engagement and loyalty.
Sales and Marketing Efficiency: Use WhatsApp for various promotional activities, customer inquiries, and marketing campaigns, enhancing your sales and marketing strategies.
Broad Audience Reach: Incorporating WhatsApp allows you to connect with its extensive user base of over 2 billion active individuals. So at least for coverage reasons, it's worth to add WhatsApp button to website.
Disadvantages
Privacy Issues: Some users may be reluctant to use WhatsApp for conversations or to share their contact details due to privacy concerns.
Dependence on External Platform: Relying on WhatsApp for customer interactions means being subject to its evolving policies and system.
Limited Customization: Adjusting WhatsApp to align with your website's style and branding offers limited flexibility.
Risks of Spam and Security Breaches: Employing WhatsApp for customer interactions might open up risks related to spam and security threats.
Need for Resource Management: Adequate training and resource allocation are necessary to manage customer interactions effectively on WhatsApp.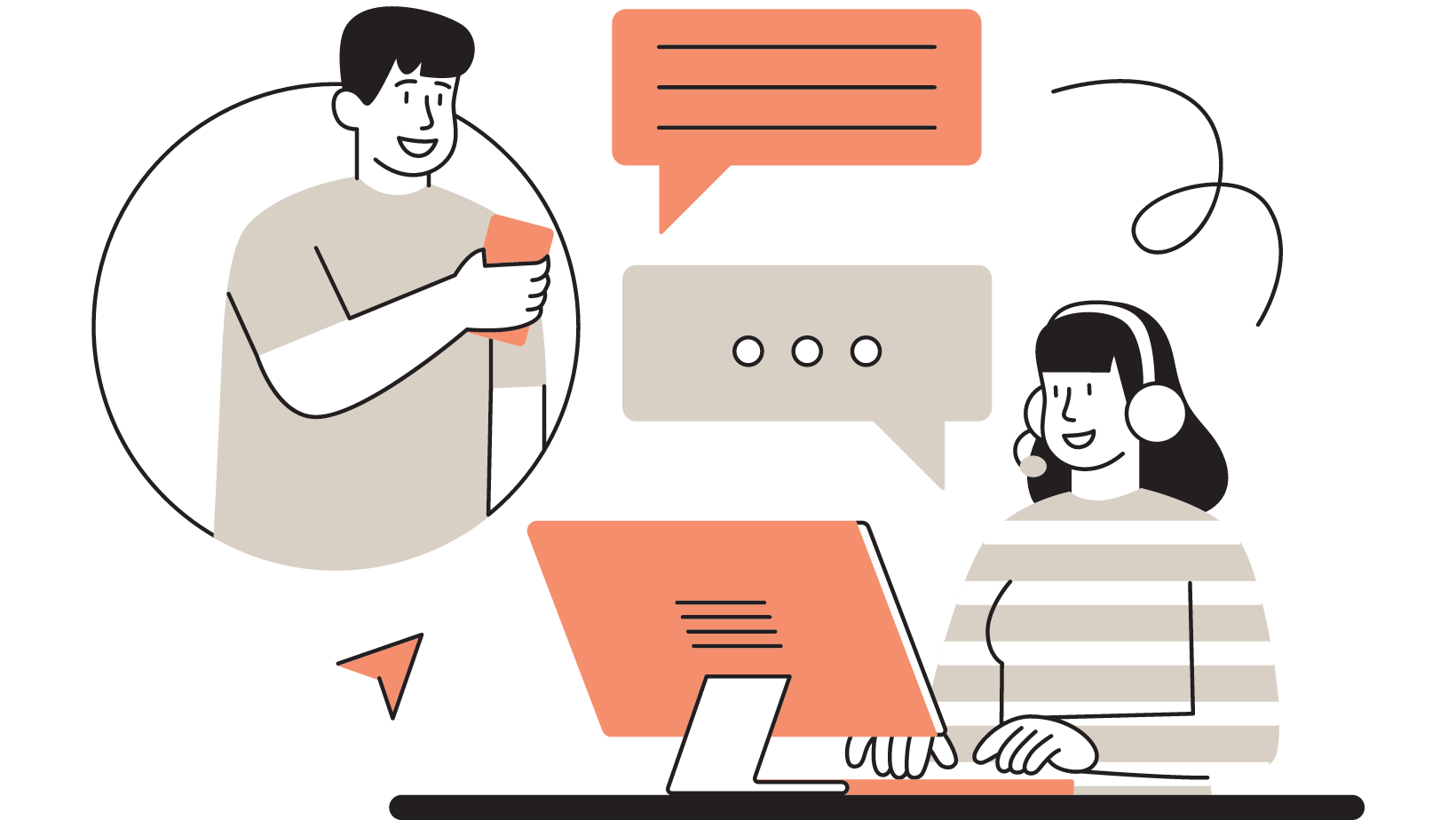 WhatsApp chat example for welcome messages
Crafting welcoming and engaging messages for a WhatsApp chat page or widget is essential to create a positive first impression and encourage communication. Here are several examples tailored for different business contexts:
General Inquiry
"Hi there! I have a question about one of your products/services."
"Hello! I'm interested in learning more about [specific product/service]. Can you help?"
Support or Assistance
"Hi! I need some assistance with my recent purchase/order."
"Hello, I'm having an issue with [product/service]. Could I get some help?"
Booking/Appointment Inquiry
"Hi, I'd like to book an appointment/make a reservation. What are your available times?"
"Hello! I'm looking to schedule a [type of appointment]. Could you provide me with the available slots?"
Feedback or Review
"Hi there, I recently had an experience with your [product/service] and would like to share my feedback."
"Hello! I'd like to leave a review about my recent experience. Where can I do that?"
Product/Service Specific Query
"Hi, can you tell me more about [specific product/service feature]?"
"Hello, I have a question about how [specific product/service] works."
Pricing and Availability
"Hi, I was wondering about the pricing of [product/service]. Can you provide more information?"
"Hello, is [specific product/service] currently available?"
General Expression of Interest
"Hi, I'm really interested in [product/service]. Can you give me more details?"
"Hello! I came across your [product/service] and would like to know more."
Order/Service Follow-Up
"Hi, I would like an update on my order/service request. Can you assist?"
"Hello, I'm following up on my recent order/service booking. Any updates?"
Request for Recommendations
"Hi! I'm looking for recommendations on [products/services]. What do you suggest?"
"Hello, I need some advice on choosing the right [product/service]. Can you help?"
Partnership or Collaboration Inquiry
"Hi, I'm interested in discussing a potential partnership/collaboration. Who can I speak to?"
"Hello, I represent [Your Company/Organization]. I'd like to talk about a collaboration opportunity."
These templates are designed to encourage customers to initiate conversations on a variety of topics, ranging from inquiries and support to feedback and collaborations. They can be adjusted to match the tone and services of your online WhatsApp chat.
In conclusion, WhatsApp Widget is a progressive tool that will help you get leads for your business. There are some disadvantages with the possibility of spamming, but in general, customers will always be grateful to you for the ability to quickly and promptly contact you in a way that is convenient for them.
Connect WhatsApp Business API now and use all the features of the most popular messenger to grow your Business
Ready to work Chatbots, Shared Team Inbox Chat, Automation Tools For Support, Sales and Marketing Teams
Get Started