Understanding the WhatsApp Business API Payment System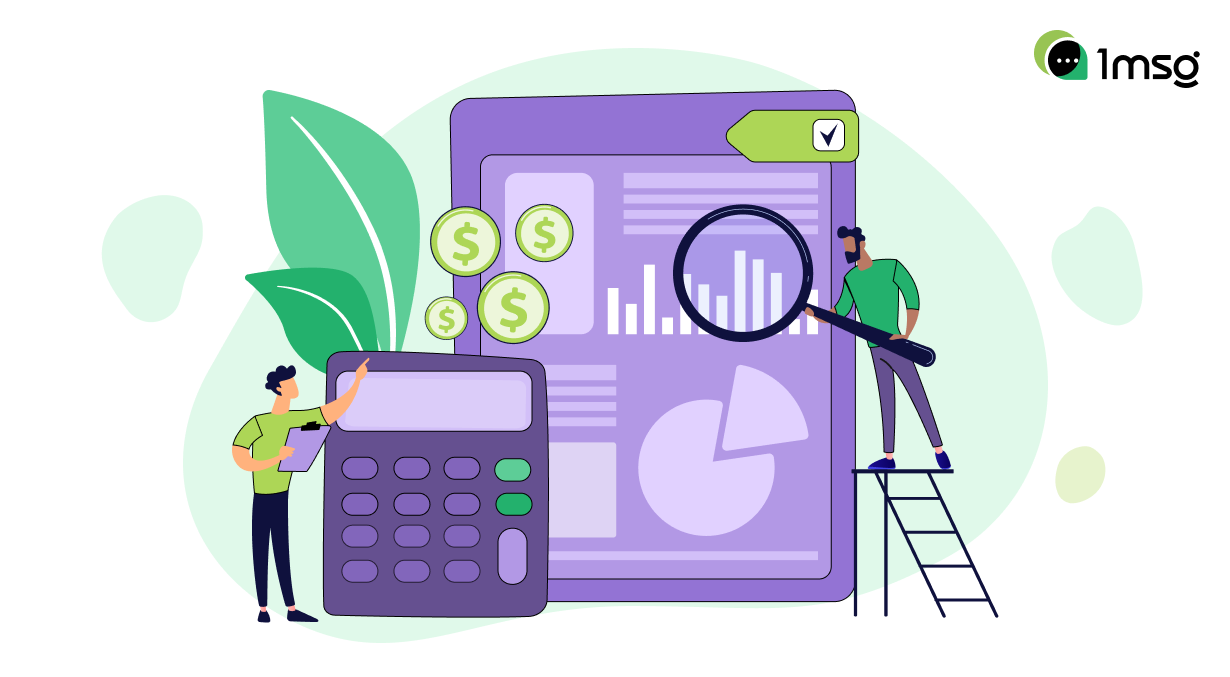 When it comes to the digital ecosystem, WhatsApp Business plays a significant role in reshaping communication dynamics between customers and businesses. With the ability to handle customer inquiries, send useful information, and facilitate transactions, the application offers an array of benefits. However, navigating through the WhatsApp Business API payment system and understanding its pricing strategy may be a challenging task for many businesses. This article aims to simplify the process by explaining the WhatsApp Business payment plan, the 1msg pricing, and specifically, WhatsApp Business pricing in India.
WhatsApp Business Model and Payment Plan
The underlying principle of the WhatsApp business model is to provide a platform for businesses to interact effectively with their customers. As of today, payment for WhatsApp Business API can be divided into several segments:
Payments for connecting a number.
Monthly subscription fees.
WhatsApp Business API messages.
Payment for instruments to work with WhatsApp Business API.
Fees for additional services, such as getting a Green WhatsApp Tick.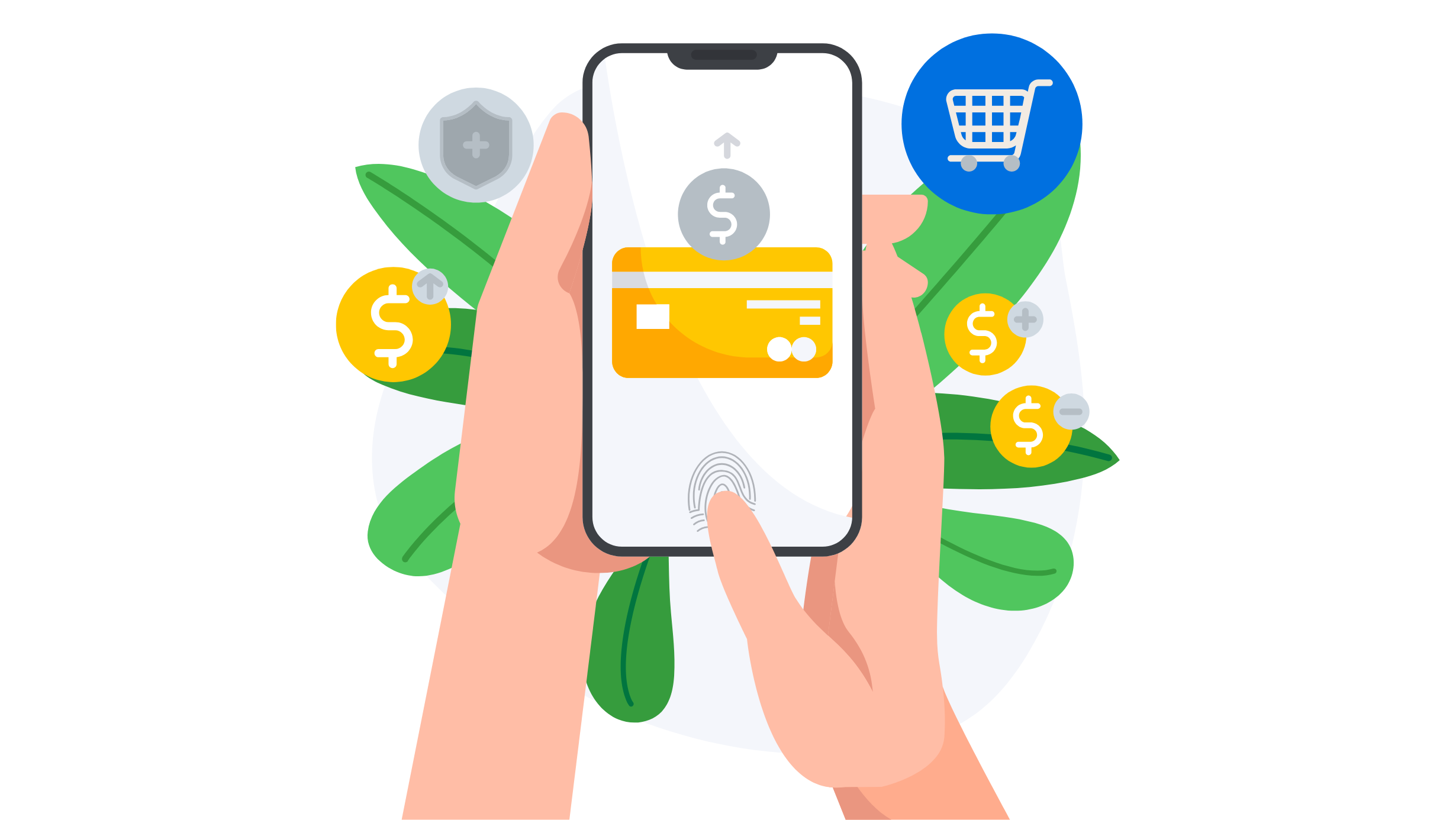 It looks like you have to pay for a lot of things, but in fact many API providers bundle payments or do not require payment for certain services, let's see how and what is the payment for WABA in more detail.
Number connection fee
When WhatsApp Business API first appeared on the market many API providers offered their services to connect the number, this could include both advice and technical support when connecting, now because the process is very simplified, the money for the fact of connecting WhatsApp Business API number usually do not require.
WhatsApp Subscription for Number
The most common type of payment, when you pay monthly for connecting your number to WhatsApp Business API, as a rule all operators and API providers have one WhatsApp business payment model, when you pay monthly in a subscription format for the connection to the number and for the connected automation features.
The amount of charges can vary, from $40 to $500 per month, you can see how much our annual or monthly plan costs here: the cost of WhatsApp Business API. Our API access is one of the least expensive on the market.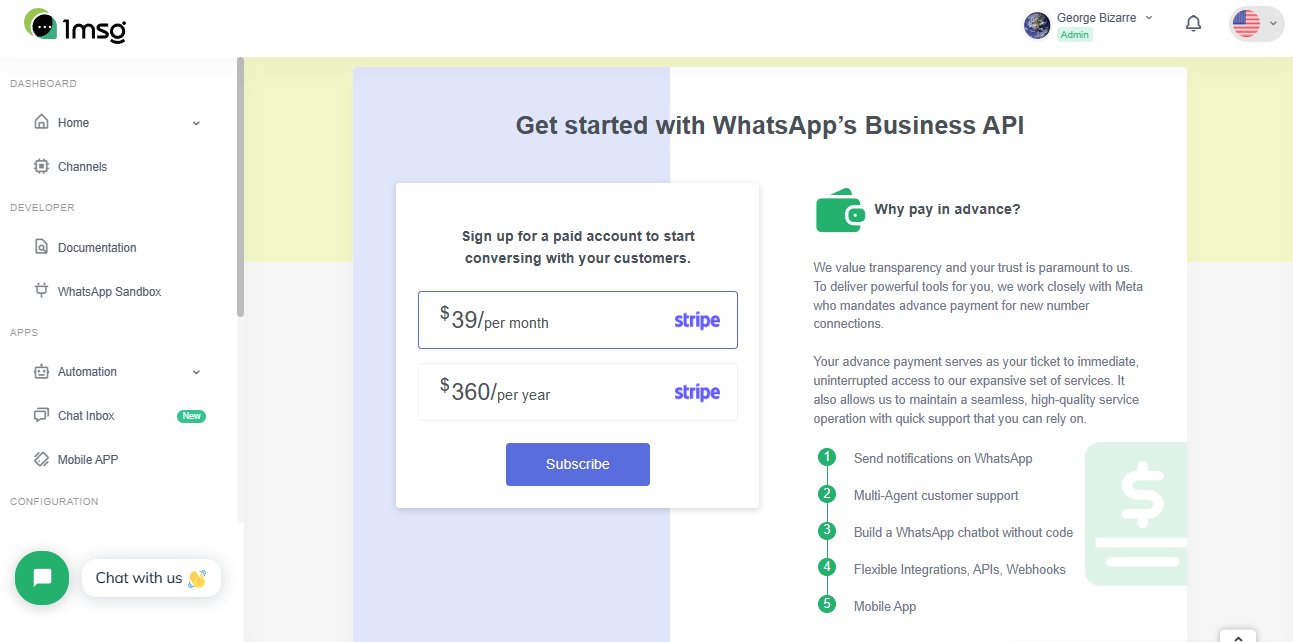 You can not pay for the connection number, for this is enough to connect the cloud API from Meta, for details, we wrote here: The Introduction of Meta's WhatsApp Cloud API: Its Implications and Meaning. However, this path will require you to have rather advanced programming skills.
Payment for incoming and outgoing conversations in WhatsApp
The charge for incoming and outgoing messages is the part of the payment that goes directly to Meta. That is, Meta designates how much messages cost for a business in WhatsApp, how many free messages you can send per month, and defines other restrictions and rules of the game. However, it's important to understand that other API providers have their own markup, which can range from 5% to 40% on incoming and outgoing WhatsApp messages. Our markup is 5% on WhatsApp messages, see our pricing system for sending messages to WhatsApp here: pricing list. To learn more about the rules by which Meta will calculate fees for WhatsApp dialogs, click here: the Meta dialog payment system.
Paying for WhatsApp automation tools
API providers, in addition to the API itself, also offer customers various tools for working with the WhatsApp Business API, such as: Mobile app, Chatbots, Chatbot constructors, Inbox chat, Bulk messaging, Autoresponders and other Automation tools. Fees for these can vary, moreover, you may have to pay extra for additional functionality. At 1msg.io you do not need to pay separately for additional functionality, you get it immediately and in full volume once the number is connected.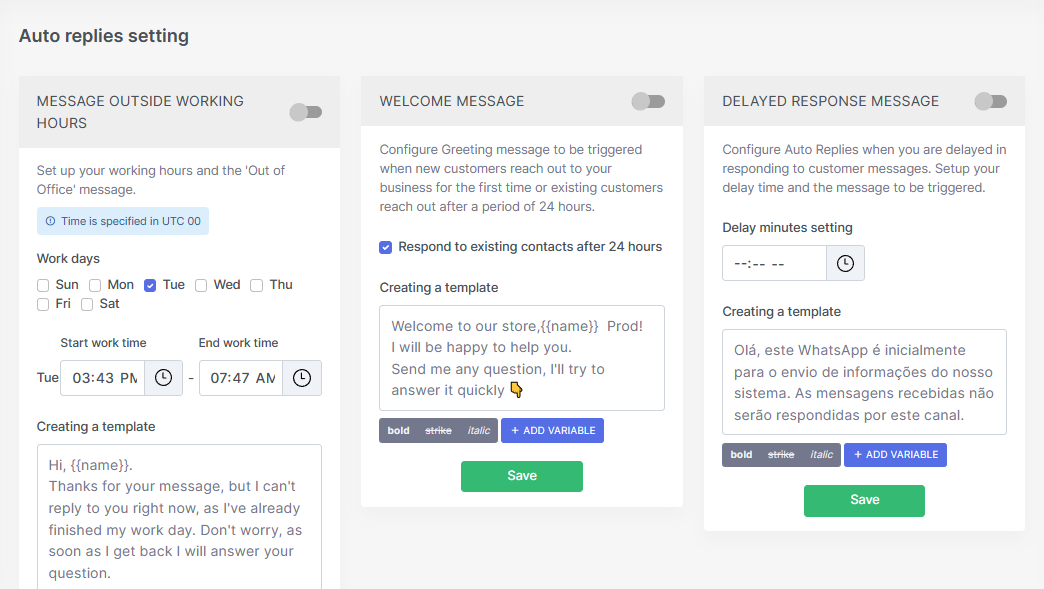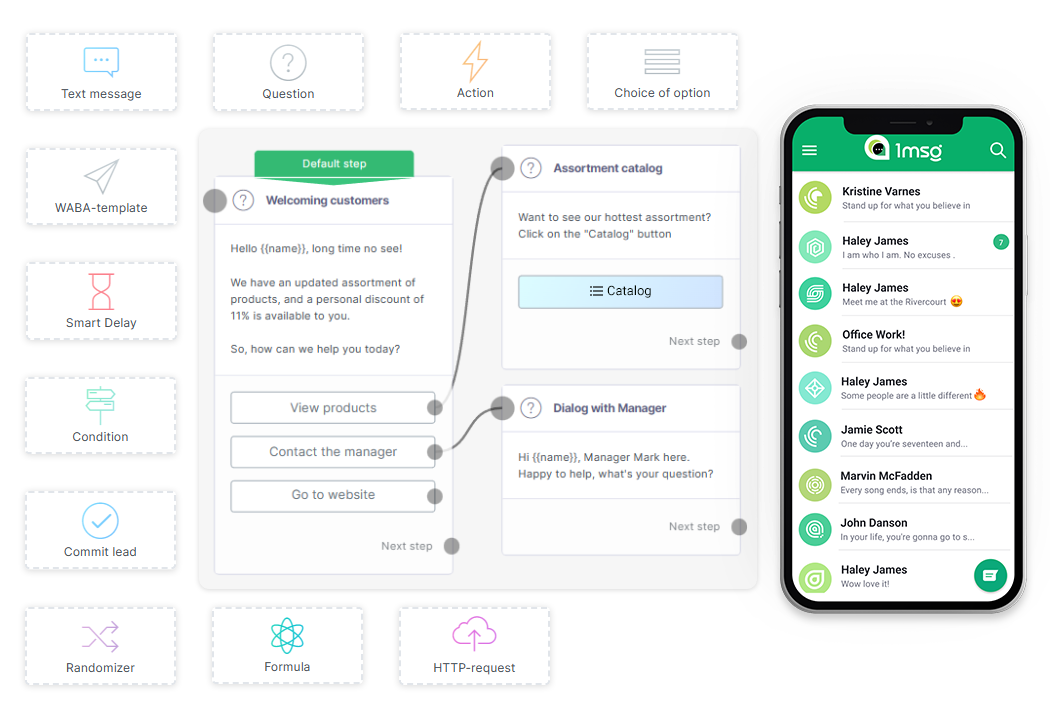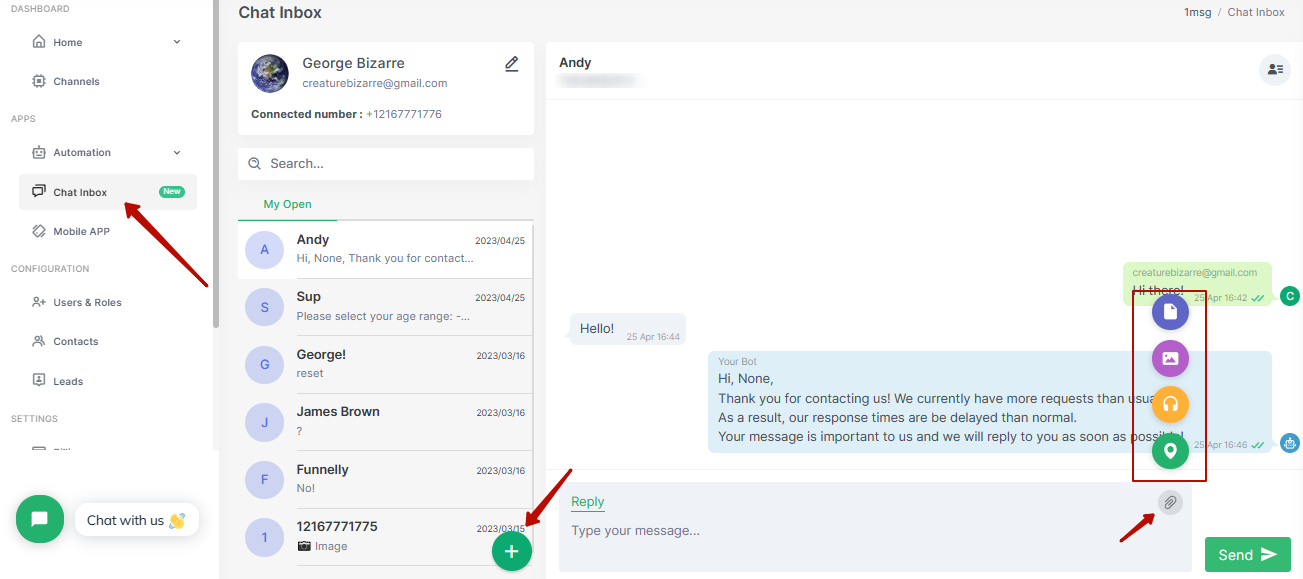 Fees for additional services
This can be a variety of additional advice and assistance in organizing processes, the most striking example is the help in getting a green WhatsApp tick, providers can require additional money, from 50 to 500 dollars. We can help you get a green tick for free, just email our support.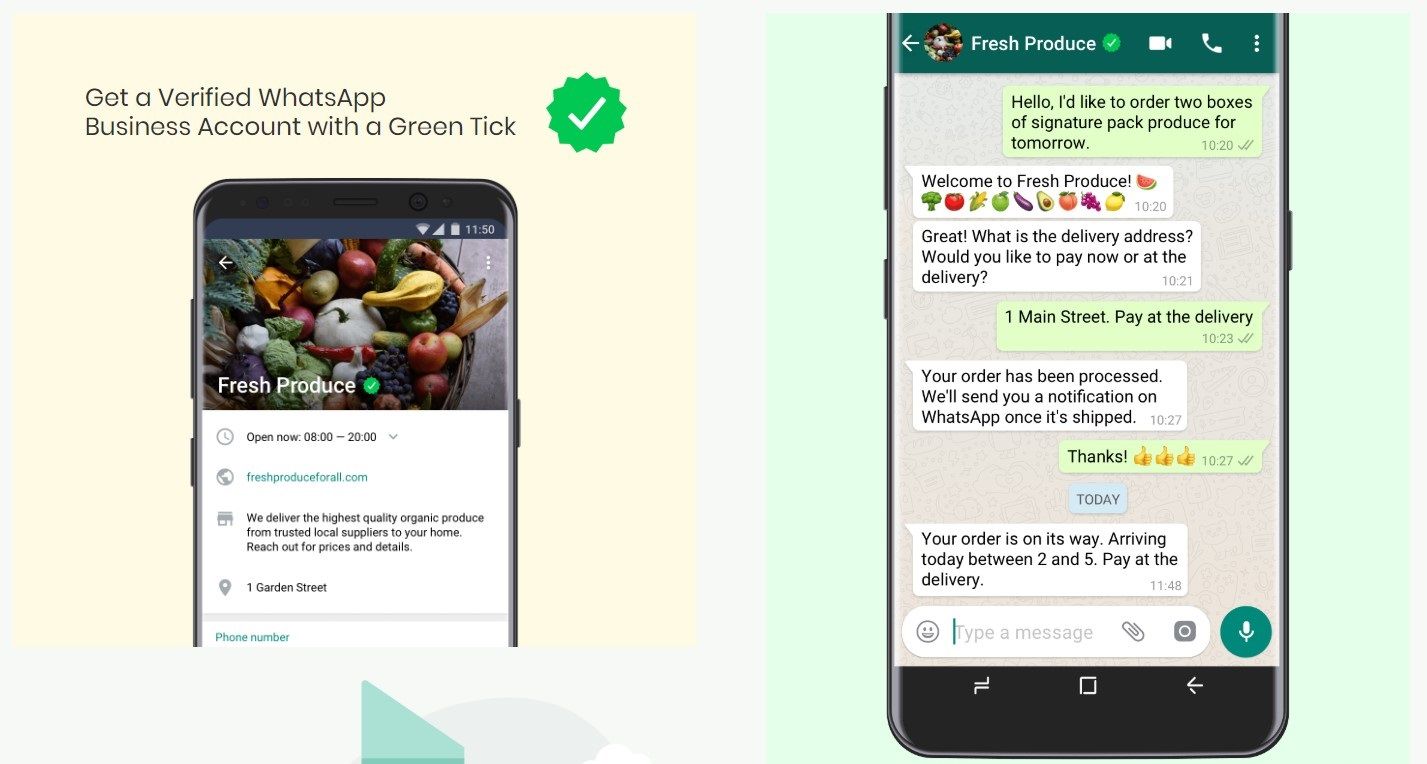 1msg Pricing
From our parsing, we can see that operators have different business models for securing payment for their services. We, as API providers, offer you a very favorable approach to connect API, you pay only for the number subscription and incoming and outgoing messages, all other services are already included in the package. Everything is very transparent and there are no additional conditions. Explore our website to learn more about us: 1msg.io.
WhatsApp Business Pricing India
India, with its rapidly evolving digital landscape, is a significant market for WhatsApp. The exact WhatsApp Business charges in India can vary based on various factors such as the number of messages sent, the type of messages, and any additional services employed.
However, it is safe to say that Meta for the market of India makes the most pleasant and significant discount for open conversations in WhatsApp, only about 0.10 cents per conversation, it is much lower than for many other countries. You can see the exact prices here. With our markup of only 5%, you get the best app on the market in India.
Conclusion
The WhatsApp Business API has proven to be a game-changer for businesses globally. Its flexibility and adaptability to various business needs make it a potent tool for customer interaction and engagement. However, while the platform can be free to use, the WhatsApp rate for advanced services, particularly in markets like India, needs to be considered and planned for. Ultimately, understanding the pricing model of the WhatsApp Business API can ensure businesses are better equipped to budget their customer communication efforts effectively.
Connect WhatsApp Business API now and use all the features of the most popular messenger to grow your Business
Ready to work Chatbots, Shared Team Inbox Chat, Automation Tools For Support, Sales and Marketing Teams
Get Started