Perfecting WhatsApp Greetings Messages: Best Practices and Strategies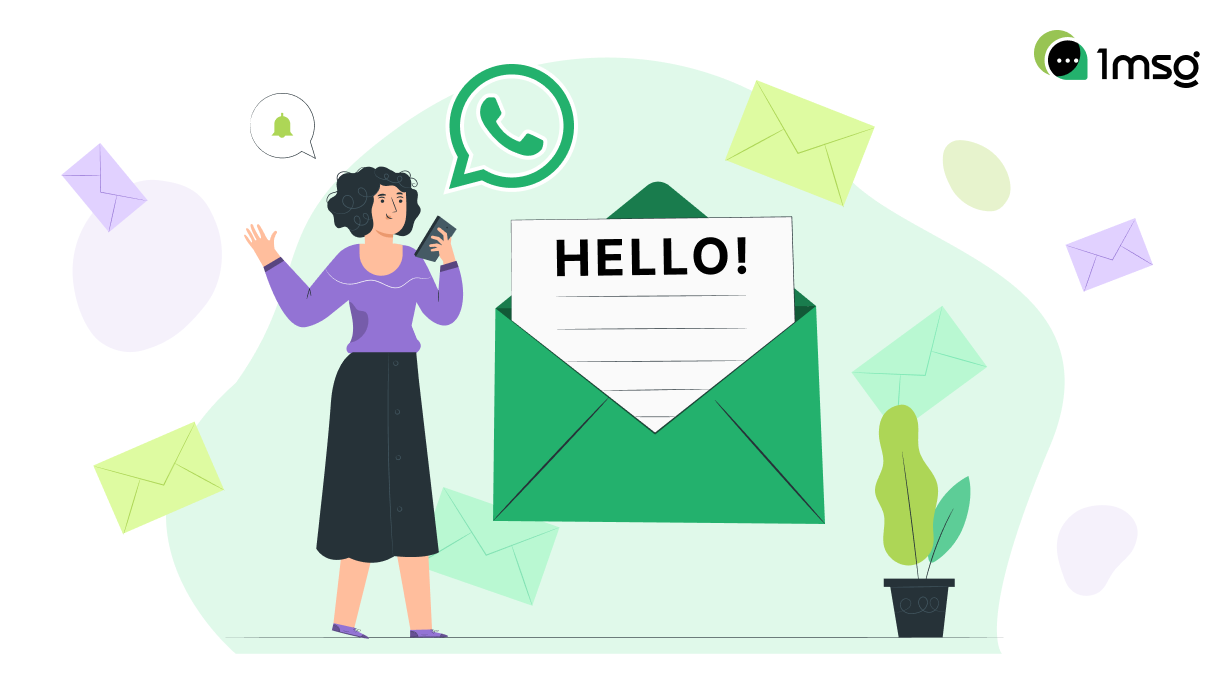 In today's business landscape, having a strong presence on messaging platforms like WhatsApp is essential for engaging with customers. Crafting the perfect WhatsApp business message is crucial in establishing rapport with clients and creating a positive first impression. In this article, we will explore the importance of greeting customers on WhatsApp, how to compose the ideal greeting message, and the benefits of getting it right.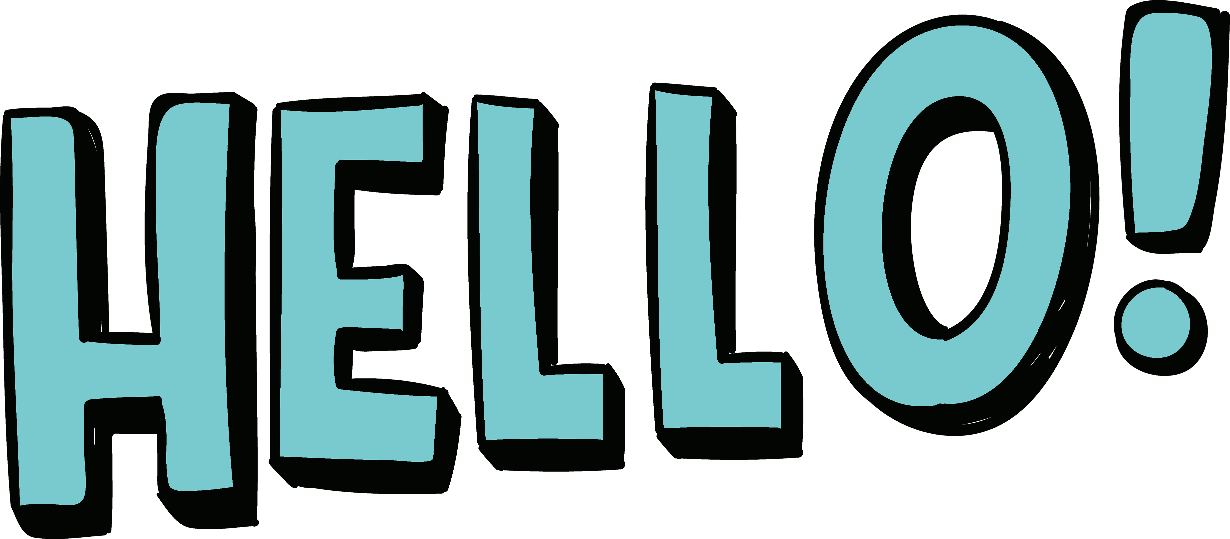 Why Greeting Customers on WhatsApp Matters
Fosters positive relationships: A well-crafted WhatsApp group welcome message helps create a friendly and welcoming atmosphere, fostering strong connections between your business and customers.
Sets the tone for communication: Your WhatsApp introduction message sets the stage for your entire interaction, emphasizing your brand's professionalism and approachability.
Encourages engagement: A creative and personalized best greeting message for business helps capture your customers' attention and encourages them to engage with your company further.
Enhances brand image: A well-written welcome message in WhatsApp group reflects your business's values and personality, creating a consistent brand experience for customers.
Promotes customer loyalty: Customers who feel acknowledged and respected are more likely to remain loyal to your brand.
Composing the Ideal WhatsApp Greeting Message
Balance friendliness and professionalism: Your formal WhatsApp message should strike a balance between warmth and professionalism, ensuring that customers feel welcome while maintaining a level of formality suitable for your business.
Personalize your message: Including your customer's name in your WhatsApp greeting message can make them feel recognized and valued, promoting a strong connection between your brand and clients.
Keep it short and sweet: Ensure your welcome message for customers on WhatsApp is concise and to the point, avoiding lengthy messages that may be overwhelming.
Incorporate your brand personality: Your greeting message for WhatsApp should embody your brand's personality and values, helping customers develop a strong association with your company.
Provide useful information: Use your introduction message on WhatsApp to offer helpful information, such as your business hours, contact details, or a brief overview of your products and services.
It's only $30 for full access to WhatsApp Business API
Chatbots, chatbot builder, inbox chat, automated replies, broadcast newsletters - all included in the $30 price tag
Connect WABA
Examples of Effective WhatsApp Business Greeting Messages
Example 1: "Greetings from [Your Business Name], [Customer Name]! We're thrilled to have you as a part of our community. If you have any questions or need assistance, please don't hesitate to reach out. Our team is here to help! 😊"
Example 2: "Hello [Customer Name], welcome to our WhatsApp group! We're delighted to have you join us. Please feel free to ask any questions or share your thoughts. We're available [Business Hours]."
Example 3: "[Customer Name], thank you for choosing [Your Business Name]! We're excited to assist you with your needs. For any inquiries, please send us a message. We're always ready to help!"
How to create greeting messages in 1msg.io
To connect automatic greeting messages for WhatsApp Business API you first need to connect your WhatsApp Business API number. We will help you connect WhatsApp Business API, to do this you need to do the following steps:
Register at 1msg.io.
Open a new WABA project.
Connect your WhatsApp number to WhatsApp Business API.
You will need an account in Meta Business manager to successfully connect the number. You can create it in advance, or it will be created in the process of connecting the number. Connecting the number is fast, our tips on the website will help you connect the number in just 10 minutes.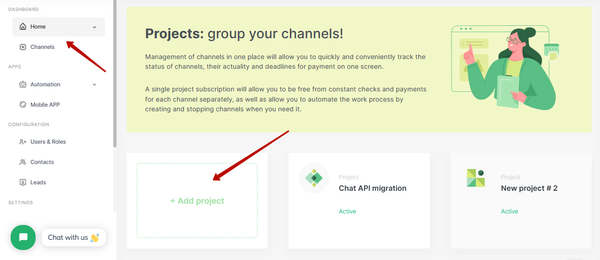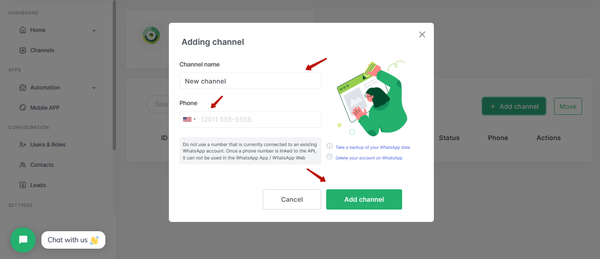 After connecting the number to WhatsApp Business API, you will no longer be able to use the number in regular WhatsApp and WhatsApp Business applications, but we immediately open Inbox chat, Automation tools and Chatbot builder on WhatsApp Business API number for our customers. And, of course, the auto-reply features will also be available to you immediately.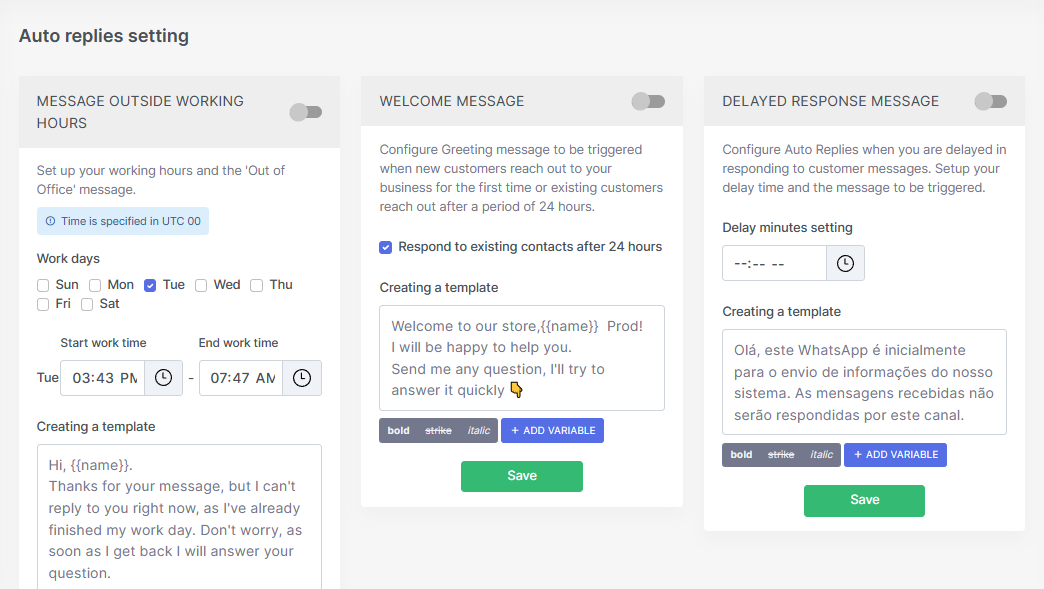 Here you can customize your ideal greeting message. You will have three options for working with auto responses: responses to incoming requests, auto responses with a delay, if you want to meet customers with live communication, but are afraid that you will miss a customer, then auto responses will back you up and auto responses outside of business hours. Automated replies work well when handling large numbers of requests, so autoresponders work well when teamed with Bulk messaging on WhatsApp.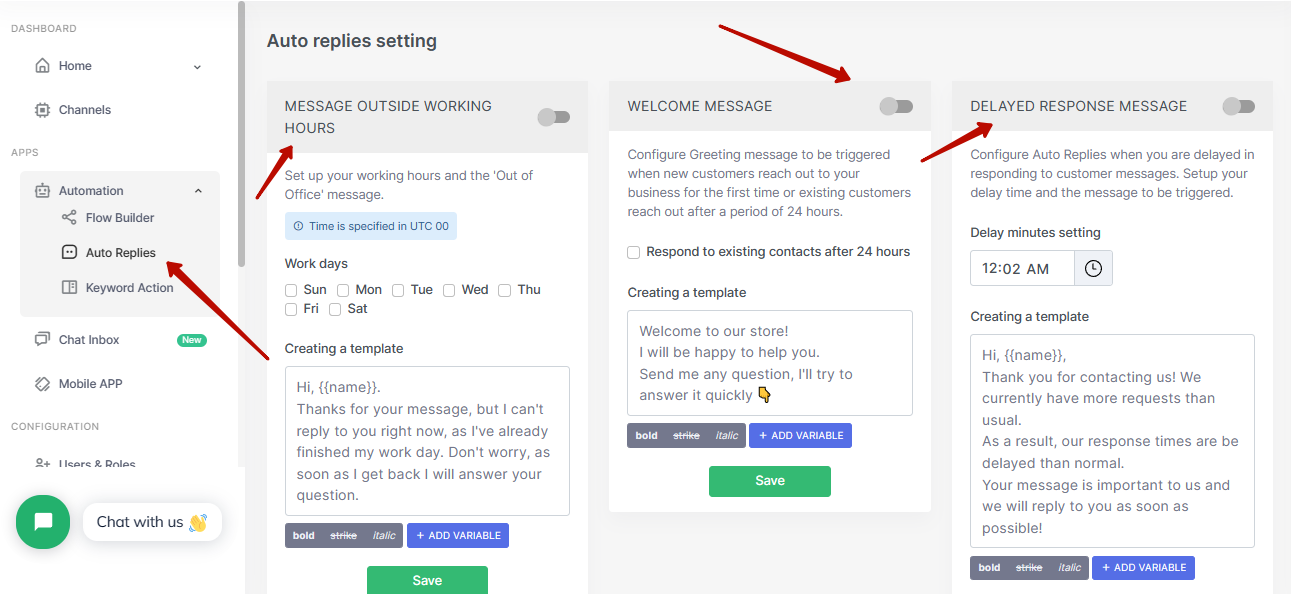 You'll also be able to send automated WhatsApp Business API greeting messages through a multi-user chatbot, as well as a variety of scripting options No-Code chatbot builders.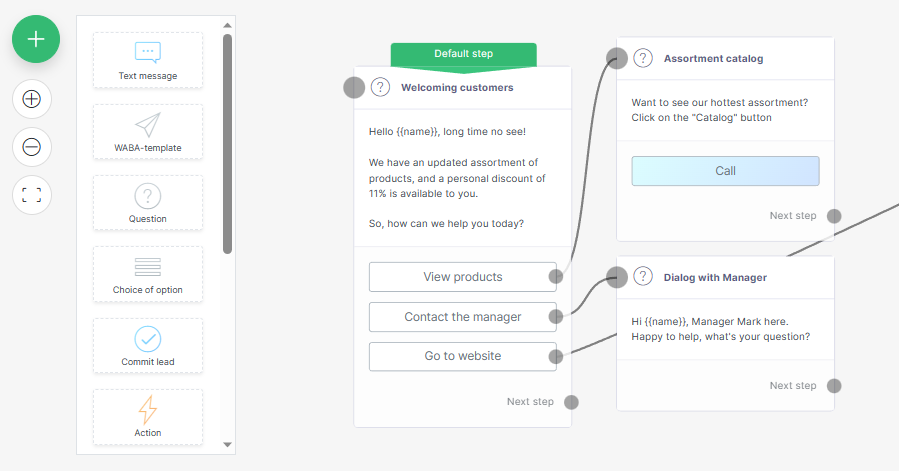 Set up automatic greeting messages through the chat bot is easy enough, just go to the personal account section "Automation" and create your first flow. After that, move the blocks around to create a bot that can use the guidelines for the welcome messages we described above. Then your business won't miss a single client and you'll be able to start creating friendly and warm relationships with everyone. The first contact with a customer is always important, so take every opportunity to make it pleasant and engaging for the customer.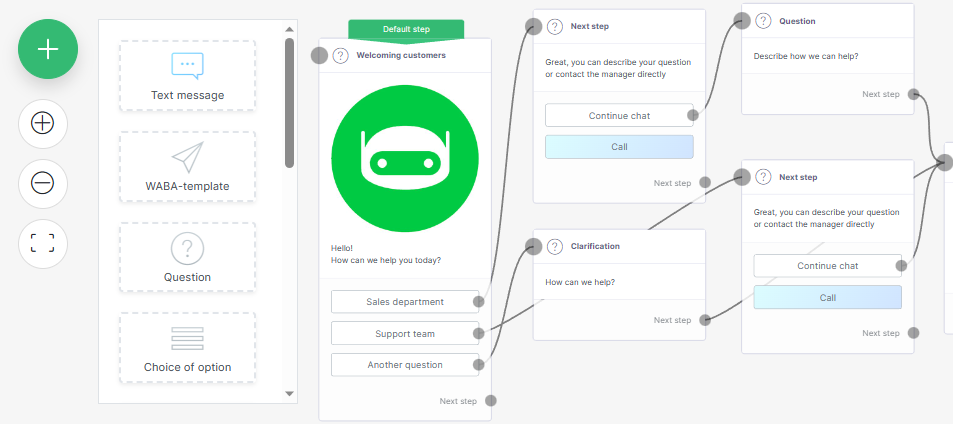 Both bots and automated responses can be used to organize Marketing, Support, Sales team in WhatsApp.
By the way, we also talked about how you can properly use apologies in communication for clients, so if you want to set up a more human bot, you might also be interested in reading this material: 10 Great Substitutes for Sorry for the Inconvenience in WhatsApp Correspondence and 8 Tips to Improve Customer Service and good material on how to say thank you correctly: The Art of Gratitude: Thanking Customers for Their Purchases and 10 Ways to Do It on WhatsApp.
Conclusion
Crafting the perfect introduction message in WhatsApp for your customers is a vital aspect of effective communication. By balancing friendliness and professionalism, personalizing your message, and incorporating your brand's personality, you can create a welcoming environment that encourages engagement and fosters customer loyalty. So, take the time to perfect your best greeting message for WhatsApp business, and watch your customer relationships thrive.
Connect WhatsApp Business API now and use all the features of the most popular messenger to grow your Business
Ready to work Chatbots, Shared Team Inbox Chat, Automation Tools For Support, Sales and Marketing Teams
Get Started