The Art of Gratitude: Thanking Customers for Their Purchases and 10 Ways to Do It on WhatsApp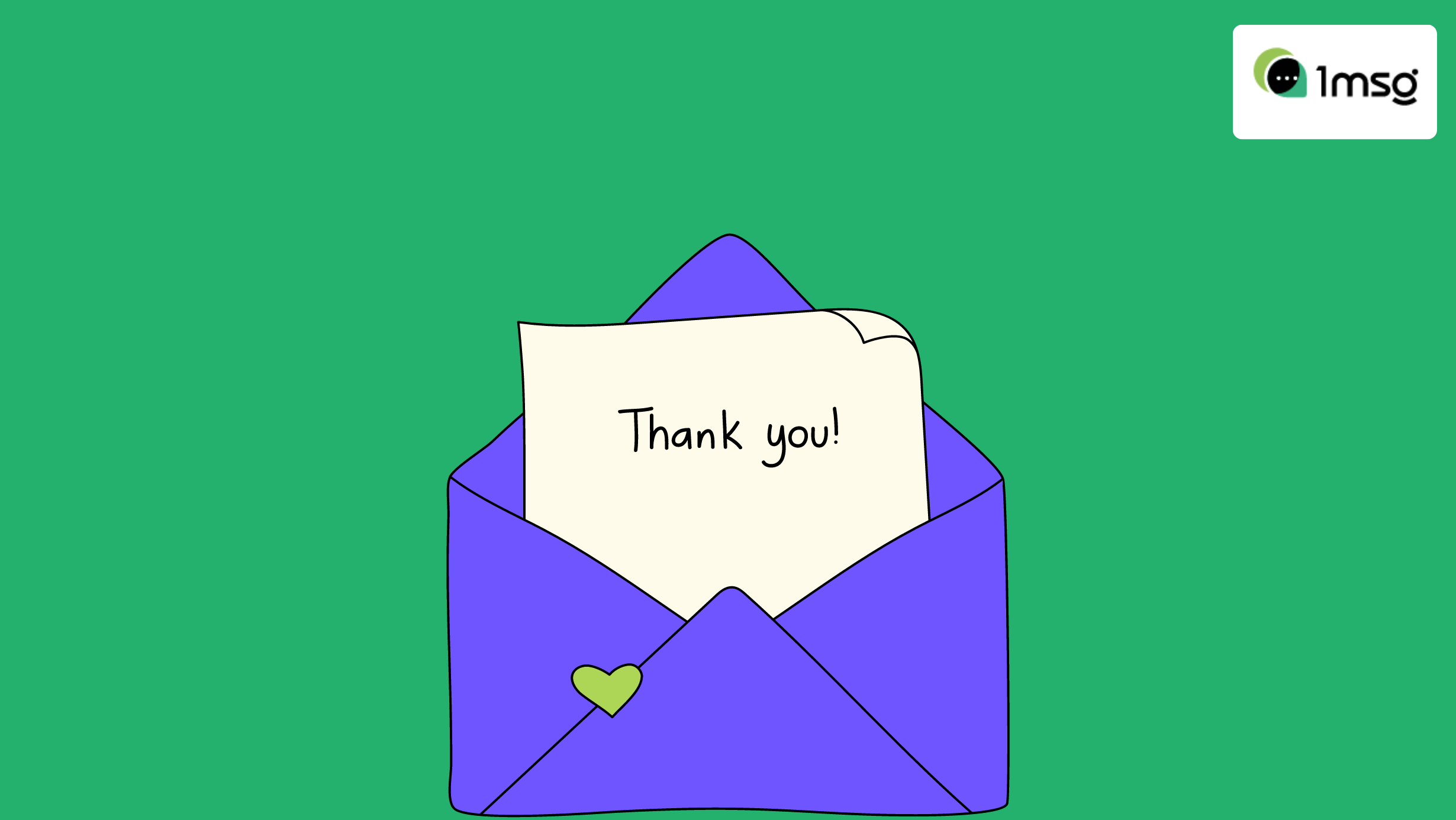 Expressing gratitude to customers for their purchases is an essential aspect of fostering strong relationships and maintaining customer satisfaction. A simple "thank you" can go a long way in making customers feel valued and appreciated, encouraging them to continue doing business with your company. In this article, we will discuss the importance of thanking customers for their purchases and offer ten creative examples of how you can convey your gratitude in return messages on WhatsApp. We'll also explore various ways to say thank you and show appreciation, ensuring your message leaves a lasting impression. The right approach to "thank you" will help you organize and establish a communication process for Marketing, Support, Sales team with customers in WhatsApp.
Benefits of WhatsApp Auto Reply for The Importance of Thanking Customers for Their Purchases:
Builds customer loyalty: A heartfelt thank you can reinforce the positive feelings customers have towards your brand, making them more likely to return for future purchases.
Encourages word-of-mouth marketing: Satisfied customers who feel appreciated are more inclined to recommend your business to their friends and family, helping you gain new customers.
Enhances brand reputation: Taking the time to thank customers demonstrates your commitment to providing excellent customer service, which can improve your brand's overall reputation.
Increases customer lifetime value: By nurturing strong relationships with your customers, you increase the chances of them becoming repeat customers, ultimately contributing to your business's long-term success.
10 Ways to Thank Customers in Return Messages on WhatsApp:
Personalized thank-you messages: Customize your thank-you messages by addressing customers by their names and mentioning the specific products they purchased. You can say, "Thank you for your purchase, [Customer's Name]. We appreciate your support!"
Offer exclusive discounts: Show your appreciation by providing customers with exclusive discounts or special offers on their next purchase. You can say, "Thank you for your order! Enjoy a 10% discount on your next purchase as a token of our gratitude."
Share valuable content: Thank customers by sending them useful content related to their purchase, such as product care tips, tutorials, or relevant articles. You can say, "Thanks for your time and for choosing our products! Here are some helpful tips on how to make the most of your new purchase."
Celebrate milestones: Congratulate customers on their loyalty by acknowledging milestones, such as their first purchase anniversary or reaching a specific number of orders. You can say, "Thank you for your continued support! Happy 1-year anniversary as our valued customer."
Host a giveaway: Organize a giveaway or contest exclusively for your customers to show your appreciation for their support. You can say, "Thank you for your order! As a token of our gratitude, we're hosting a special giveaway just for our customers. Don't miss out!"
Invite feedback: Encourage customers to share their thoughts on their purchase and thank them for taking the time to provide valuable feedback. You can say, "Thank you for shopping with us! We'd love to hear your thoughts on your recent purchase. Your feedback is greatly appreciated."
Provide sneak peeks: Offer customers a sneak peek at upcoming products or events as a token of gratitude for their continued support. You can say, "Thanks for your support! Here's an exclusive sneak peek at our upcoming collection just for you."
Recommend complementary products: Suggest related products that complement their recent purchase, demonstrating that you care about their overall experience. You can say, "Thank you for your purchase! We think you might also love these complementary products."
Celebrate holidays or special occasions: Send personalized holiday or special occasion messages to your customers, thanking them for their support throughout the year. You can say, "Happy Holidays! Thank you for your continued support and for choosing us throughout the year."
Create a loyalty program: Establish a loyalty program that rewards customers for their continued patronage, expressing your appreciation for their business. You can say, "Thank you for being a loyal customer! Join our loyalty program to enjoy exclusive perks and discounts as a token of our gratitude."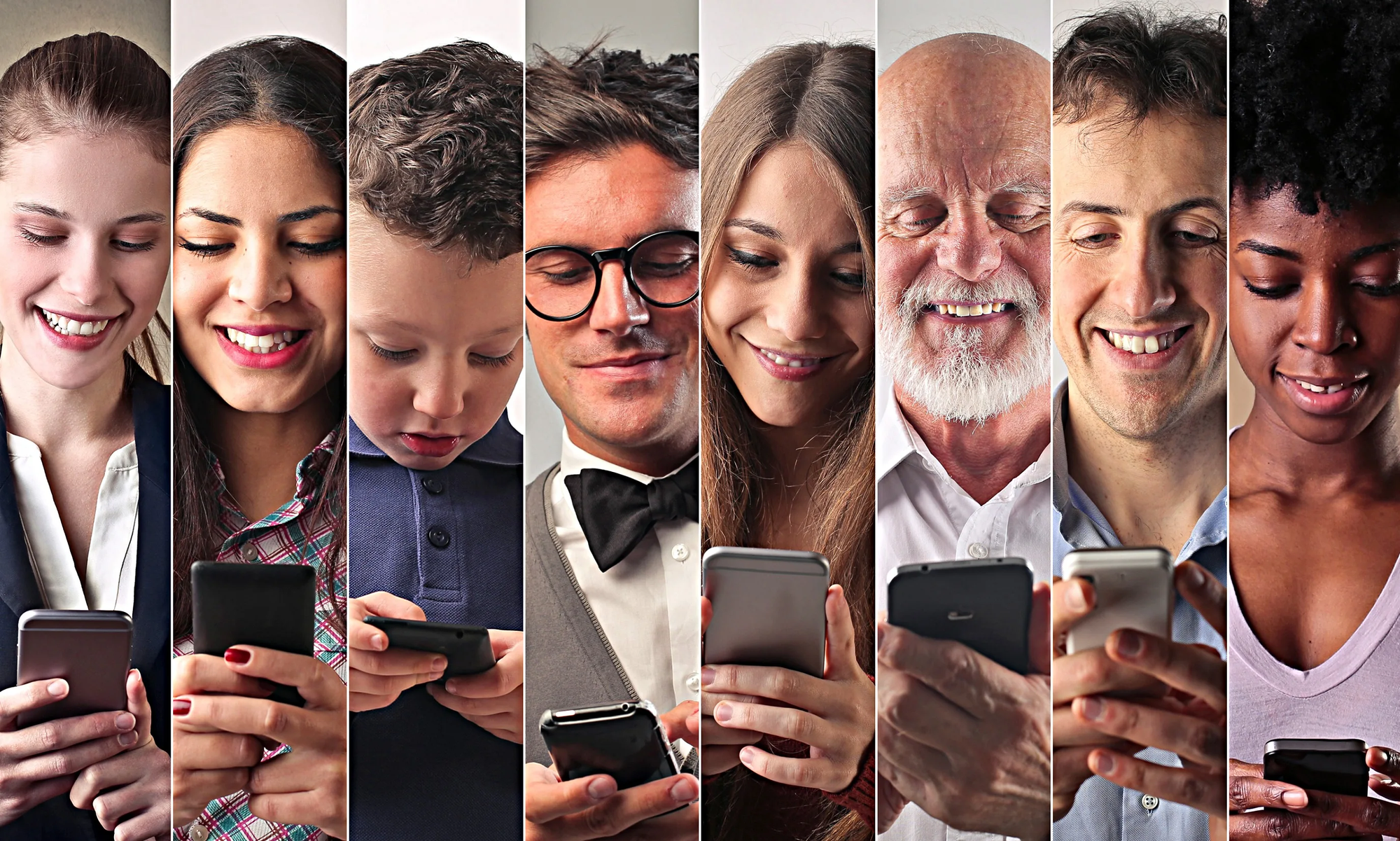 Other Ways to Express Gratitude and Appreciation:
Thanks for your time
How to appreciate someone
Thank you for your purchase
Ways to say thank you
Thanks for the support
How to say thank you
Thank you for your order
Thank you for your time
Thank you message for support (team)
Thank you for ordering
100 ways to say thank you
Thank you so much
Thanks for the order
Thank you notes for customers
Appreciate synonym
How to thank for appreciation
Thank you for your help
Thank you message to customer for purchase
Thank you for choosing us
Thank you for shopping with us
Words to say thank you and appreciation
Appreciated, thank you for your support
Thanking customers for their purchases is a crucial aspect of building lasting relationships and ensuring customer satisfaction. By incorporating gratitude into your communication strategy and using creative methods to express your appreciation on WhatsApp, you can cultivate customer loyalty, enhance your brand reputation, and ultimately drive long-term success for your business. Don't forget to explore various ways to say thank you and show appreciation, making your message even more memorable and meaningful.
You can use this approach in thank you not only to train employees, but also to set up automatic approaches to communicate with customers on WhatsApp. Use our automated answering and chatbot solutions to simplify your employees' work and set up a correct, pleasant and engaging 24/7 handling of customer requests.
After connecting the number to WhatsApp Business API, you will no longer be able to use the number in regular WhatsApp and WhatsApp Business applications, but we immediately open Inbox chat, Automation tools and Chatbot builder on WhatsApp Business API number for our customers. And, of course, the auto-reply features will also be available to you immediately.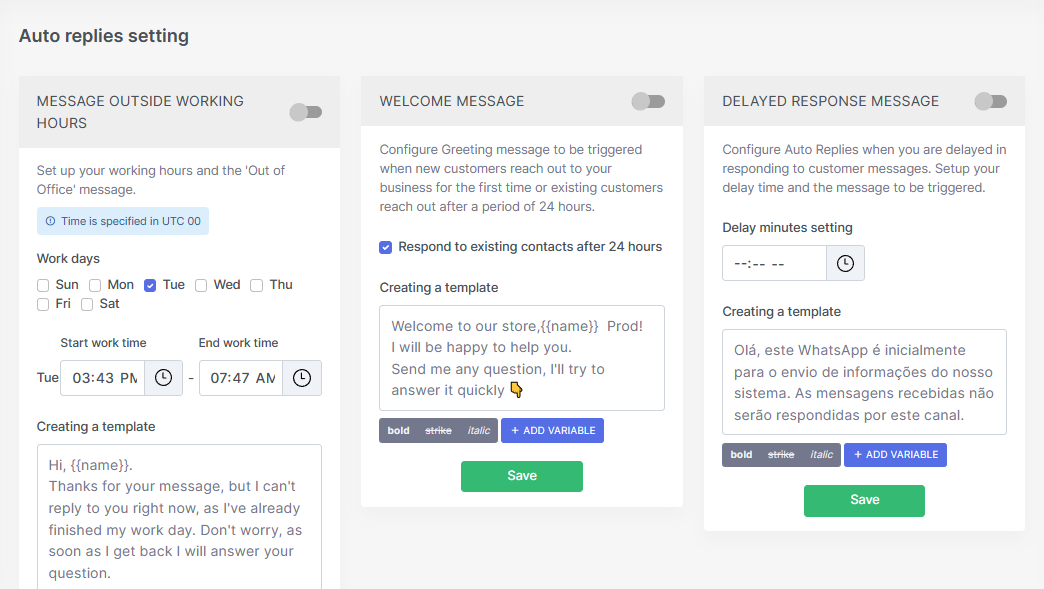 Here you can customize your ideal greeting message. You will have three options for working with auto responses: responses to incoming requests, auto responses with a delay, if you want to meet customers with live communication, but are afraid that you will miss a customer, then auto responses will back you up and auto responses outside of business hours. Automated replies work well when handling large numbers of requests, so autoresponders work well when teamed with Bulk messaging on WhatsApp.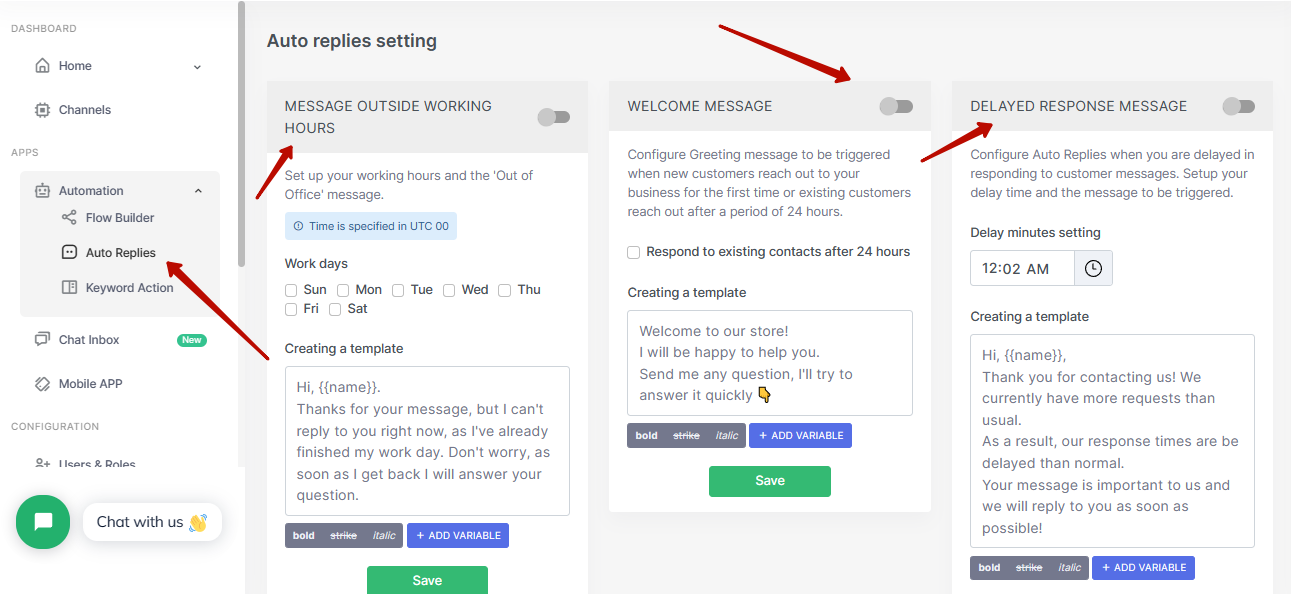 You'll also be able to send automated WhatsApp Business API greeting messages through a multi-user chatbot, as well as a variety of scripting options No-Code chatbot builders.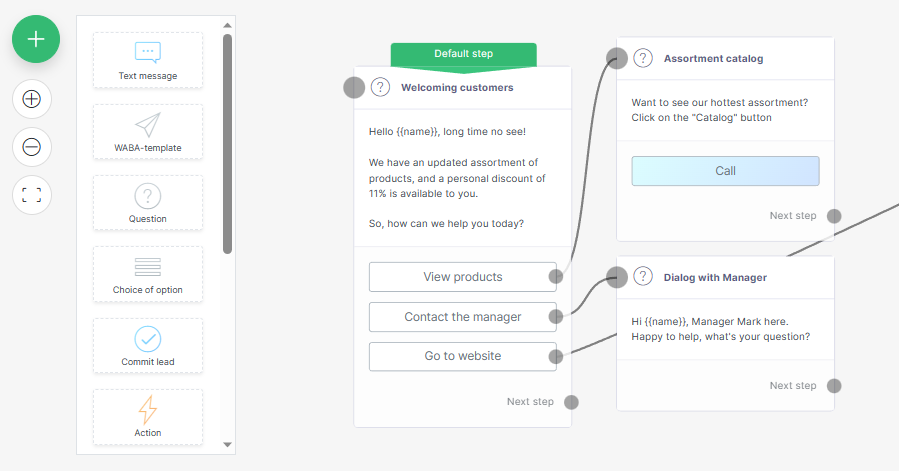 Set up automatic greeting messages through the chat bot is easy enough, just go to the personal account section "Automation" and create your first flow. After that, move the blocks around to create a bot that can use the guidelines for the welcome messages we described above. Then your business won't miss a single client and you'll be able to start creating friendly and warm relationships with everyone. The first contact with a customer is always important, so take every opportunity to make it pleasant and engaging for the customer.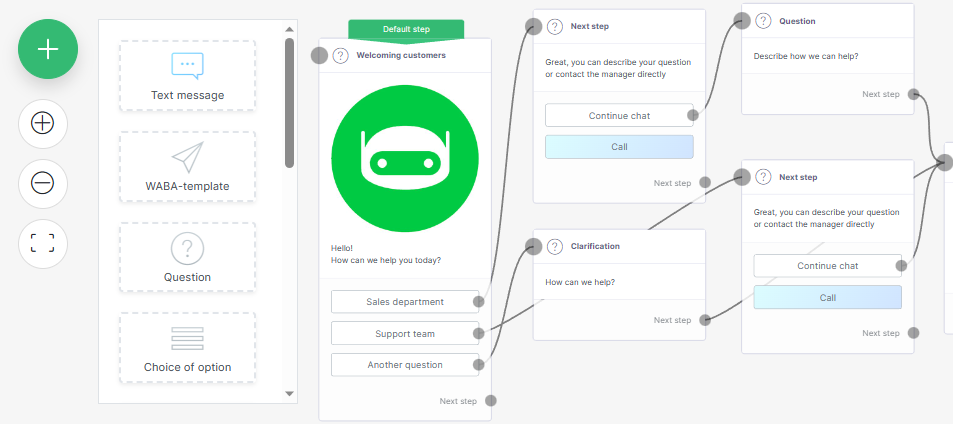 By the way, we have more materials to help you set up automatic responses in the best way, we suggest you read: Perfecting WhatsApp Greetings for Your Customers: Best Practices and Strategies and good material on how to say sorry correctly: 10 Great Substitutes for Sorry for the Inconvenience in WhatsApp Correspondence and 8 Tips to Improve Customer Service.
Connect WhatsApp Business API now and use all the features of the most popular messenger to grow your Business
Ready to work Chatbots, Shared Team Inbox Chat, Automation Tools For Support, Sales and Marketing Teams
Get Started