WhatsApp Advertising Messages Sample: A Comprehensive Guide for Businesses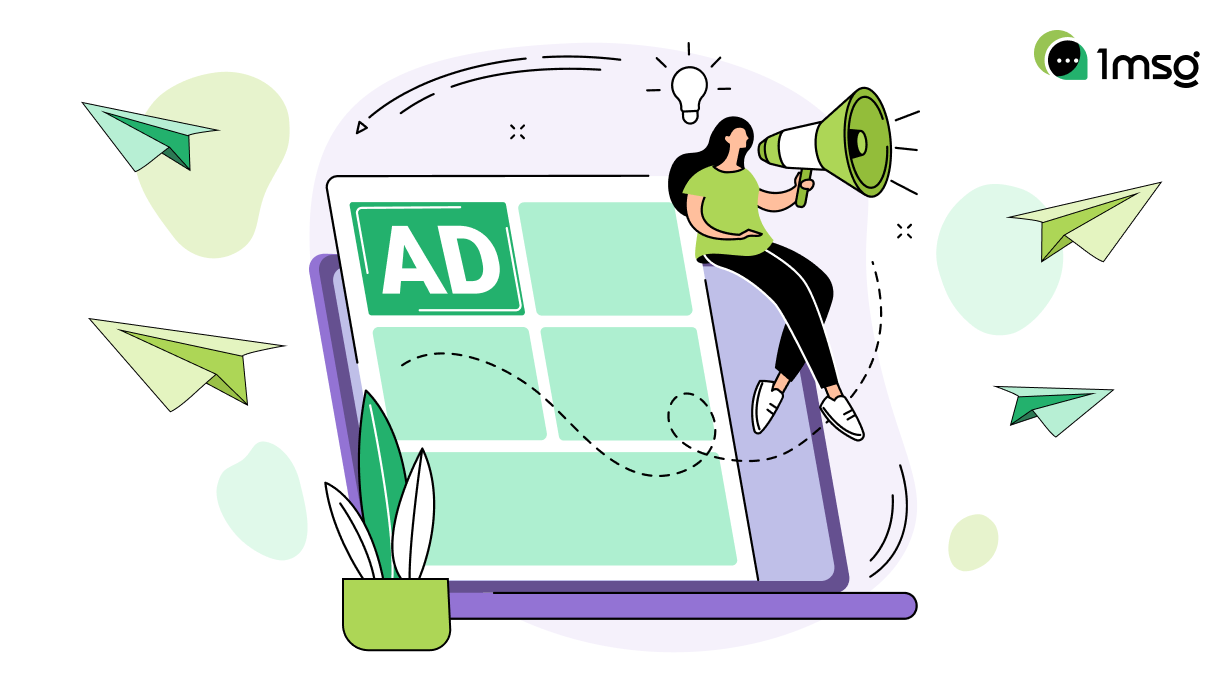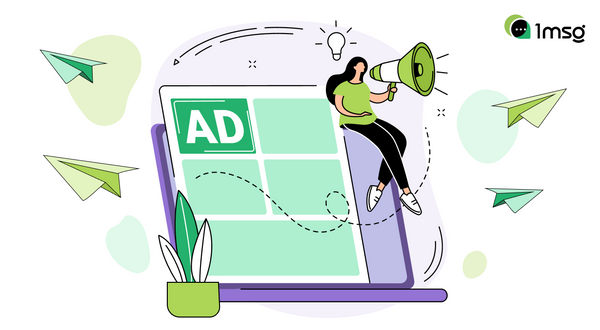 The rising popularity of WhatsApp as a communication platform has revolutionized the way businesses interact with customers. It's no surprise that companies are increasingly leveraging WhatsApp advertising to connect with their target audience. This article provides a guide to crafting compelling WhatsApp advertising messages samples.
WhatsApp Marketing Messages: A Brief Overview
While Facebook may have abandoned its intention to display ads on WhatsApp, astute marketers still find valuable opportunities on the platform. The challenge lies in figuring out how to promote effectively on WhatsApp without violating any regulations.
The solution? One approach could be initiating WhatsApp advertisements through Facebook and Instagram. However, if you prefer not to engage in advertising on other Meta platforms, consider utilizing WhatsApp marketing messages as a standalone strategy.
We've crafted a concise guide that elucidates the impact of these messages. It further discusses their role within your broader marketing plan and how WhatsApp's Business and Commerce policies are adapting in response to the swiftly transforming commercial landscape.
How to Send WhatsApp Advertising Messages
To be able to send ads in WhatsApp you first need to connect your number in WhatsApp Business API, to do this perform a registration in 1msg.io:
Register at 1msg.io.
Open a new WABA project.
Connect your WhatsApp number to WhatsApp Business API.
You will need an account in Meta Business manager to successfully connect the number. You can create it in advance, or it will be created in the process of connecting the number. Connecting the number is fast, our tips on the website will help you connect the number in just 10 minutes.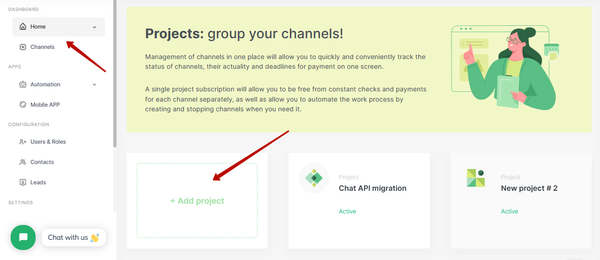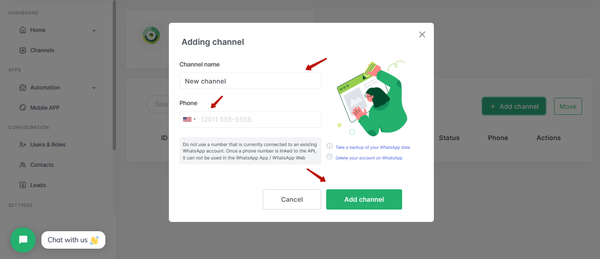 You can read more about the features of WhatsApp in this article: 1MSG.io — WhatsApp Business Brief or in this section of the site: WhatsApp Business API.
After that, you can create templates of promotional messages to send to WhatsApp using the template message editor: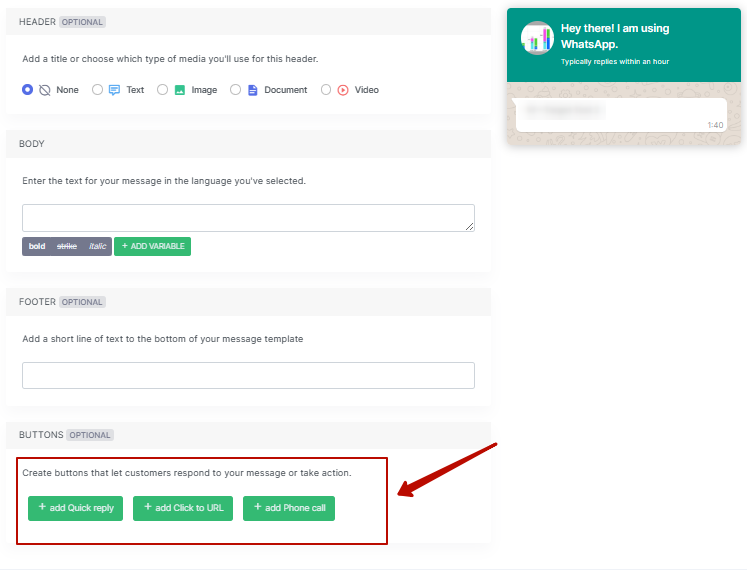 All that remains is to start sending them to customers, this can be done using the Bulk messaging tool in WhatsApp.Once you have access to WABA, you can move on to creating promotional messages, here are some examples to help you do that.
Promotional Messages Examples
Promotional messages are a great way to inform your customers about sales, discounts, and special offers. Here's a WhatsApp promotion message sample:
"Hello, [Customer's Name]! Our summer sale is on! Enjoy up to 50% off on select items from [Date] to [Date]. Click the link to start shopping: [URL]"
Remember, promotional messages should be clear, concise, and highlight the key benefits for the customer.
WhatsApp Group Invitation Message
Creating WhatsApp groups can foster a sense of community among your customers. Here's a sample invitation:
"Hi [Customer's Name], we're inviting you to join our exclusive WhatsApp group for updates, discounts, and more! Click the link to join: [URL]"
WhatsApp Advertising: About Us Text Sample
Your WhatsApp Business profile's 'About Us' section is a crucial touchpoint. It's an opportunity to communicate your brand's core values and mission. Here's a sample:
"We're [Company's Name], committed to providing high-quality, sustainable products that enrich our customers' lives."
Chain Messages on WhatsApp
Chain messages can be a fun way to engage your audience. They can be used to share quizzes, riddles, or interesting facts about your business.
"Did you know [Interesting fact about your business]? Forward this message to five friends who might enjoy learning this too!"
WhatsApp Timed Messages for Special Occasions
Timed messages can be used to wish your customers on holidays or to send reminders about limited-time sales or events.
"Hello [Customer's Name], don't forget our exclusive New Year's sale ends at midnight! Grab your favourite items at a discount now: [URL]"
Business WhatsApp Status
Business status updates allow you to share real-time updates about your business, like new product arrivals or upcoming events.
"New collection launching this Friday! Stay tuned for more details."
WhatsApp About Ideas
The 'About' section of your WhatsApp Business profile can also be used to share creative taglines or slogans that represent your brand:
"[Brand's Tagline] - Delivering Excellence One Product at a Time"
WhatsApp Marketing Sample
WhatsApp marketing involves using various features of the platform to engage with your customers and promote your business. Here's an example of a WhatsApp marketing message:
"Hi [Customer's Name], we noticed you loved our [Product Name]. Check out these similar items we think you'll love: [URL]"
Conclusion
WhatsApp advertising is a powerful tool for businesses to connect with their audience. The samples provided in this guide are meant to inspire you to create compelling, personalized messages that resonate with your customers. Remember to always abide by WhatsApp's policies and respect your customers' preferences when sending marketing messages. With creativity and respect for your audience, WhatsApp can be a significant asset in your marketing toolkit.
Connect WhatsApp Business API now and use all the features of the most popular messenger to grow your Business
Ready to work Chatbots, Shared Team Inbox Chat, Automation Tools For Support, Sales and Marketing Teams
Get Started