10 Real Life Chatbot Examples to Implement your Bot Strategy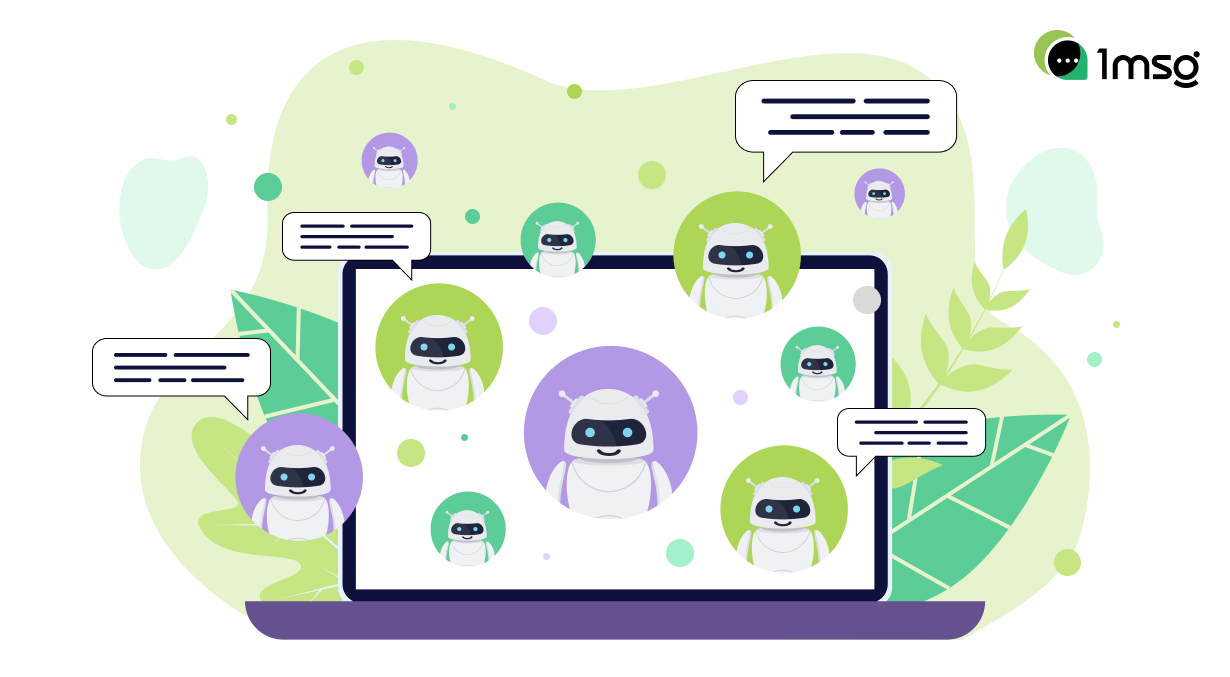 Chatbots and conversational AI have rapidly evolved into a must-have feature for businesses striving to improve customer service, automate processes, and increase engagement. With an abundance of chatbot examples and AI talking bots available, choosing the best approach for your needs might seem overwhelming. Here, we've compiled ten real-life AI chatbot examples to inspire your bot strategy. Let's dive in.
Understanding Chatbots
Before exploring chatbot examples, let's briefly understand how chatbots work. Chatbots are automated systems that interact with users in a human-like manner. These can be text-based (like a chatbot app) or voice-based (like Amazon's Alexa). They can live on various platforms, including websites, social media, and messaging apps like WhatsApp.
For example, in 1msg.io with WhatsApp Business API number you can use the Chat-bot builder and build a bot of any complexity to your needs.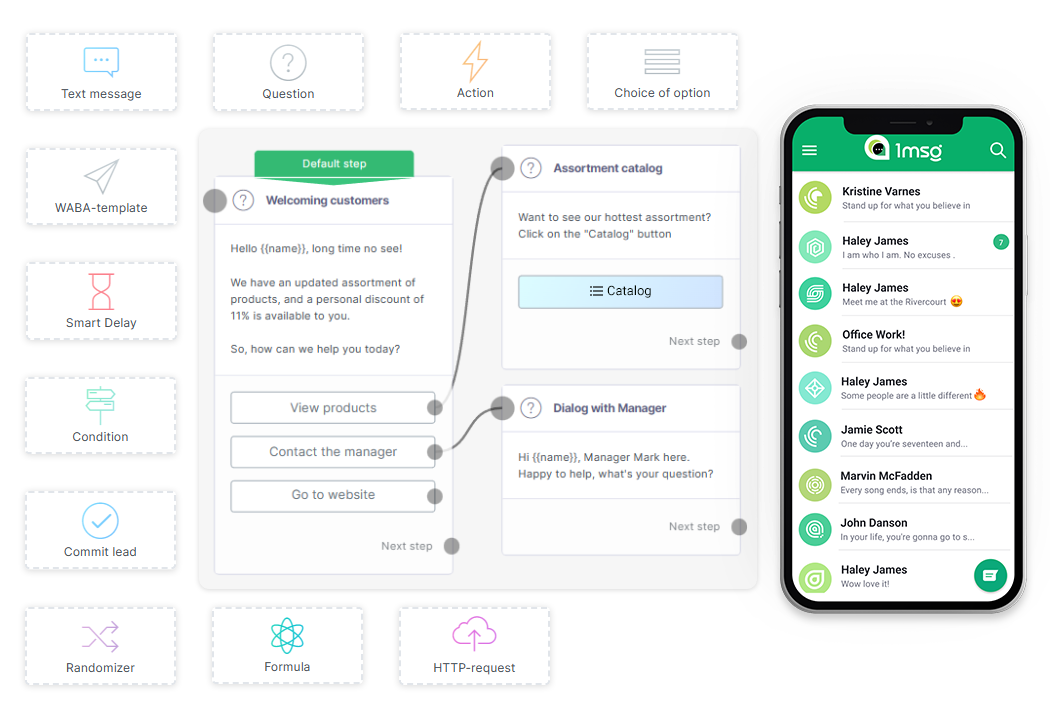 Chatbots can be rule-based (programmed to respond in a specific way to particular inputs) or powered by artificial intelligence. AI chatbots use machine learning and natural language processing to understand and respond to user queries in a more complex and nuanced way.
Real-Life AI Chatbot Examples

Duolingo
The language-learning platform uses an AI talking bot, 'Duo', to keep learners engaged. Duo sends personalized and timely messages to users, reminding them to complete their daily lessons. This simple but effective bot strategy improves user engagement and retention.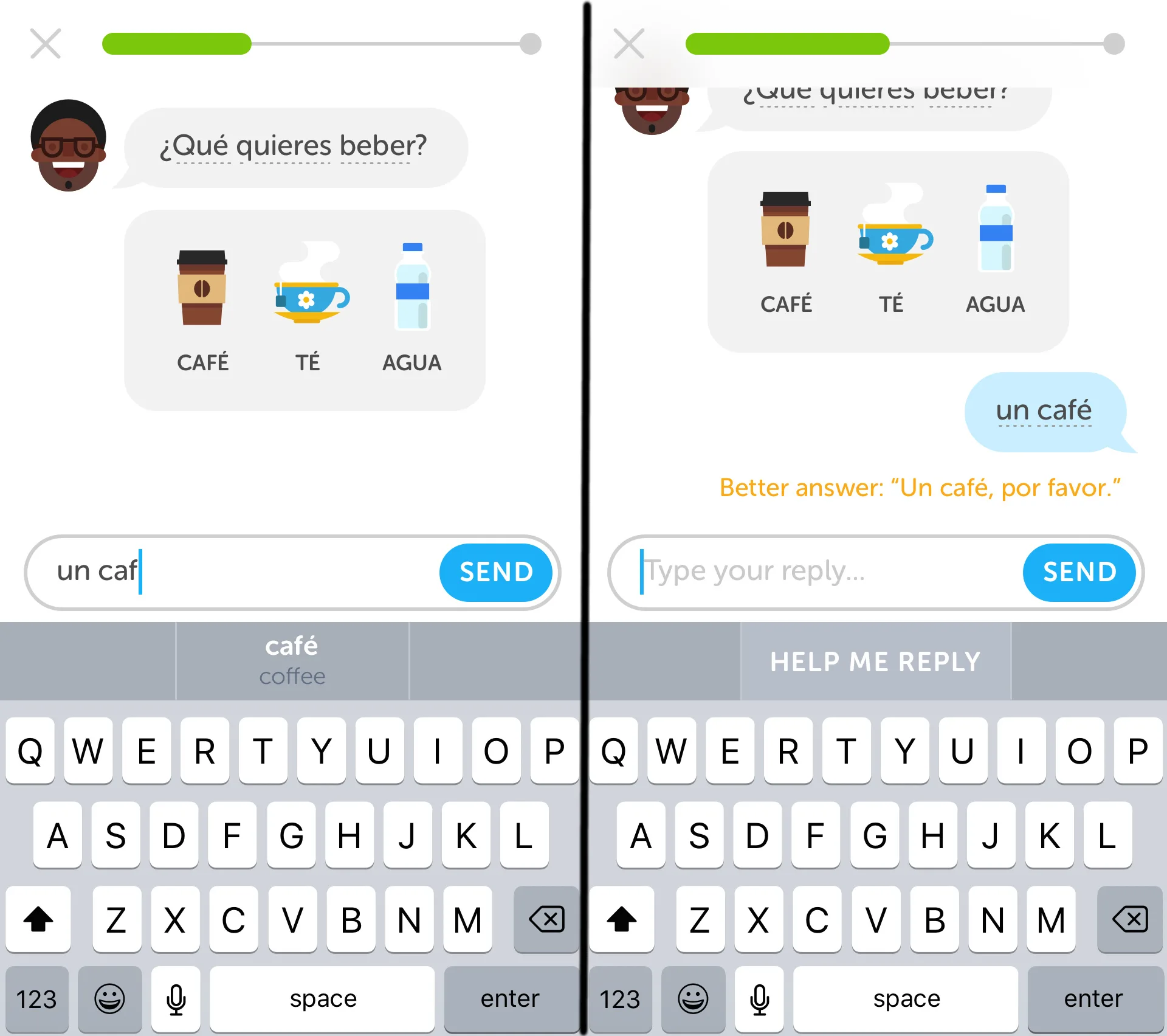 It's only $30 for full access to WhatsApp Business API
Chatbots, chatbot builder, inbox chat, automated replies, broadcast newsletters - all included in the $30 price tag
Connect WABA
Sephora's Kik Chatbot
Sephora's chatbot on Kik offers makeup tutorials and product recommendations. This AI bot provides a personalized shopping experience by asking users about their preferences and offering customized suggestions.
The application delivers a personalized chat interface, complete with makeup advice, video demonstrations, and step-by-step makeup guides. It assists users in locating the exact products showcased in the tutorials and recommends the most highly-rated items across all categories. Sephora's app enhances the user experience by personalizing it. Users are prompted to participate in a brief quiz which enables the app to tailor product suggestions more effectively. This personalized approach saves customers time by bypassing irrelevant products, aligning their browsing with their unique needs.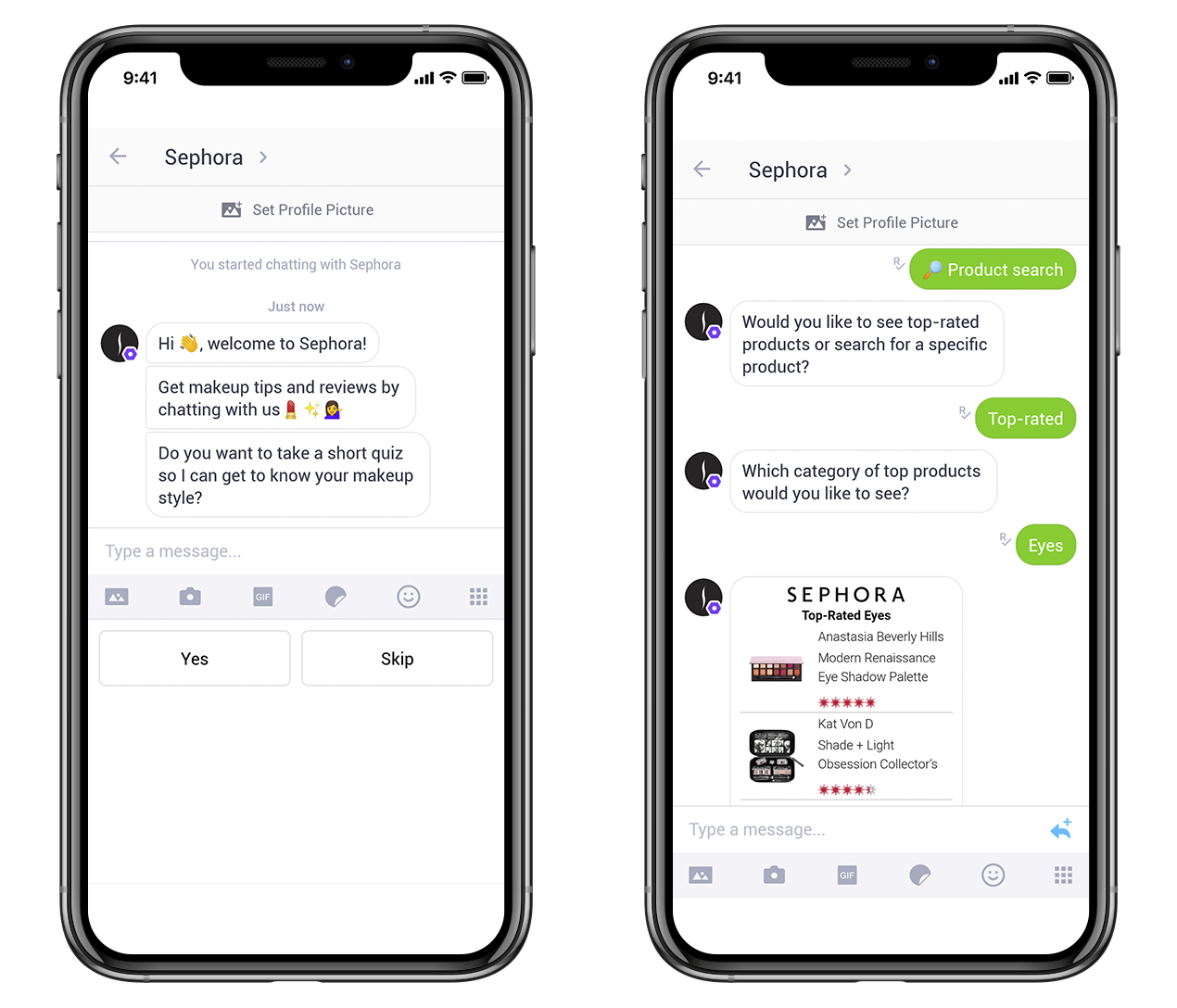 National Geographic's Quiz Bot
National Geographic uses a Facebook Messenger chatbot to engage users through quizzes. The bot delivers daily quizzes to users, improving engagement and offering a fun, interactive way to learn.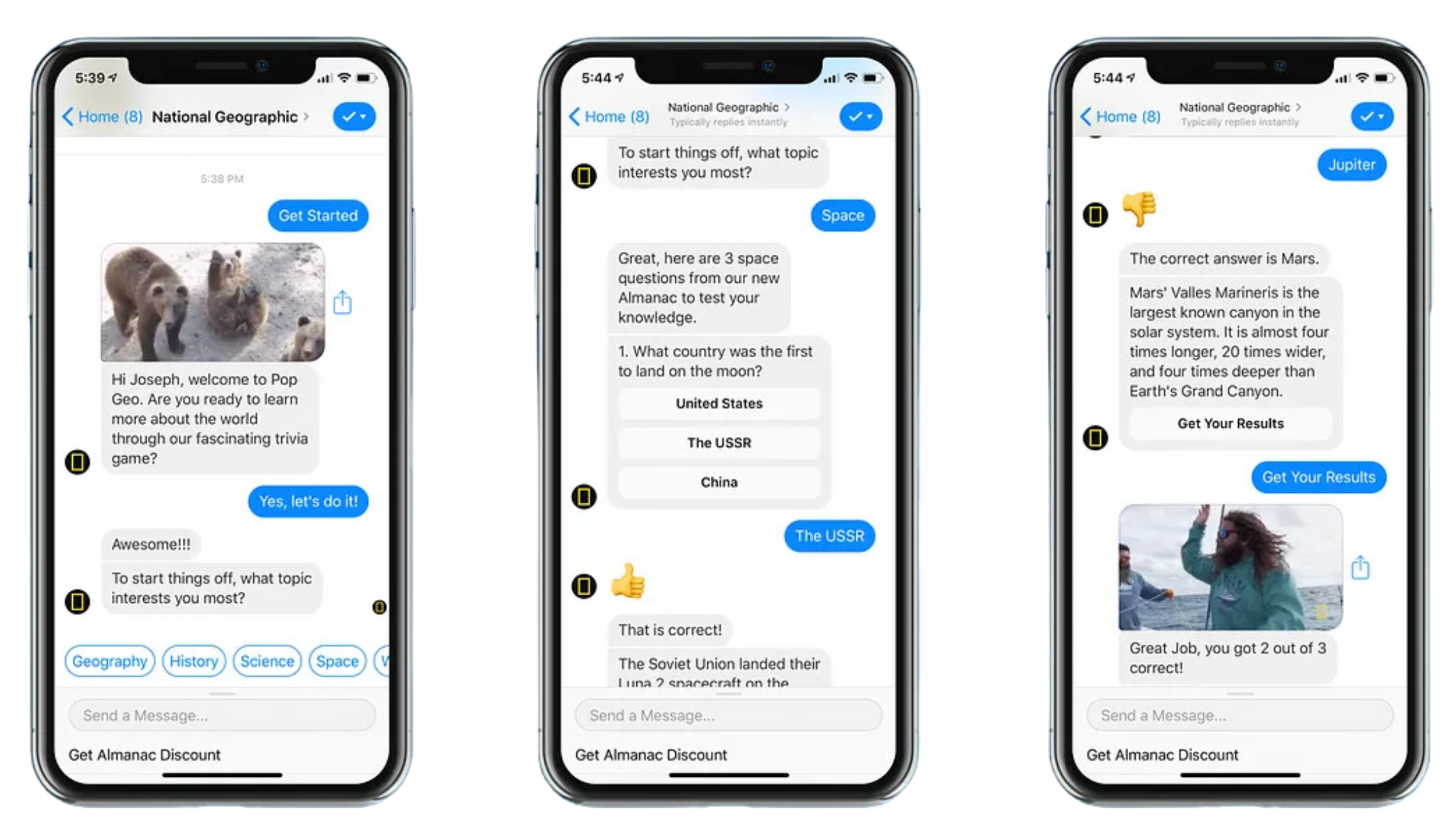 Babylon Health
The healthcare sector has expertly leveraged the potential of chatbots, with health and fitness applications standing out as prime examples. Healthcare chatbots can deliver a personalized experience tailored to the unique health requirements of the user.
A prime example of this is Babylon Health, a renowned British digital subscription service, that utilizes bots to offer consultations based on an individual's medical history. It can even facilitate a live video consultation with a doctor.
The chatbot implemented by Babylon Health functions as follows: after you register, you are prompted to describe your symptoms to the bot. It then cross-references your symptoms with its comprehensive database to generate subsequent steps and potential diagnoses.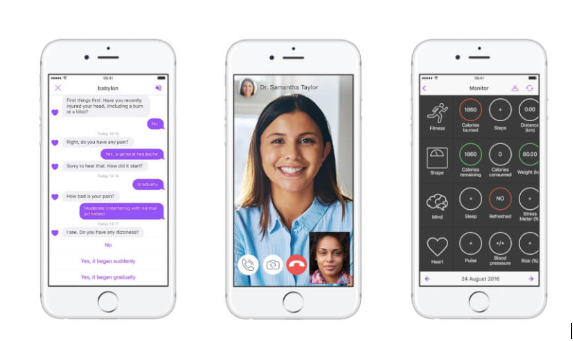 Woebot
Woebot is a mental health chatbot app that uses cognitive-behavioral therapy (CBT) techniques to help users manage their mental health. By having regular text-based 'conversations' with users, Woebot can suggest helpful ways to manage mood and provide emotional support.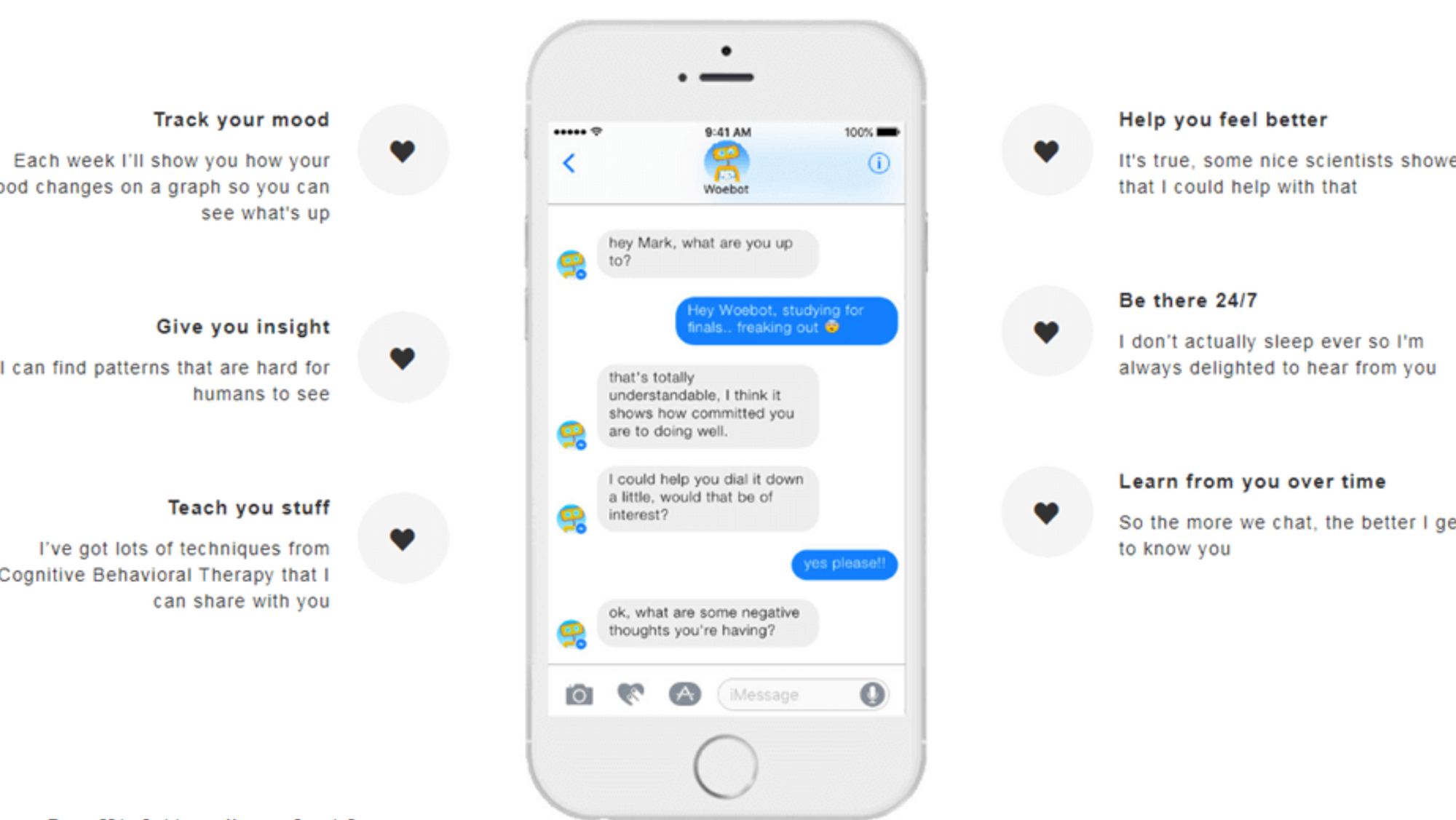 WhatsApp Chatbot Example – KLM Royal Dutch Airlines
KLM uses a chatbot on WhatsApp to provide booking confirmation, check-in notification, boarding passes, and flight status updates. Customers can build a WhatsApp bot like this to streamline their customer service process and deliver timely updates.
Artificial Intelligence has revolutionized the travel industry, aiding companies in simplifying travel logistics and enhancing business operations. A travel chatbot, operational 24/7, can support multiple languages and provide real-time responses to travellers' inquiries. It is also conveniently available via the Facebook Messenger app.
A case in point is KLM Airlines, which was tasked with managing 15,000 social conversations in various languages every week. To streamline this process, KLM introduced a chatbot named "BB" (BlueBot). This bot was instrumental in providing swift, efficient, and tailored customer service, making it an exemplary model of a Facebook Messenger chatbot.
The bot was integrated into the checkout process, allowing customers to choose to receive booking confirmations, check-in notifications, boarding passes, and flight status updates directly through Messenger.
This strategy led to a significant increase in their Facebook messaging traffic, accounting for a 40% rise. The bot now manages approximately 16,000 customer interactions per week, and nearly 1.7 million messages have been exchanged on Messenger by over half a million users.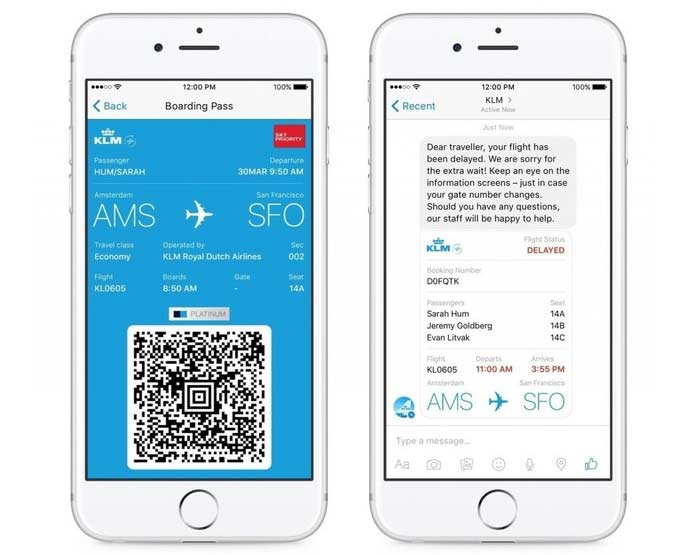 Domino's Pizza's Dom
Dom is a voice-based ordering assistant that helps customers order pizza through the Domino's app. It understands natural language inputs, makes ordering easier, and even has a bit of a personality, making the experience fun for customers.
Dominos has developed a Facebook chatbot to streamline the pizza ordering process. The renowned eatery now offers an incredibly convenient method to order a pizza from virtually "Anywhere".
In this digital age, customers utilize a variety of messaging platforms to engage with brands. These channels, which include Facebook Messenger, texting, Amazon Alexa, Slack, Twitter, and even smartwatches, allow you to order a pizza from any location. You can even place an order simply by sending an emoji text.
Domino's exemplary use of chatbot technology is redefining the shopping experience. The primary concept behind this seamless experience is to satisfy customer desires in a few simple steps.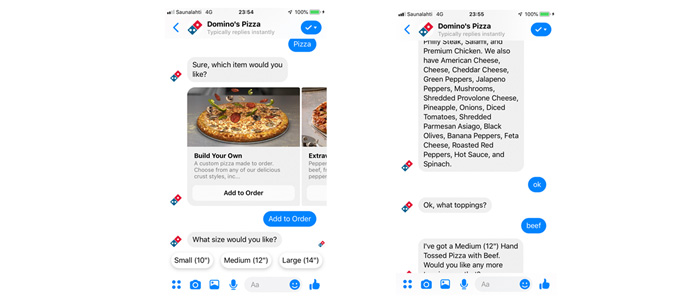 BBC's News Bot
BBC has an AI chatbot on Facebook Messenger and Telegram that delivers personalized news and updates based on user preferences. It's a great example of how bots can provide tailored content to users.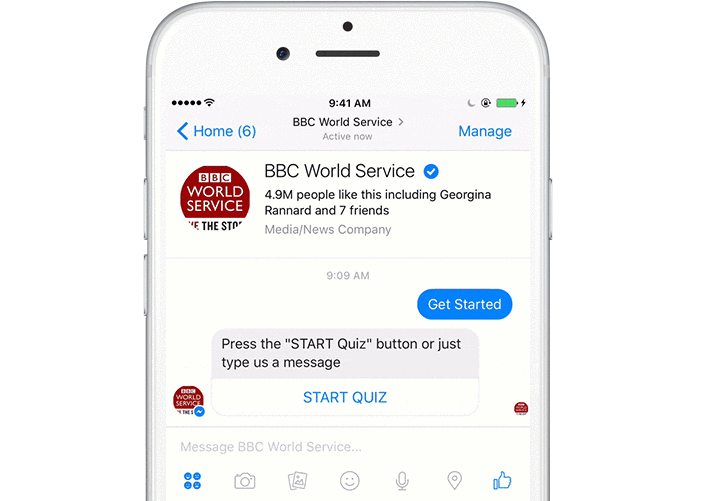 Lidl's Wine Recommender Bot
Lidl uses a Facebook Messenger bot to help customers choose the right wine based on their budget, meal choice, and taste preference. This enhances the shopping experience by providing personalized advice.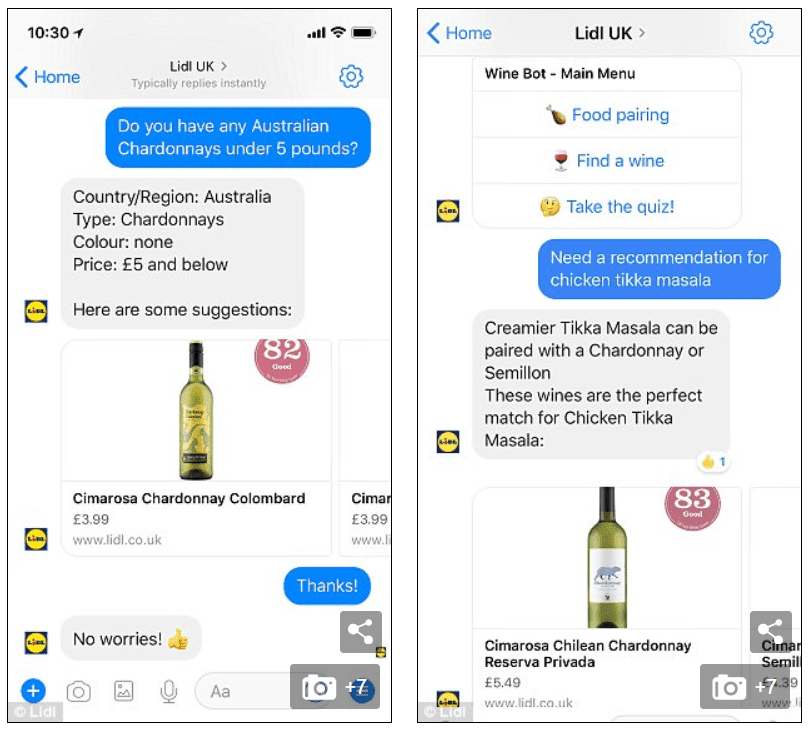 Adidas Women
Chatbots in customer support are a complete triumph for both parties involved. Customers benefit from round-the-clock, instant assistance, while businesses reap the advantages of cost savings on operations, such as staffing and infrastructure. Moreover, this frees up the support team to tackle more complex issues.
Adidas Women's division exemplifies an exceptional customer experience enhanced by chatbot utilization. In conjunction with the launch of their new women-centric community space, Studio LDN, they chose to deploy a chatbot. This strategy was intended to foster an innovative, interactive booking process.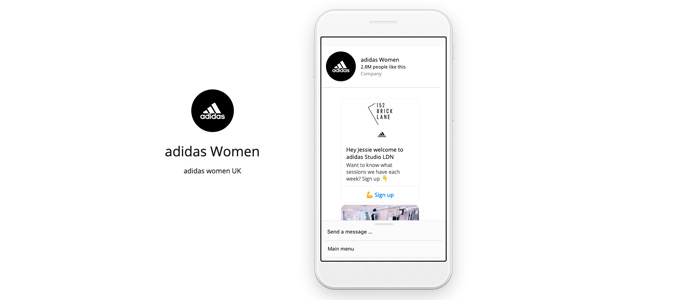 Key Takeaways for a Successful Bot Strategy

Choose the Right Platform: Identify where your target audience is most active – it could be your website, Facebook, WhatsApp, or any other platform. For instance, if your users are primarily on WhatsApp, learn to build a WhatsApp bot.
Focus on User Experience: The best chatbot is one that delivers a great user experience. It should understand user inputs accurately, provide useful responses, and have a personality that aligns with your brand.
Personalization is Key: Personalizing bot messages examples can significantly enhance user engagement. Customizing the bot's interactions based on user behavior, preferences, or past interactions can make the experience more relevant and engaging.
Make It Conversational: A great example of conversational AI is Google's Duplex, which can make reservations at restaurants by having human-like conversations over the phone. Your bot doesn't have to be that complex, but it should be able to understand and respond to natural language inputs.
Measure and Improve: Regularly analyze your chatbot's performance and user feedback. Use this data to continually improve your bot, making it more useful and engaging over time.
You will be able to build a fairly smart AI bot using the 1msg.io functionality. The bot will be able to tag customers so that you can further personalize your work with your customers and send unique messages.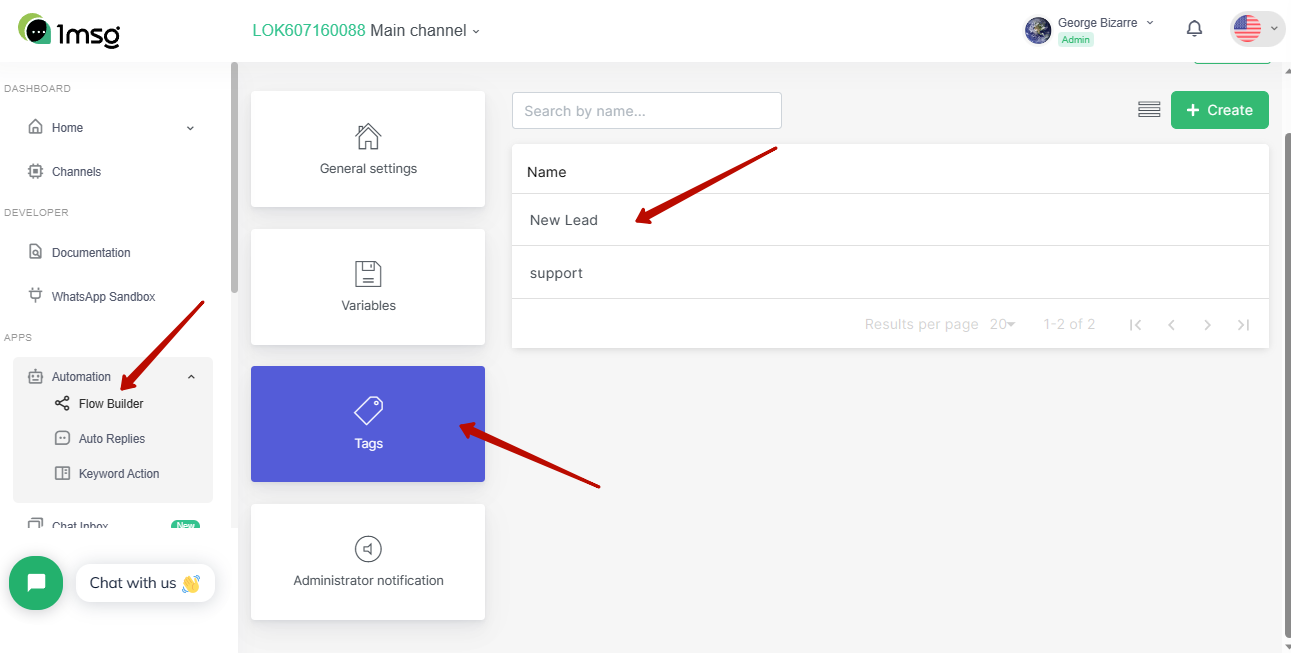 The 1msg.io bot can also recognize keywords, after which it can change its behaviour and adjust to the user's mood and requests.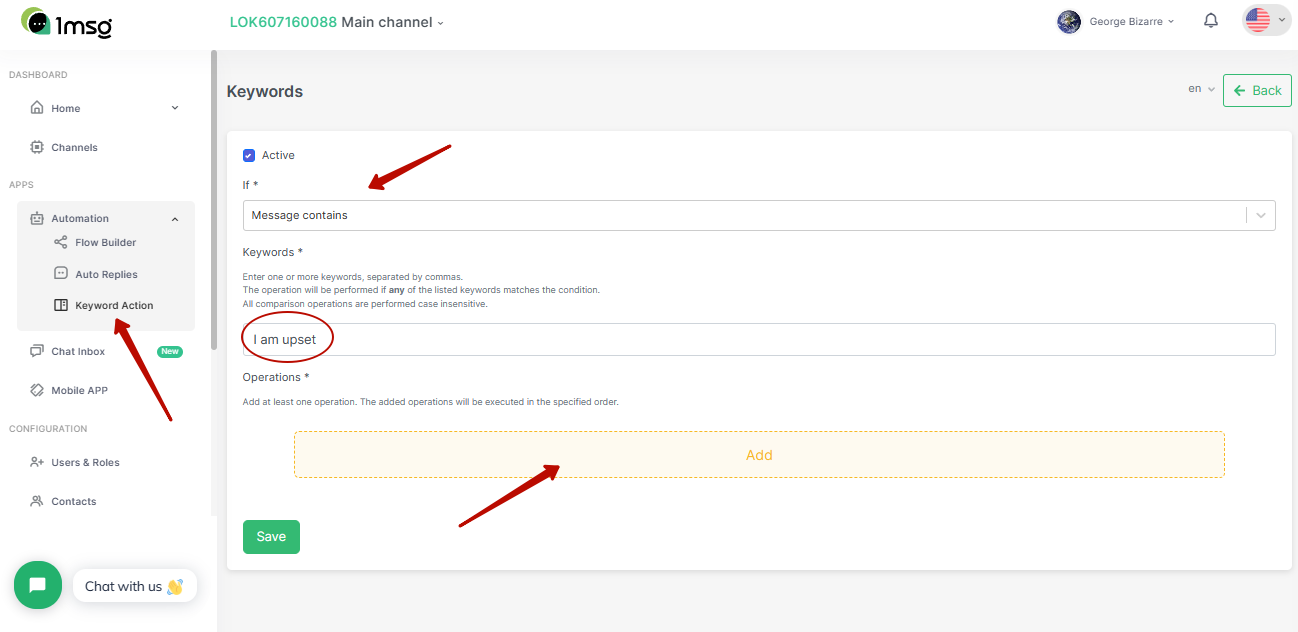 WhatsApp can be a great choice for building your AI chat bot to handle requests, it will not cost that much at all, you can learn the prices and how to connect WABA from these articles: Understanding the WhatsApp Business API Payment System, A Comprehensive Guide to WhatsApp API: Unlocking the Power of WhatsApp Integration.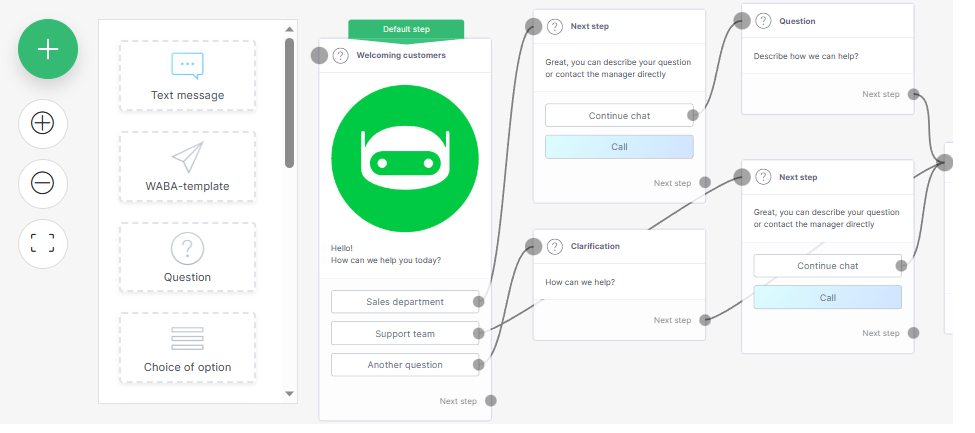 AI chatbots and conversational AI are no longer optional for businesses – they're a necessity. Whether it's a robot chat on a website, an online chatbot AI on social media, or a voice assistant on a smartphone, bots are changing the way businesses interact with customers. With the right strategy and execution, they can help your business improve customer service, automate processes, and increase engagement.
Connect WhatsApp Business API now and use all the features of the most popular messenger to grow your Business
Ready to work Chatbots, Shared Team Inbox Chat, Automation Tools For Support, Sales and Marketing Teams
Get Started