Comparing the Advantages of WhatsApp Business API Over SMS: A Comprehensive Review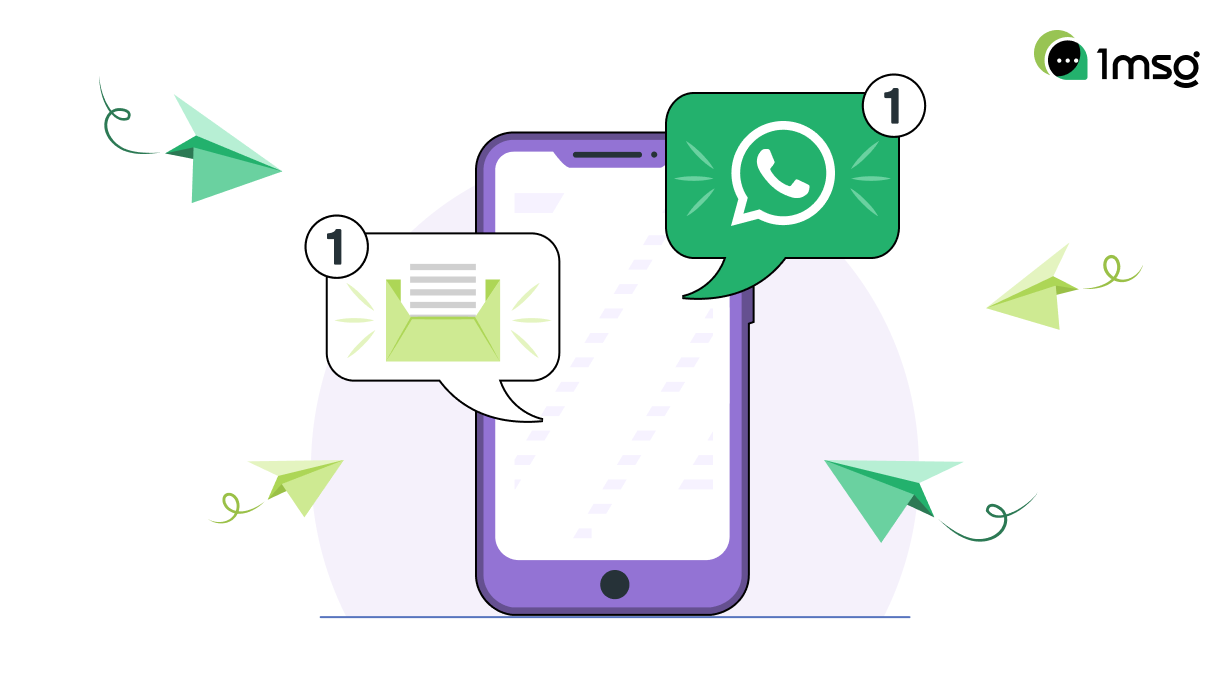 In an era where business communication has shifted primarily to digital platforms, WhatsApp Business API has emerged as a strong contender in the realm of customer interaction. With a global user base of more than 2 billion people, WhatsApp provides a seamless platform to communicate, market, and provide customer service. This article explores the advantages of WhatsApp Business API over traditional SMS.
Business Communication: SMS versus WhatsApp, A Comparative Examination
The Short Message Service, commonly known as SMS, is a text messaging protocol that facilitates the transmission and reception of concise text messages on mobile devices. Universally available on both Android and iOS platforms, SMS is a ubiquitous feature on mobile phones.
To utilize SMS, there are no particular prerequisites beyond having a functioning mobile device with an active phone number and an accompanying service plan to enable the sending and receiving of messages.
Inception of SMS dates back to the 1980s, and since then, it has served as a widely adopted mode of text communication for mobile phone users globally. However, in recent times, instant messaging apps like WhatsApp have either supplanted or supplemented SMS.
WhatsApp, a versatile messaging application, empowers users to exchange text and voice messages, initiate voice and video calls, distribute media and documents, among many other features. Launched in 2009, WhatsApp has risen to become one of the globe's most utilized messaging apps. As of 2023, it boasts a staggering active user base of over 2.24 billion.
The Basic differences between WhatsApp and sms:
Multimedia Support: WhatsApp Business API supports sending and receiving various types of media including text, images, videos, voice messages, and documents, whereas SMS is limited to text only.
Payment: texting and messaging via WhatsApp requires a monetary investment. Access to WhatsApp Business API is usually paid, you can find out our WABA connection prices here: Pricing.
Two-Way Communication: WhatsApp allows for real-time, two-way communication between businesses and customers, which is not typically possible with traditional SMS.
End-to-End Encryption: WhatsApp provides enhanced security with end-to-end encryption for all messages, including OTPs, while SMS can be intercepted or read if the device is compromised.
Notifications Sales Support: WhatsApp Business API enables businesses to send notifications about sales, special offers, or product updates directly to customers, potentially leading to higher engagement and conversion rates.
Integration with Business Software: WhatsApp can be easily integrated with various business software and CRM systems, allowing seamless management of customer interactions.
Detailed Analytics: WhatsApp Business API provides businesses with detailed insights and analytics about their messaging, helping them to understand customer behavior better and optimize their communication strategies.
Scalability: WhatsApp Business API can handle larger volumes of messages and customer interactions without any significant impact on performance, providing scalability that traditional SMS cannot match.
Customer Preference: With a large global user base, WhatsApp allows businesses to interact with customers on a platform they are already using and are familiar with, potentially leading to higher engagement rates.
Automated Messaging: WhatsApp Business API supports Shared Team Inbox Chat, Bulk messaging, Automatic responses, Chatbots to provide more efficient and personalized customer service.
Below we will talk a little more about the main differences and of course talk about the price difference.
WhatsApp OTP
One of the most notable features of WhatsApp is the OTP (One Time Password) system. It provides a layer of security that far exceeds that of traditional SMS. While SMS can be intercepted or read if the device is compromised, WhatsApp OTPs are end-to-end encrypted. This means they can only be read by the intended recipient, making them a much more secure option for businesses.
Pros and Cons of WhatsApp
Like any platform, WhatsApp has its pros and cons. On the pro side, WhatsApp offers a user-friendly interface, free messaging (including international), end-to-end encryption, and the ability to send multimedia messages. Its cons include the need for an internet connection to operate and the necessity for users to download the app.
Receive Free SMS for WhatsApp
Unlike traditional SMS, which can incur costs per message, WhatsApp messages, including OTPs, are free. Businesses can send messages to customers without worrying about per-message costs, a substantial advantage for businesses looking to scale their communication efforts.
WhatsApp SMS and WhatsApp Text Message
WhatsApp SMS refers to messages sent via the WhatsApp platform. These are more versatile than traditional text messages, allowing for richer communication, including the sending of images, videos, documents, and voice messages. This level of versatility gives businesses the opportunity to deliver more comprehensive customer service and marketing messages.
Advantages of WhatsApp
WhatsApp offers several advantages over traditional SMS, including cost-effectiveness, multimedia messaging, group messaging, and location sharing. It also allows for two-way communication, a boon for businesses aiming to establish real-time interaction with customers.
You can read more about the features of WhatsApp in this article: 1MSG.io — WhatsApp Business Brief or in this section of the site: WhatsApp Business API.
WhatsApp Chat SMS
WhatsApp chat SMS refers to the real-time, interactive communication that businesses can have with their customers. Unlike traditional SMS, where communication is often one-way, WhatsApp allows for a more dynamic conversation, enhancing customer engagement and satisfaction.
Notifications Sales Support
WhatsApp Business API also allows businesses to provide sales support notifications. This means businesses can notify customers about special offers, discounts, or product updates directly through the platform. This can lead to increased engagement and conversion rates compared to traditional SMS notifications.
How to set up WhatsApp for marketing, support, sales services can be by clicking on the links.
WhatsApp Messaging
WhatsApp messaging refers to the communication carried out on the platform. WhatsApp messages can be customized and automated, allowing businesses to provide personalized customer service. This includes automated greetings, away messages, and quick replies, all of which provide a more efficient communication system than SMS.
Messaging Features of WhatsApp
In addition to text messages, WhatsApp allows for a variety of messaging features. These include voice messages, video calls, document sharing, and even location sharing. These features, combined with the platform's wide reach and popularity, make it an effective tool for business communication, far surpassing the capabilities of traditional SMS.
Automate WhatsApp with autoresponders and bots, here's some material about it: Boosting Customer Service with Auto Replay Features on WhatsApp Business, WhatsApp Chatbot: Customer Engagement for Businesses.
SMS versus WhatsApp: Exploring the Constraints
Starting with SMS, it sets a limit of 160 characters per message. In comparison to WhatsApp's staggering 65,536 character allowance, SMS seems considerably restrictive.
Moreover, the use of even a single emoji can cut down the character limit of a standard SMS from 160 to a mere 70. Any message exceeding this limit is split into separate messages, leading to additional charges.
Contrary to WhatsApp, SMS lacks the capacity to support images or any form of rich content. For such requirements, Multimedia Messaging Service (MMS) comes into play, which notably incurs higher charges. Depending upon the specific SMS number, different restrictions apply, making it challenging to determine a definitive preference for businesses.
Carrier filtering can potentially obstruct SMS notifications, preventing them from reaching the intended recipient. It often becomes an arduous task to definitively ascertain if an SMS notification has been filtered.
Cross-border limitations might hinder SMS notifications from reaching customers abroad. Additionally, short code numbers are restricted to delivering notifications within local boundaries.
Alphanumeric IDs are incapable of receiving customer responses, and long codes are restricted from disseminating marketing SMS in certain jurisdictions. WhatsApp, however, is not bound by any of these limitations and enjoys a near-perfect deliverability rate.
In fact, WhatsApp messages are assured to reach the recipients, provided you adhere to the WhatsApp Business and Commerce policies.
Lastly, WhatsApp opt-ins offer more convenience compared to their SMS counterparts, as they do not impose any costs on your customers and can be accumulated from various platforms. SMS opt-ins, on the other hand, necessitate customers to send a text message containing a specific keyword or code, which may incur charges for the customer.
The topic of costs has been touched upon repeatedly, leading to a question: Is WhatsApp messaging more cost-intensive than SMS? We tackle this question in the ensuing section.
SMS versus WhatsApp: Cost Analysis In the realm of pricing, SMS typically incurs higher costs compared to WhatsApp.
For businesses to initiate, they need to procure a number from an SMS provider. Some number types don't necessitate set-up or recurring monthly charges.
However, this is not applicable to short codes, which are often favoured by businesses. Additionally, SMS providers levy a fee for each SMS or per batch of messages. These charges usually escalate for SMS numbers that offer high deliverability rates.
So, how does WhatsApp Business API fare in this context? Generally, there can be several levels of charges for WABA access:
WABA access itself.
Payments for dialogs.
Payments for inbox chats, bots and automation tools.
Access to WABA is provided by API providers, they charge their own prices, and each provider can have different prices. You can see our prices for connecting numbers here: Pricing.
Dialogs are the part of the fee that goes directly to Meta, messages open a 24-hour window of free communication. You can find out how much it costs to open this dialog in your region here: Pricing conversation.
Together with a connected number WABA you immediately get access to the following features necessary for work: Shared Team Inbox Chat, Bulk messaging, Automatic responses, Chatbots, Mobile App, API doc.
Usually, these applications are provided for a fee, but with 1msg.io you get them at your disposal instantly with the connection of a WABA number.
In conclusion, WhatsApp Business API offers a host of benefits over traditional SMS, making it an attractive choice for businesses. Its advanced features, including OTPs, multimedia messaging, real-time interaction, and sales support notifications, provide businesses with a comprehensive and secure platform for effective communication with their customers. However, it's crucial for businesses to consider their specific needs and the preferences of their target audience when deciding between WhatsApp and traditional SMS.
Connect WhatsApp Business API now and use all the features of the most popular messenger to grow your Business
Ready to work Chatbots, Shared Team Inbox Chat, Automation Tools For Support, Sales and Marketing Teams
Get Started