WhatsApp Business Statistics 2023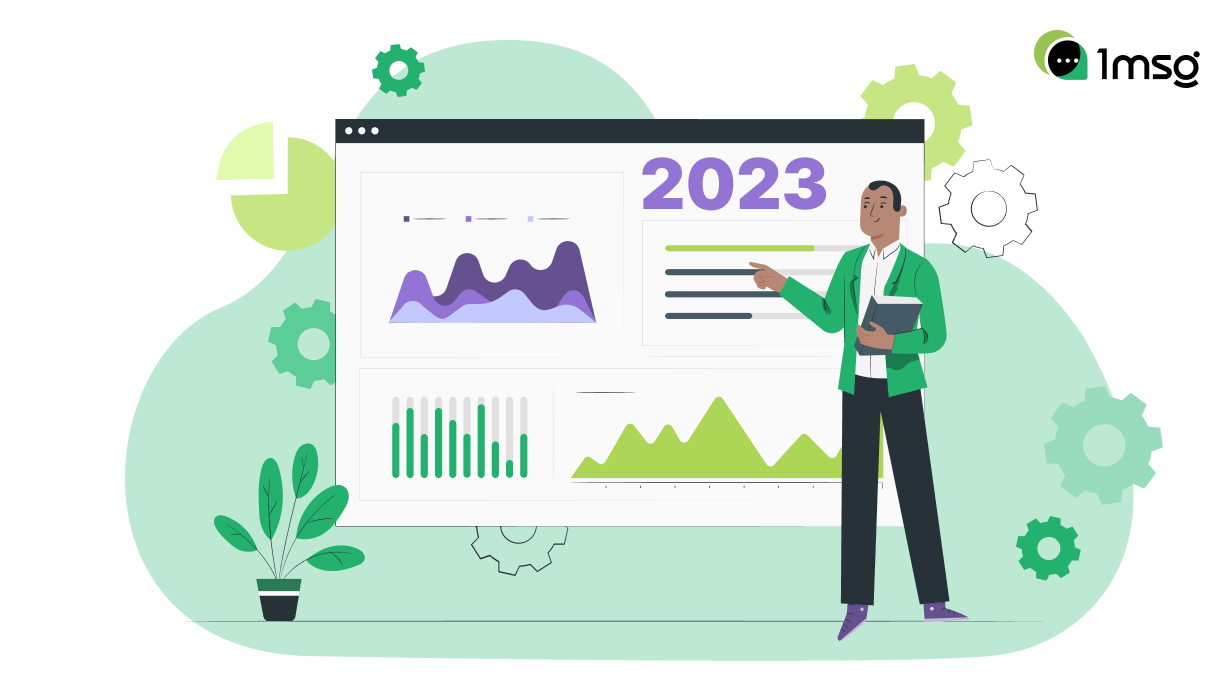 WhatsApp has undoubtedly become a leading messaging app, and by understanding its user base and potential, businesses can strategize more effectively. As an internet user, it's almost impossible not to have come across WhatsApp, which is popular among WhatsApp users in India, as well as those in other countries. This messaging app has gained immense popularity for various reasons, including being the first free messaging app that bridged the gap between Android and iPhone users, and offering instant messaging with on-screen notifications.
The user interface of WhatsApp is straightforward and user-friendly, allowing people to quickly share files in various formats, such as images, videos, documents, and more. In 2018, WhatsApp introduced "WhatsApp Business," aimed at helping small businesses connect with their customers more efficiently. Since its launch, WhatsApp Business has also gained significant popularity as a business solution, with a growing number of WhatsApp Business users worldwide.
For e-commerce companies, in particular, WhatsApp Business is rapidly becoming an essential tool. As of January 2023, it is ranked as the 14th most popular business app on the App Store, demonstrating its growing importance in the business world. WhatsApp is a global app, making people wonder about WhatsApp which country the app is originally from. The app was developed in the United States and later acquired by Facebook.
Global WhatsApp User Count By 2022
WhatsApp users in the world amassed a staggering 2.44 billion users across the globe. As new users join WhatsApp, others are encouraged to do the same to communicate with them, further increasing the app's value. With its immense user base, WhatsApp has become an integral part of people's daily lives, serving as a popular platform for both personal and professional interactions. For businesses, the sheer size of WhatsApp's smartphone user base makes it essential to establish a presence on this influential app.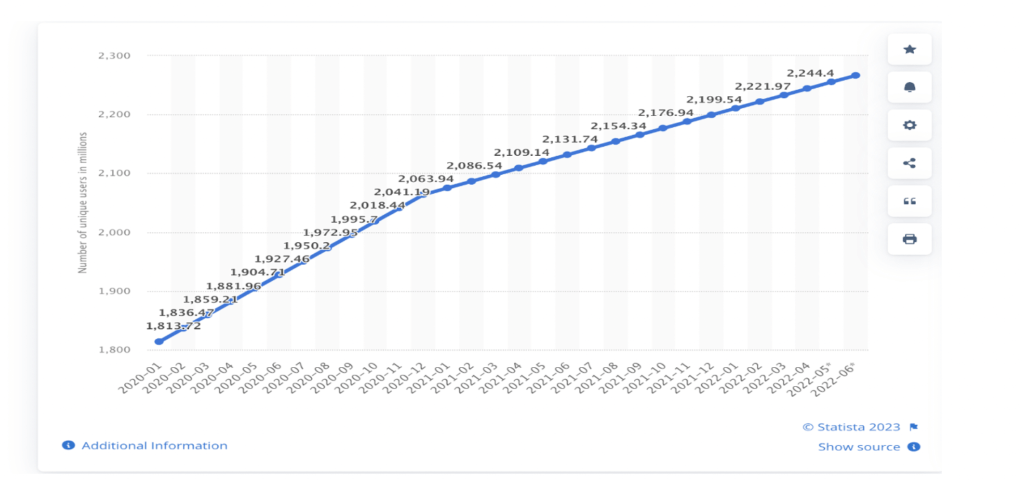 How many people use WhatsApp?
WhatsApp App Downloads in January 2022, WhatsApp recorded nearly 40.6 million downloads across the Apple App Store and the Google Play Store, solidifying its position as the world's most popular chat and messaging app.
Further evidence of WhatsApp's dominance can be seen in its download figures for August 2022, when approximately 11 million people downloaded the WhatsApp Messenger app for iOS. Its primary competitors, Facebook Messenger and Telegram, trailed behind with 7 million downloads each during the same month (Oberlo).
In summary, WhatsApp stands out as the most downloaded messaging app worldwide.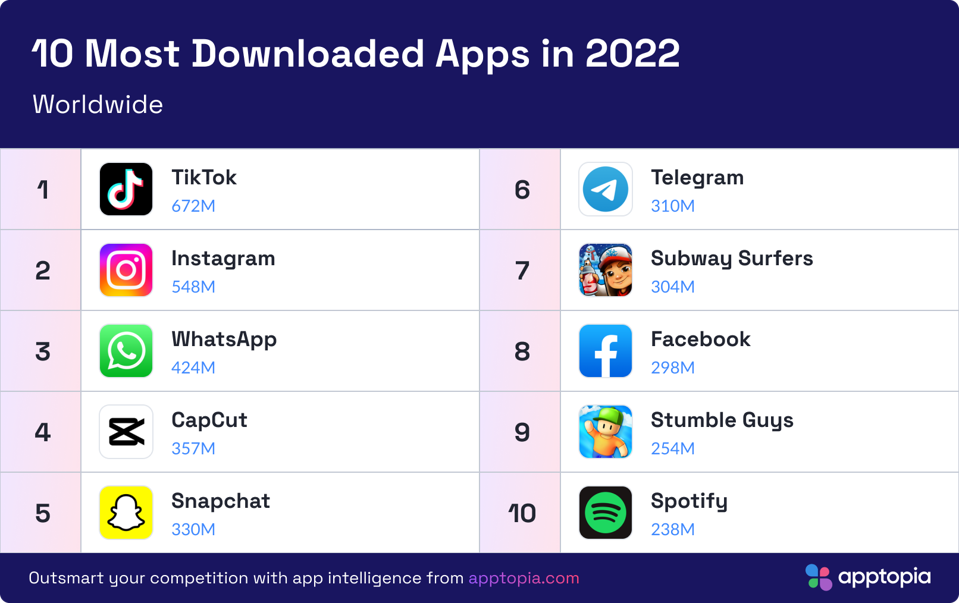 WhatsApp's Popularity
The Popularity of WhatsApp reigns as the top messaging app, boasting around 2 billion active monthly users, according to data published by Statista in October 2021. This figure surpasses that of its closest competitor, Facebook Messenger, which has 1.3 billion users, and is also owned by WhatsApp's parent company. The app's widespread popularity can be attributed to its user-friendly interface and simplicity, which appeals to users from various age groups and backgrounds.
Remarkably, WhatsApp achieved this impressive milestone even without access to the Chinese market, the world's most populous country, where the app was banned in 2017. Prior to the ban, China had roughly 2 million WhatsApp users.
Research indicates that WhatsApp users primarily engage in texting, followed by sharing photos, videos, GIFs, and links. The app's ability to support various message types in a single platform enables businesses to leverage these features when communicating with customers.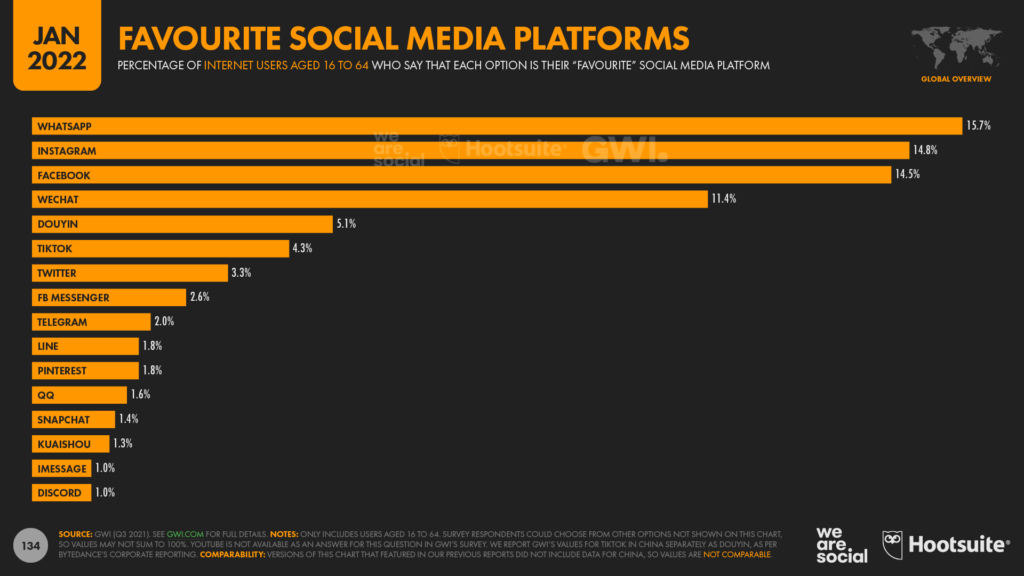 Usage of WhatsApp by Country
WhatsApp Usage by Country India leads the world in WhatsApp usage, with 487 million users (Statista) and a growth rate of 16.6% annually. Brazil, the second-largest market, trails significantly behind with 118.5 million users. India's vast population contributes to its high user count, while increased penetration has boosted WhatsApp's popularity in Brazil.
Previously lagging behind the USA, Indonesia has now overtaken it with 84.8 million WhatsApp users, securing the third position. The USA, formerly WhatsApp's third-largest market, has dropped to fourth place behind Indonesia, with 79.6 million active users.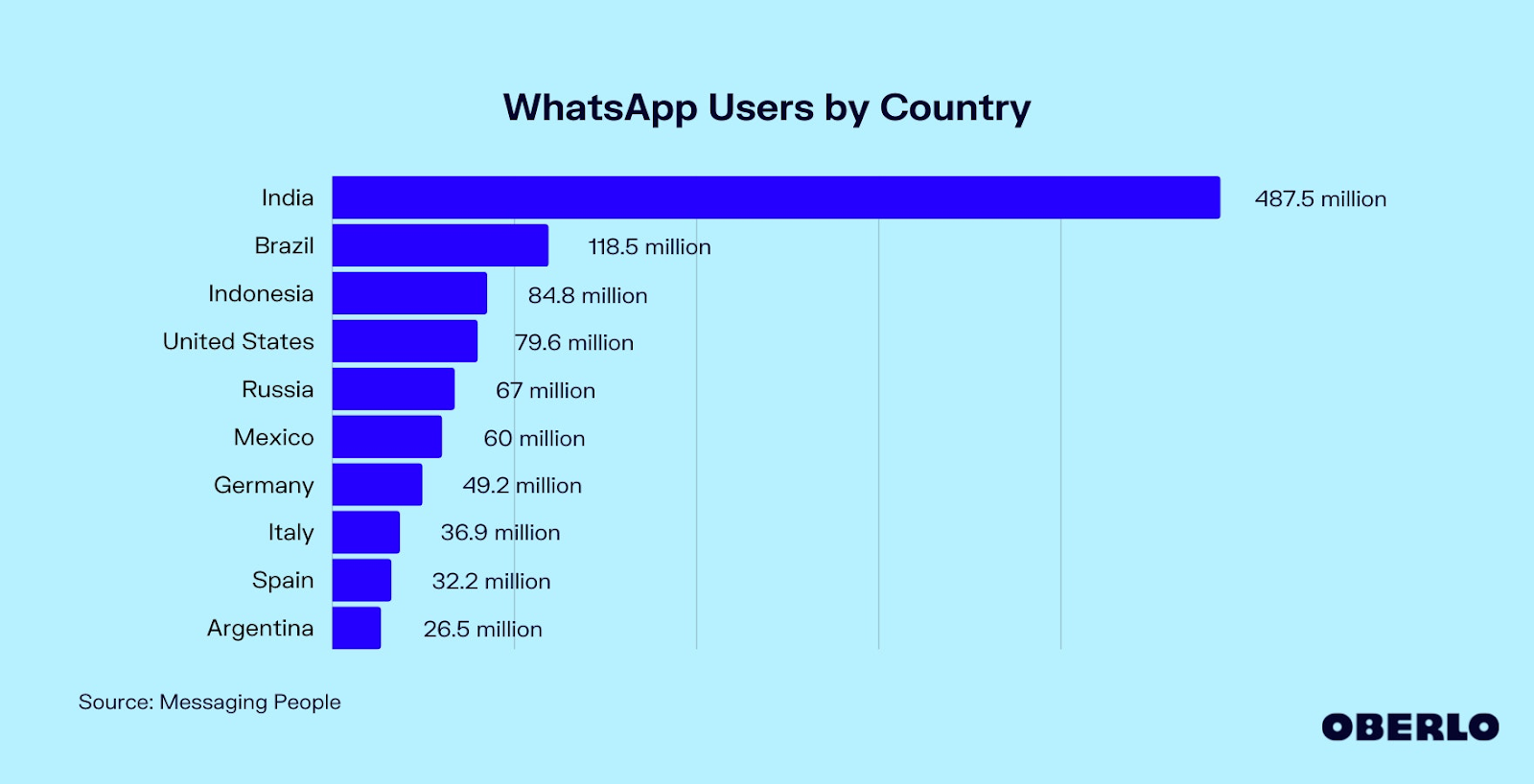 Duration of Usage on WhatsApp
Time Spent on WhatsApp in 2021, the time spent on WhatsApp experienced a slight decline as mobile usage patterns stabilized after the sudden increase observed during the COVID-19 pandemic. In 2020, users around the world logged in for over 19 hours per month on the renowned app. However, in 2021, the average time spent per user dropped to 18.6 hours per month.
Additionally, voice calls via WhatsApp have gained popularity. On average, users make 2 billion voice and video calls on the platform every day.
Country-specific WhatsApp Adoption Rates
WhatsApp Penetration Level by Country As of April 2022, around 90% of messaging app users in Brazil were using WhatsApp, making it one of the countries with the highest percentage of WhatsApp users per country. When WhatsApp launched In India the growth in usage was immediately great and and now we have in India and Italy, the penetration rate for WhatsApp among messaging and chat app users was approximately 97%. In contrast, Australia had the lowest user share, with only 33% of mobile phone messaging app users reporting using the Meta-owned app.
Given its high penetration rate, WhatsApp has become an almost universal mode of communication in these countries. Businesses that fail to adopt WhatsApp as a regular communication channel may miss out on potential customers who rely on the platform for communication.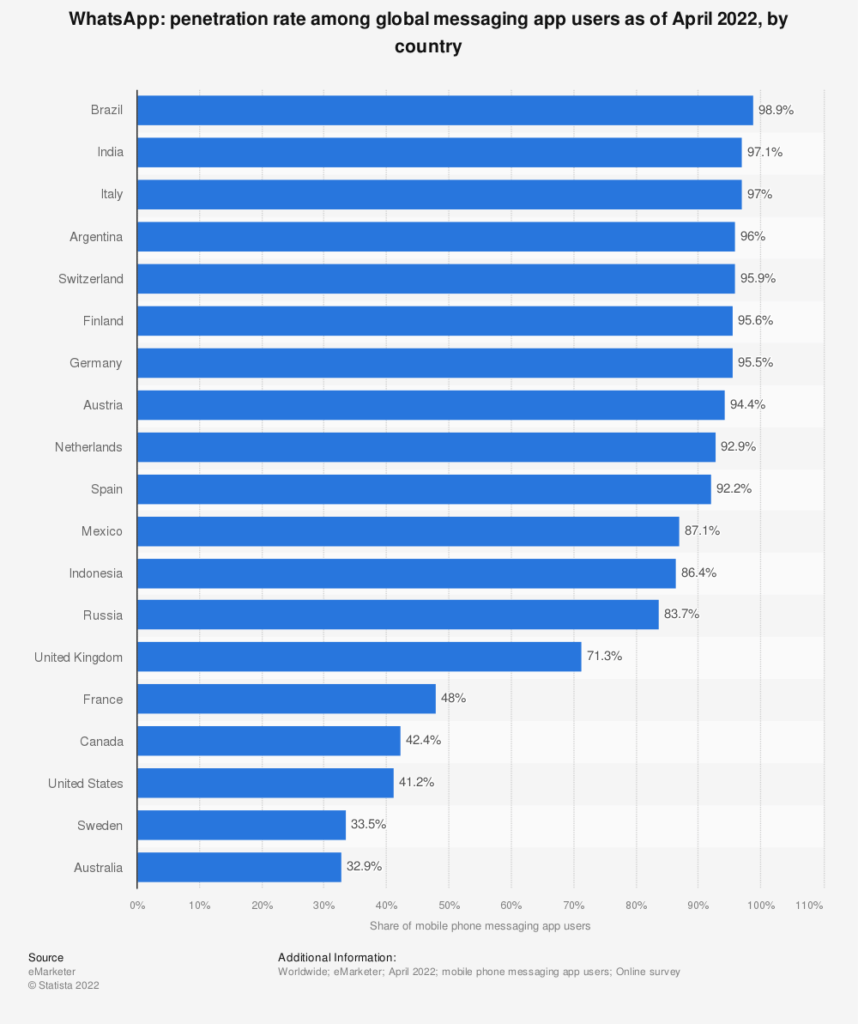 Daily Message Volume on WhatsApp
Daily Messages Sent via WhatsApp In October 2011, WhatsApp reached the milestone of 1 billion daily messages. By July 2017, this number had grown to 55 billion, and in May 2018, it reached 65 billion daily messages. As of 2021, the platform sees 100 billion messages sent daily.
These messages encompass texts, images, videos, links, contacts, and more. The extensive support for different formats has contributed to WhatsApp's consistent growth since its inception. A study revealed that, on average, WhatsApp users respond in less than a minute. The study also provided insights into the distribution of messages by time of day, showing that most users are active from noon until midnight.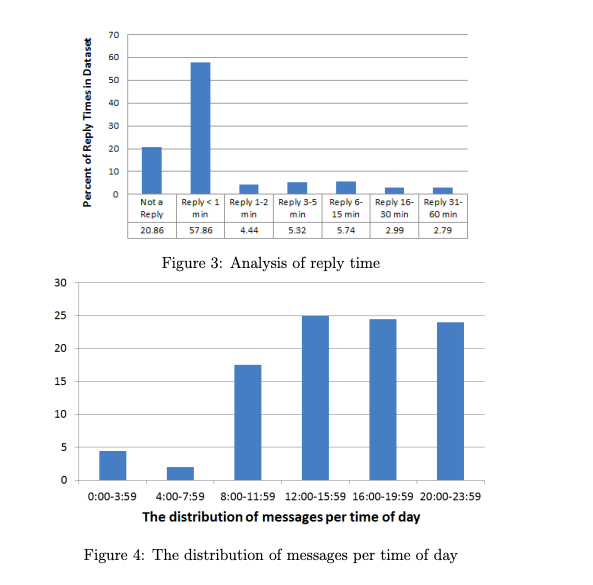 WhatsApp Users' Age Distribution
WhatsApp Users' Age People of all ages are using WhatsApp. The app continues to be the most popular communication app in Germany, where it is used by 81% of Germans, many of them regularly. Users between the ages of 24-35 have a platform penetration rate of 84%, while users over 65 have a penetration rate of 78%.
In the US, close to 1 in every 4 US adults uses of WhatsApp. An online poll in the United States in May 2022 revealed that almost three out of ten participants between 18 and 34 have a WhatsApp account. The famous mobile texting app was also registered by 27% of respondents between the ages of 35 and 44. With just 20% of respondents between the ages of 45 and 64 and 11% of respondents 65 and above reporting having a WhatsApp account, registered users looked to be declining among older age groups.
WhatsApp Demographics by Gender
WhatsApp Gender Demographics We have discussed how WhatsApp looks for different age groups, and now we'll dive deeper into gender demographics. While WhatsApp seems to be almost used equally by men and women alike, 53.9% of WhatsApp users are male. On the other hand, WhatsApp is used by 46.1% of female users. Moreover, an exploratory study also suggests that WhatsApp's female users are more active on the platform and use its features more extensively than its male users. This includes time spent on changing profile pictures, putting up statuses, being active in groups, etc.
WhatsApp Business Statistics
WhatsApp Statistics As of June 2022, Indian users were the ones that downloaded WhatsApp Business the most, with almost 292 million downloads on Android and iOS devices. With almost 73 million downloads, Indonesia ranked second among the 60 nations examined. Around 220.5 million WhatsApp Business downloads were made by users worldwide in 2021, up 25.3% from the prior year. It is hardly shocking that downloads only rose in 2023. The app is available for both Android and iPhone devices.
WhatsApp Business enables businesses to reach where their customers are. Various businesses have also started Live Chat support services on WhatsApp, enhancing customer experience and, thus, engagement. According to WhatsApp, around 175 million people send messages to WhatsApp business accounts daily. This shows how people are already responding positively to this new initiative. They can resolve their queries and browse through products and services offered by a Business. WhatsApp Business Catalogue allows businesses to showcase such details. 40 million users view a business catalogue on WhatsApp every month, as per a Facebook report.
How Can WhatsApp Help Your Business?
These statistics paint a fair picture and highlight how important WhatsApp has become in people's everyday lives. With so many people already on WhatsApp, the app is on its way to becoming a game-changer for businesses today. They have plenty of chances to interact with customers on the platform, and using the same platform to sell your goods and services makes it likelier for users to make quick purchases with less effort.
The WhatsApp Business API can offer a number of tools to help you scale your business, here are just a few of them: Shared Team Inbox Chat, Bulk messaging, Automatic responses, Chatbots.
1msg.io can be your trusted link to forge more extraordinary bonding experiences with your customers on WhatsApp. You can learn more about WhatsApp Business API if you follow the link to the section of our website with the same name: WhatsApp Business API.
To start using WhatsApp Business API you need to connect it first, you can do this by following the steps of this instruction:
Register at 1msg.io.
Open a new WABA project.
Connect your WhatsApp number to WhatsApp Business API.
You will need an account in Meta Business manager to successfully connect the number. You can create it in advance, or it will be created in the process of connecting the number. Connecting the number is fast, our tips on the website will help you connect the number in just 10 minutes.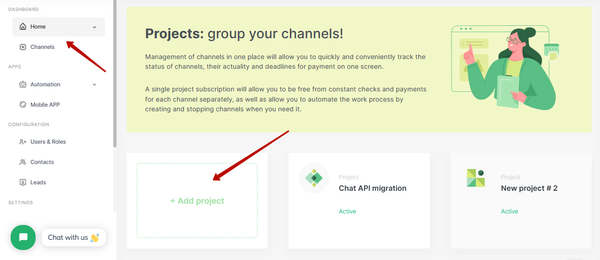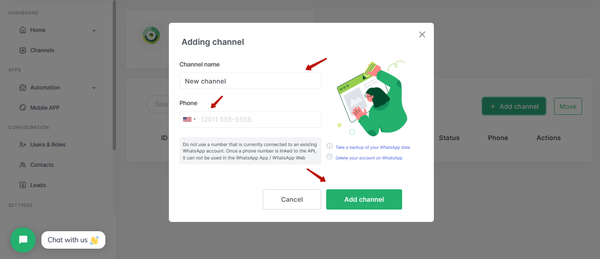 After connecting the number to WhatsApp Business API, you will no longer be able to use the number in regular WhatsApp and WhatsApp Business applications, but we immediately open Inbox chat, Automation tools and Chatbot builder on WhatsApp Business API number for our customers. With these tools, you can easily build your Marketing, Sales and Support services. You can also learn how to set up automatic replies and how to schedule WhatsApp Business API messaging from these articles: Boosting Customer Service with Auto Replay Features on WhatsApp Business, Harnessing the Power of WhatsApp Scheduler for Your Business.
In conclusion, WhatsApp has become an essential tool for businesses, with a vast user base and the potential to help businesses grow. As a business owner, understanding the app's user demographics, usage patterns, and growth trends can help you leverage WhatsApp for maximum impact. To capitalize on the platform, businesses must adapt their strategies to meet the preferences and expectations of the ever-growing number of WhatsApp users worldwide.