Business Communication with WhatsApp Business API Buttons and List Messages Feature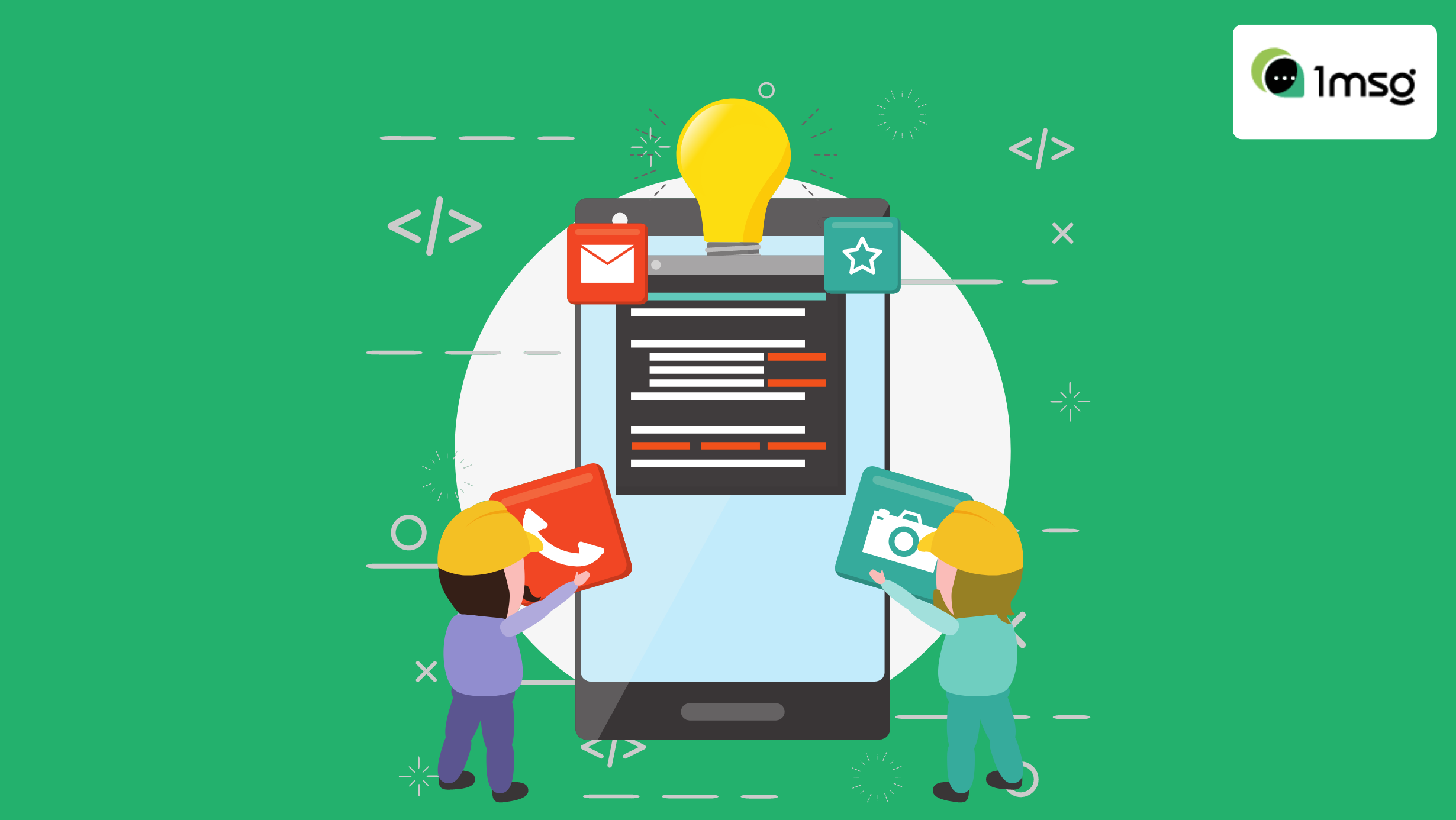 WhatsApp Business API buttons, such as WhatsApp reply buttons and WhatsApp menu, enable businesses to provide a more interactive experience for customers. By incorporating these buttons into the chat interface, customers can quickly select options, respond to queries, and access information with ease. This feature saves time for both customers and businesses, reducing the need for manual agent efforts and streamlining the overall communication process.
WhatsApp List Messages: Streamlining the Customer Experience
The WhatsApp list messages feature is a powerful tool for businesses looking to create organized, easy-to-navigate conversations. By utilizing chat list WhatsApp and item WhatsApp functionalities, businesses can present customers with a series of options or products to choose from, making the selection process more straightforward. This streamlined approach not only improves the customer experience but also reduces the time spent on manual agent labour.
WhatsApp List Messages feature a menu with up to 10 options, providing a straightforward and consistent method for users to make choices while interacting with your WhatsApp Business Chatbot. These messages can be applied to a wide range of scenarios, such as presenting multiple menu items or offering various product options for users to choose from.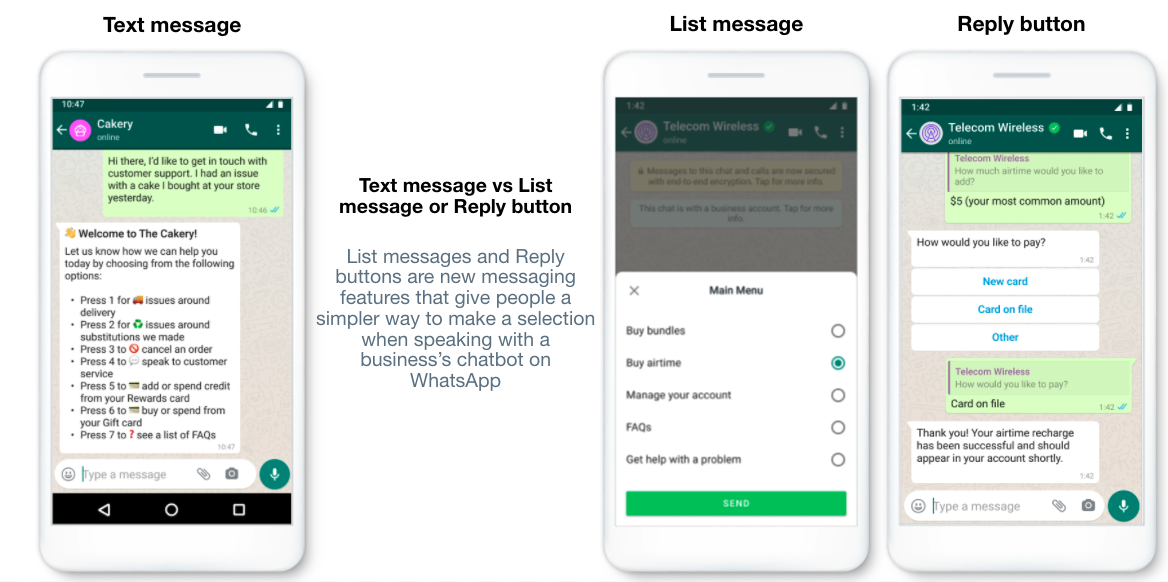 These are very convenient and useful tools, they are great for handling incoming requests, when the client has the opportunity to choose the section, they are interested in exploring on their own. For example, Support can use the list messages function to answer popular questions, and Marketing and Sales to learn about the best-selling products.
It's only $30 for full access to WhatsApp Business API
Chatbots, chatbot builder, inbox chat, automated replies, broadcast newsletters - all included in the $30 price tag
Connect WABA
The List messages feature of the WhatsApp Business API can significantly enhance your business communication by providing a structured, interactive format for presenting multiple options or items to your customers. This feature can help streamline customer interactions, making them more organized and efficient. Here are some ways you can use the List messages feature for your business and the benefits it can offer:
Simplify product or service selection: You can use the List messages feature to present customers with a list of products or services to choose from. This allows customers to make selections quickly and effortlessly, reducing the need for back-and-forth conversations and accelerating the decision-making process.
Improve customer support: The List messages feature can be used to present common support queries or issues, allowing customers to select the one that best matches their needs. This way, you can efficiently direct customers to the appropriate support channels, making it easier for your support team to address their concerns.
Streamline appointment scheduling or reservations: You can use the List messages feature to offer available time slots, dates, or locations for customers to choose from when scheduling appointments or making reservations. This structured approach can make the booking process smoother and more convenient for customers, ultimately improving their overall experience.
Enhance customer surveys or feedback collection: The List messages feature can be utilized for conducting customer surveys or collecting feedback. By providing a list of predefined options or rating scales, you can encourage customers to share their opinions, which can lead to valuable insights and data for your business.
Facilitate order status updates or tracking information: You can use the List messages feature to provide customers with a list of order status updates or tracking information. This enables customers to access critical information quickly and efficiently, improving transparency and satisfaction.
It is very important to note that buttons, such as quick reply buttons or List messages buttons, help to get more loyalty from your customers because they simplify communication with one click, they will no longer text you "how to not receive messages on WhatsApp", rather, on the contrary, will engage with interest in your interactive messages with buttons. These features are specific to the WhatsApp Business API, you can learn more about WABA in the section of our website called: WhatsApp Business API.
Essential Considerations for Interactive Messaging Features
While the WhatsApp Business interactive messaging features offer exciting possibilities, it's crucial to remember several points when implementing these messages in your communication strategy:
Combining interactive messages: You can use different interactive messages, such as list messages and button messages, within the same conversation flow to create a more engaging customer experience.
Single-option selection: Users can only select one option at a time from a list or button message. However, they can return to previous messages and choose a different option if desired. This allows him not to waste time and not to search for the right message in WhatsApp chat list.
Restrictions on notifications: List messages and reply button messages cannot be used as notifications. These interactive messages can only be sent within 24 hours of the user's last message. Attempting to send a message outside this window will result in an error.
Platform compatibility: The interactive messaging features are supported on iOS, Android, and web platforms, ensuring a consistent user experience across various devices.
By keeping these considerations in mind when deploying interactive messages on your WhatsApp Business, you can create a more efficient and engaging communication strategy.
Obtaining WhatsApp List Messages: What You Need to Know
Are you eager to begin utilizing WhatsApp list messages to boost customer interaction? Here's one crucial detail to consider. Due to the extensive coding involved in their creation, WhatsApp list messages are exclusively available through the WhatsApp Business API. Regrettably, users of the free WhatsApp Business app will not have access to this particular feature, 1msg.io can help in getting list messages function and other WhatsApp message types. To do this, you must first connect the WhatsApp Business API, to do this you need to do the following steps:
Register at 1msg.io.
Open a new WABA project.
Connect your WhatsApp number to WhatsApp Business API.
You will need an account in Meta Business manager to successfully connect the number. You can create it in advance, or it will be created in the process of connecting the number. Connecting the number is fast, our tips on the website will help you connect the number in just 10 minutes.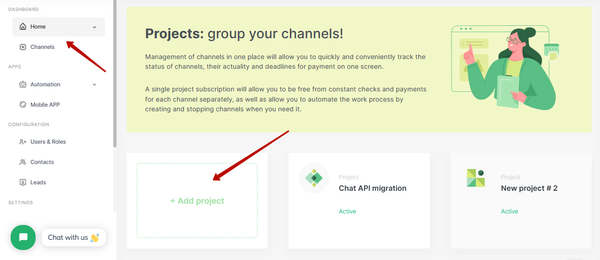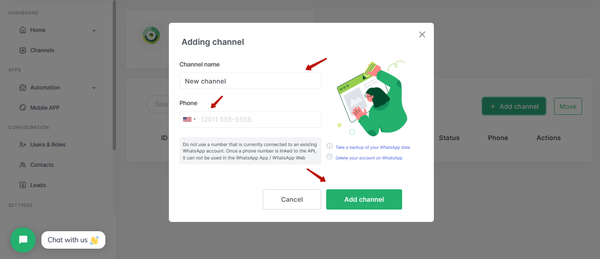 After connecting the number to WhatsApp Business API, you will no longer be able to use the number in regular WhatsApp and WhatsApp Business applications, but we immediately open Inbox chat, Automation tools and Chatbot builder on WhatsApp Business API number for our customers. And, of course, you will have all the functionality to create WhatsApp Business API messages with buttons and list message's function.
How do I use WhatsApp buttons in 1msg.io?
After opening a new WABA channel and connecting WhatsApp Business API number, then you can create templates of messages with buttons to send to customers.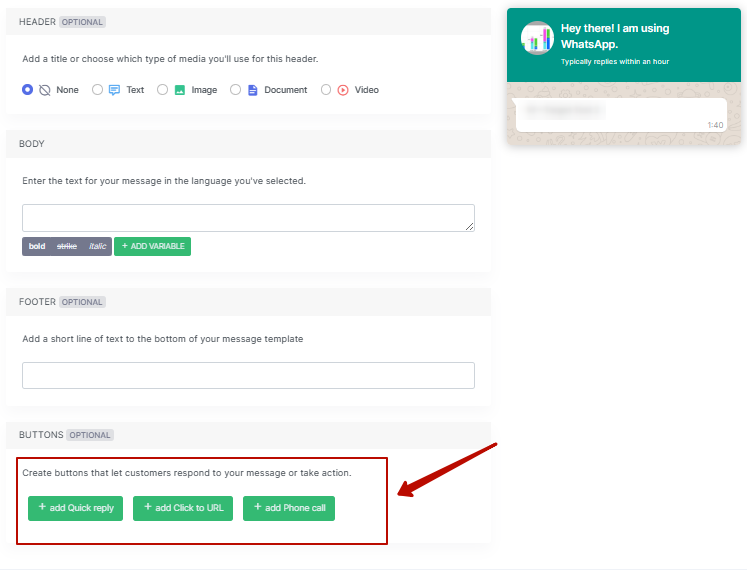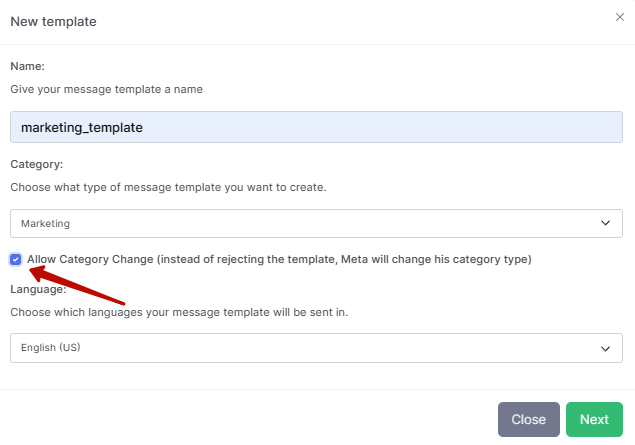 Sending message templates with interactive buttons works very well with Bulk messages instruments, such messages give 30% more responses from customers To work with List messages functionality, go to the documentation section and use the right method to model this functionality. Sending and configuring this feature temporarily on 1msg.io is only available in documentation mode.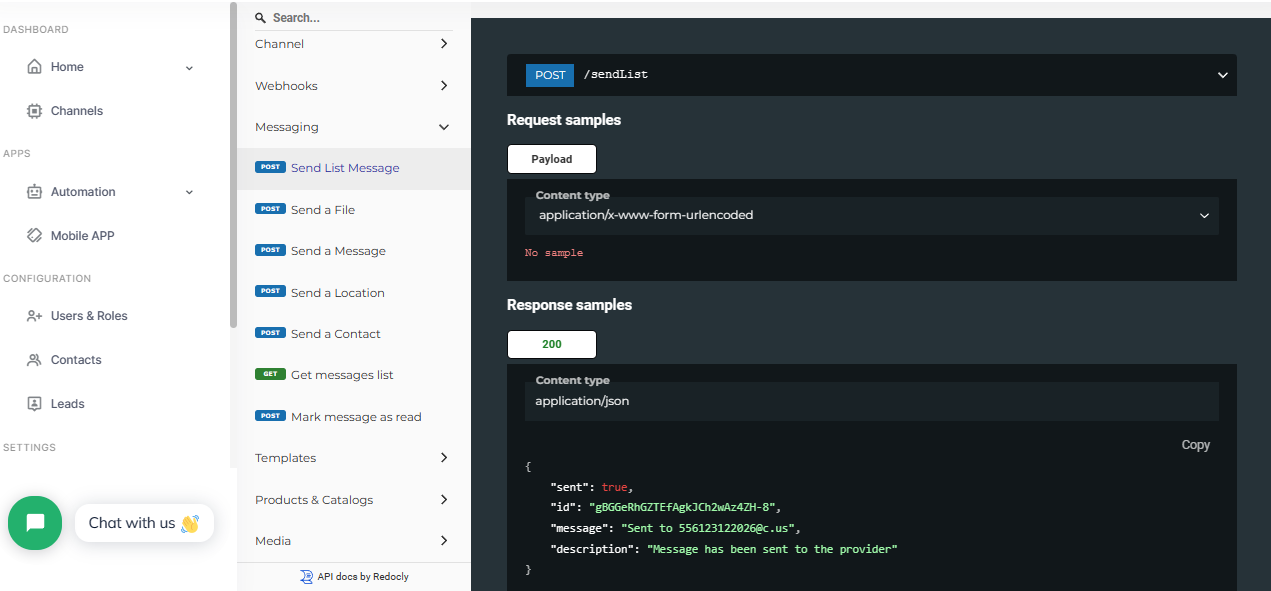 In conclusion, suffice it to say that simple messages do not interest users enough, you need to know how to engage them and get them interested in communication, so features such as quick response buttons and list messages are essential if you want to attract more attention to your customers and make communication for them more interesting.
We also suggest reading our materials on setting up automated messages and scheduled messages, as you will also be able to use buttons to communicate with customers: Harnessing the Power of WhatsApp Scheduler for Your Business, Boosting Customer Service with Auto Replay Features on WhatsApp Business.
Connect WhatsApp Business API now and use all the features of the most popular messenger to grow your Business
Ready to work Chatbots, Shared Team Inbox Chat, Automation Tools For Support, Sales and Marketing Teams
Get Started