Ready-made Chatbot scripts and scenarios for any case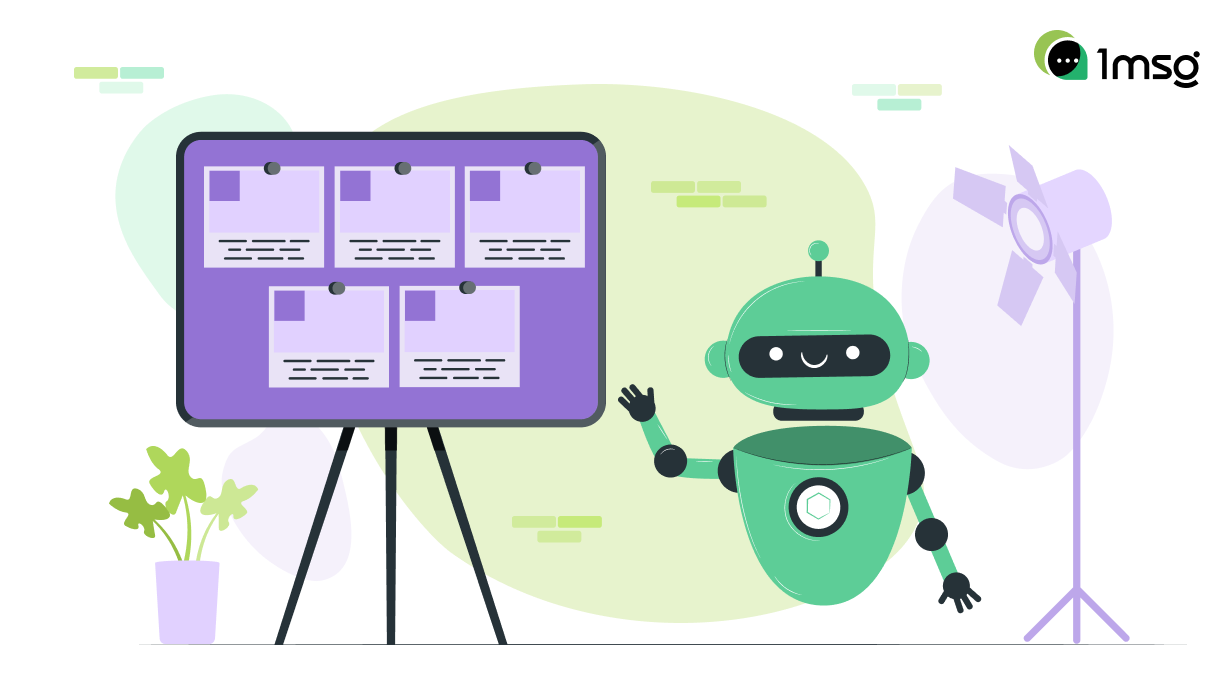 Let's talk about chatbot scenarios. In brief, chatbot scripts are ready-made scenarios of your bot's work, the sequence of actions and reactions of the bot according to the client's requests. In 1msg.io we have prepared scenarios for the most popular requests, which will help you not to spend a lot of effort and immediately take a ready scenario to work. Of course, you can improve and complicate the scripts at your will, for this you can use a special WhatsApp chatbot builder. But before we analyze the ready-made scripts, a small introduction to bots, why do we need them at all?
Why are WhatsApp chatbots and ready-made scripts for them so popular?
WhatsApp chatbots present a transformational opportunity for businesses, bridging the gap between them and their customers with unparalleled efficiency and convenience. The ubiquity of WhatsApp, with its user base exceeding two billion, provides a fertile ground for businesses to cultivate a personal, yet automated dialogue with their audience, without the friction of introducing a new communication platform.
The real magic of a WhatsApp chatbot lies in its round-the-clock availability and instantaneous responses, ensuring that customer inquiries are addressed without delay, at any hour. This 24/7 presence means that businesses can offer consistent and reliable customer service, reducing wait times and improving overall customer satisfaction. The speed and quality of these interactions not only bolster customer trust but also free up human resources to focus on more complex tasks that require a personal touch.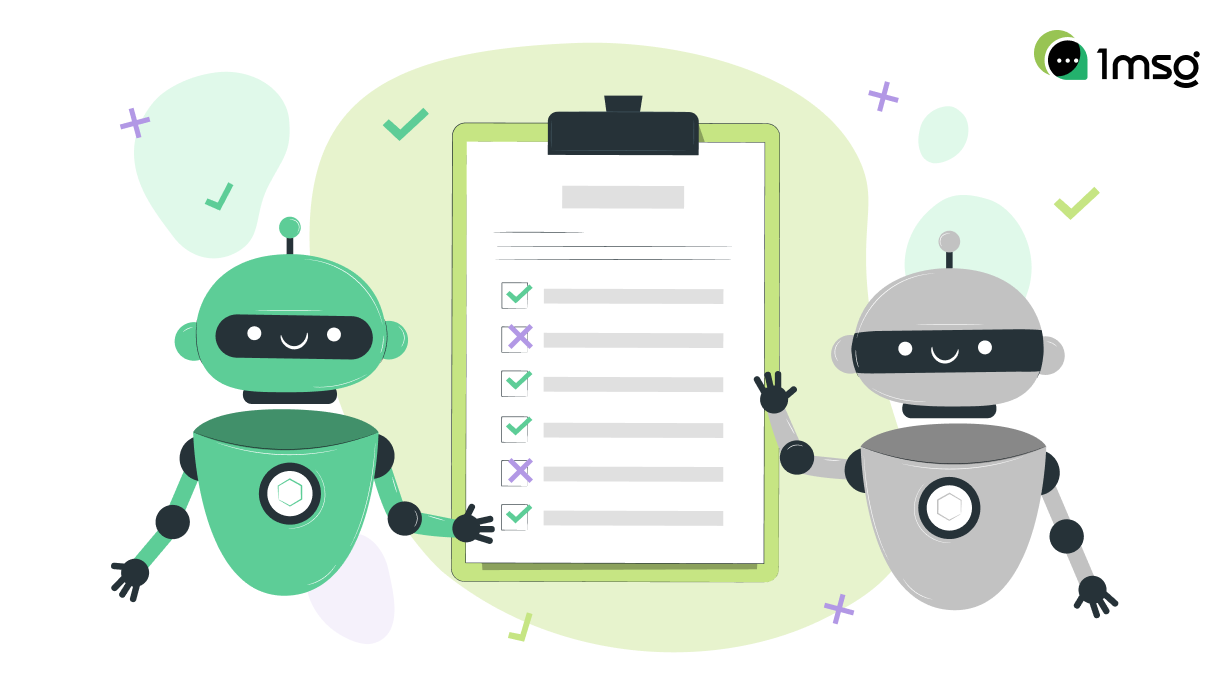 Furthermore, the ability of WhatsApp chatbots to scale operations is a game-changer for businesses of all sizes. They can manage a vast number of conversations simultaneously, from simple FAQ responses to more intricate customer service inquiries, without compromising the quality of service. This scalability ensures that during peak times, like sales or product launches, customer experience remains smooth and uninterrupted. Coupled with the ability to gather data and insights from customer interactions, WhatsApp chatbots empower businesses with the knowledge to personalize experiences and proactively address customer needs, fostering loyalty and encouraging repeat business.
It's only $30 for full access to WhatsApp Business API
Chatbots, chatbot builder, inbox chat, automated replies, broadcast newsletters - all included in the $30 price tag
Connect WABA
At 1msg.io you can create your own bot for almost free, we wrote why this is so in this article: 1MSG.io — WhatsApp Business API chatbot for almost free. Detailed instructions on how to create a bot, as well as a full list of their features, we described here: 1MSG.io — How to set up a WhatsApp chatbot? Part 1, Part 2, Part 3.
Ready-made chatbot scripts examples
All ready-made chatbot scenarios can be found in the personal cabinet of 1msg.io. in the "Flow Library" section. Registration is free and you can always use a test demo account to check the work of WABA and your number.
You can select the script you want and copy to your work scripts. To do this, click on the "Use this" button.
Copy your new chatbot scripts example. It will go into your personal bot library.
Now more about which ready-made chatbot scripts will be at your disposal at once.
Ready-made chatbot scenarios from 1msg.io
Here you will find ready-made chatbot scenarios that you can immediately use in your work. Ready-made scripts can always be improved, you can complicate and make any changes to the script at your discretion.
Bank Account chatbot script
Script a chat bot for banks that provides information and helps customers apply for a new bank account.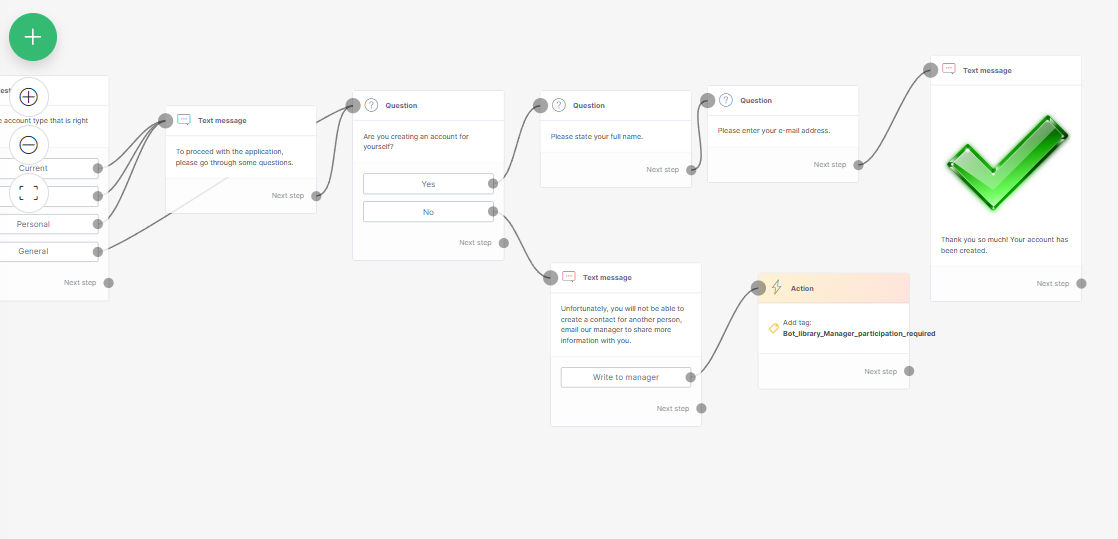 Doctor's appointment chatbot script
A chat bot script for clinics and private practitioners that helps customers to choose the right doctor and make an appointment. Also chat bot script can share the address of the clinic upon customer's request.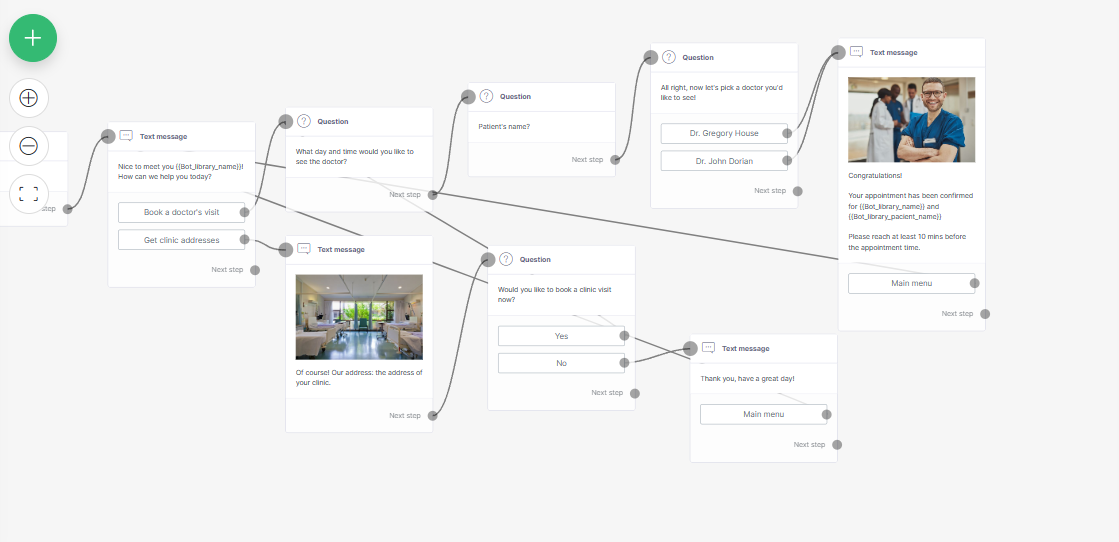 Ecommerce chatbot script
Startup chat bot script for online store. The chat bot provides information about the product and also helps the customer to send a request about the delivery status of the product.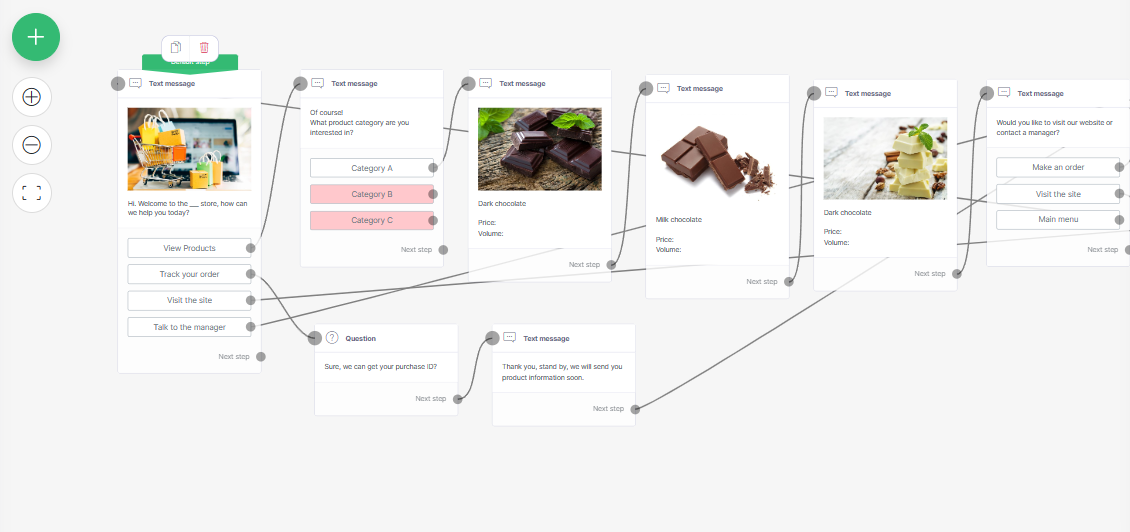 Education chatbot script
A startup chat bot script for online or offline educational platforms that offers customers the choice of an educational course as well as booking a customer-friendly class time.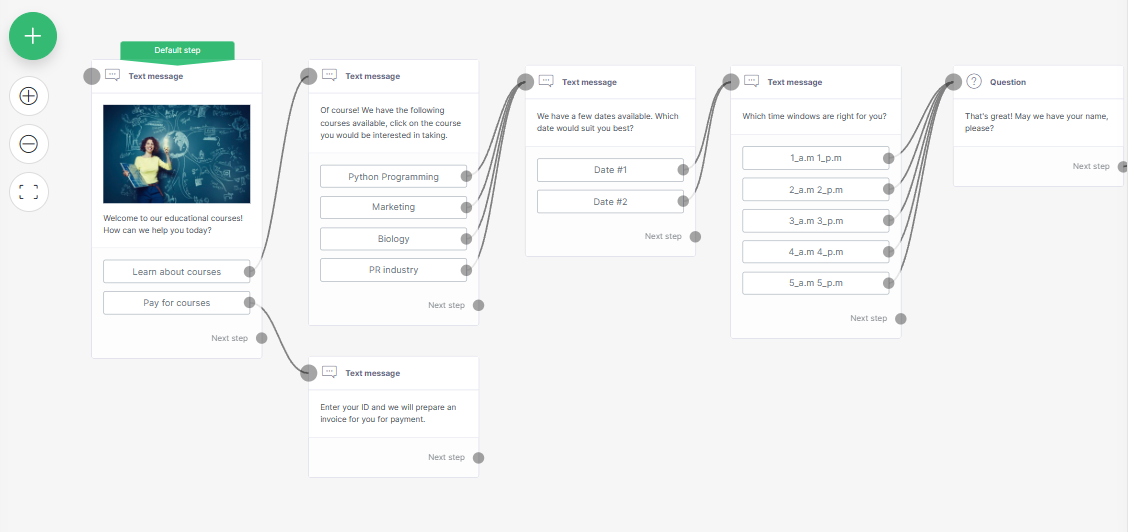 Hospital Booking chatbot script
Chat bot script to book a doctor's appointment and also book a place for outpatient treatment in clinics.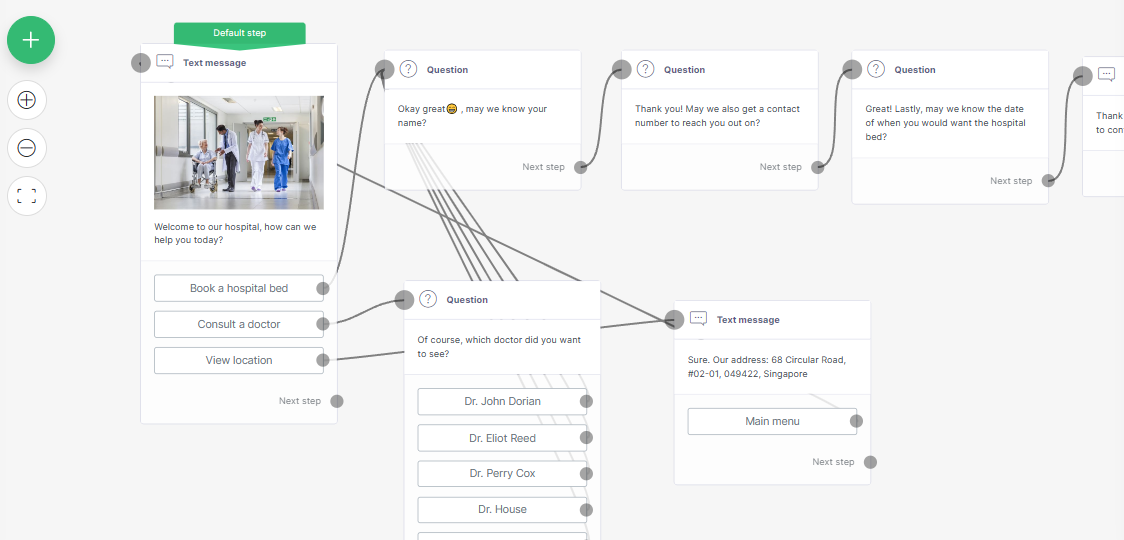 Realtor agency chatbot script
A starter chat bot script that gathers information about customer queries and afterward connects the agent to communicate with the customer.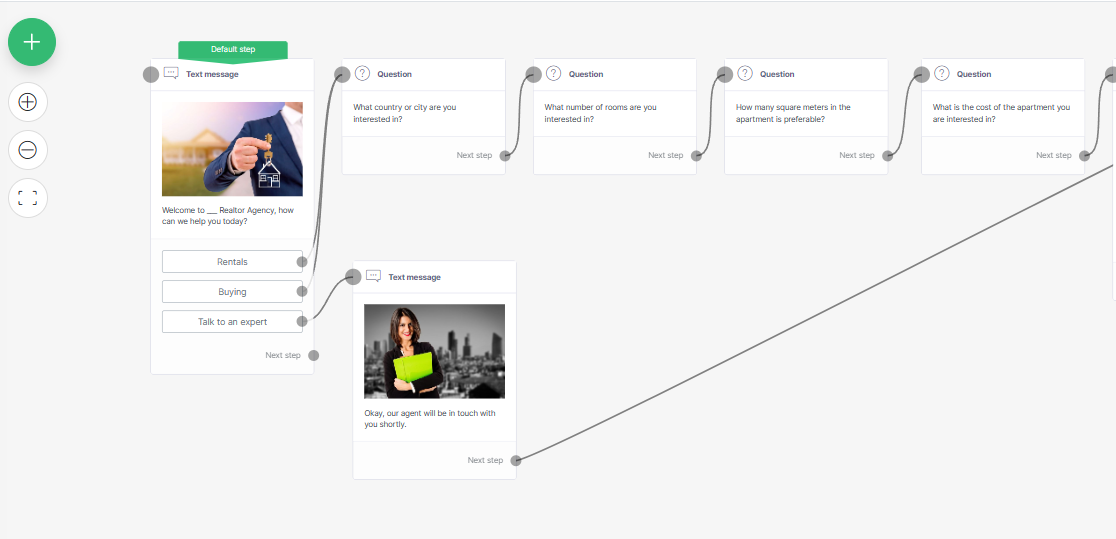 Reservations for general appointments chatbot script
Chat bot script for booking an appointment, call or other form of discussing queries with a customer.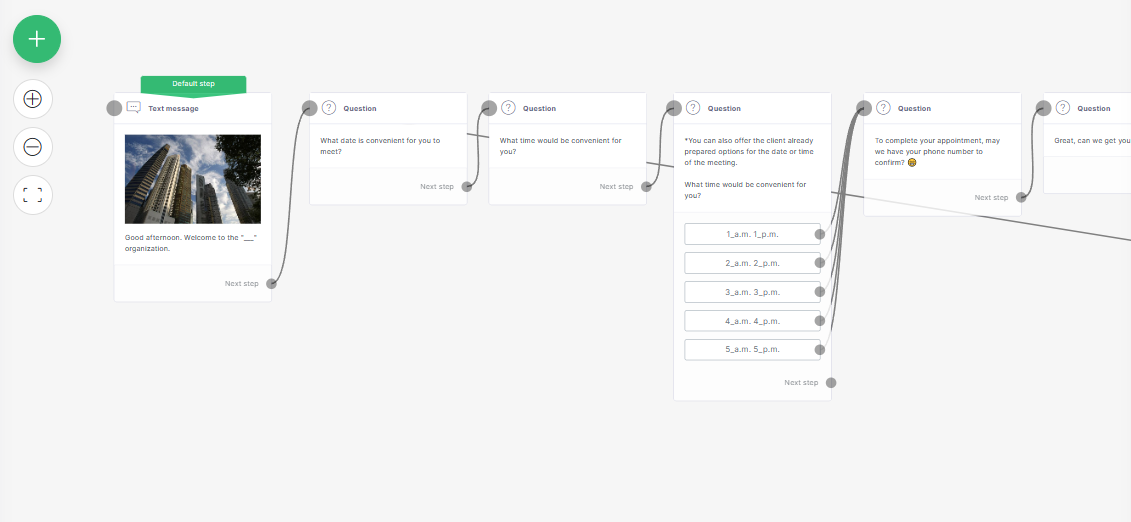 Restaurant chatbot script
A chat bot script that will share a menu with the customer, help book a table or carry out a takeaway order.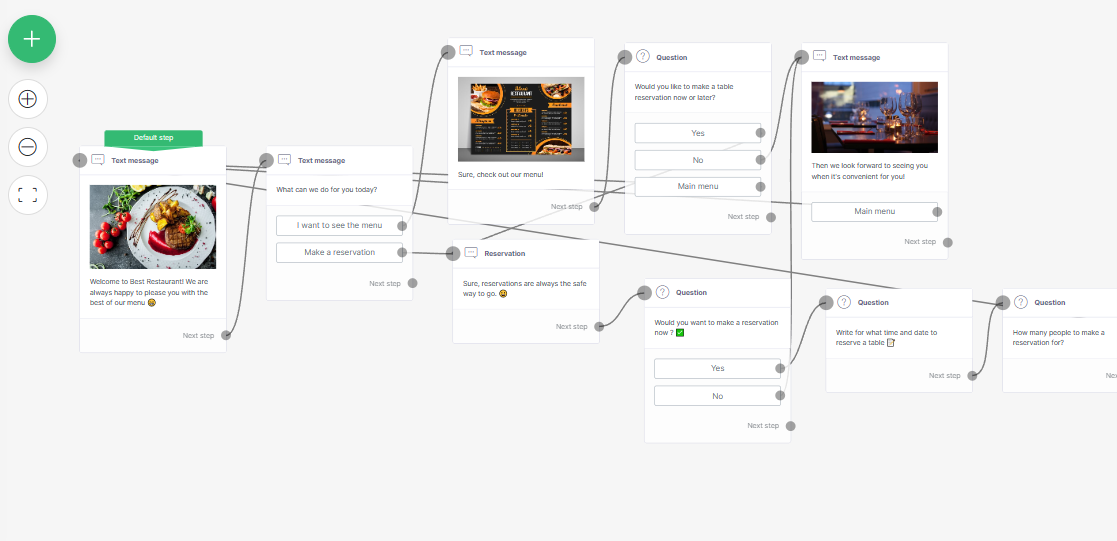 Conclusion
When working with WhatsApp chatbots it is worth remembering that sending messages to WhatsApp is paid, then the first thousand incoming messages per month are free. Therefore, these bots are scripted to handle incoming requests. Before installing a bot, learn about the WhatsApp payment system here: Flow block types - 1MSG KNOWLEDGE BASE and here: 1MSG.io — WhatsApp Business API Payment model. Details on how to connect WhatsApp Business API to start using chatbot scripts can be found in this article: 1MSG.io — Setting up WhatsApp integration step by step.  
Connect WhatsApp Business API now and use all the features of the most popular messenger to grow your Business
Ready to work Chatbots, Shared Team Inbox Chat, Automation Tools For Support, Sales and Marketing Teams
Get Started